KORG Shop - Riprende la vendita delle Sound Libraries per NAUTILUS e KRONOS
Le Sound Libraries sono ora disponibili su KORG Shop.

KORG Shop che distribuisce prodotti Software come Gadget, Module and KORG collection, inizia ora la vendita anhce delle Sound Libraries per strumenti KORG come KRONOS eNAUTILUS

Questo vuol dire che le Sound Libraries per KRONOS sono ora trasferite su KORG Shop. Le informazioni utente registrate su My KRONOS saranno trasferite ad un ID KORG che gestisce le informazioni utente di KORG Shop, permettendo l'acquisto di Sound Libraries da KORG Shop usando lo stesso User ID e Password precedenti. Se sei già un utente di KORG Shop, le info su My KRONOS saranno aggiunte al tuo account in modo da loggarsi con lo stesso User ID e Password di KORG Shop.

KORG ID: https://id.korg.com/

Abbiamo anche iniziato a vendere librerie sonore per NAUTILUS, con la possibilità di scaricare il nuovo aggiornamento OS.

"NAUTILUS OS Version 1.2 is now available."

Per maggiori info su KORG Shop, seguite il link:
KORG Shop: https://korg.shop/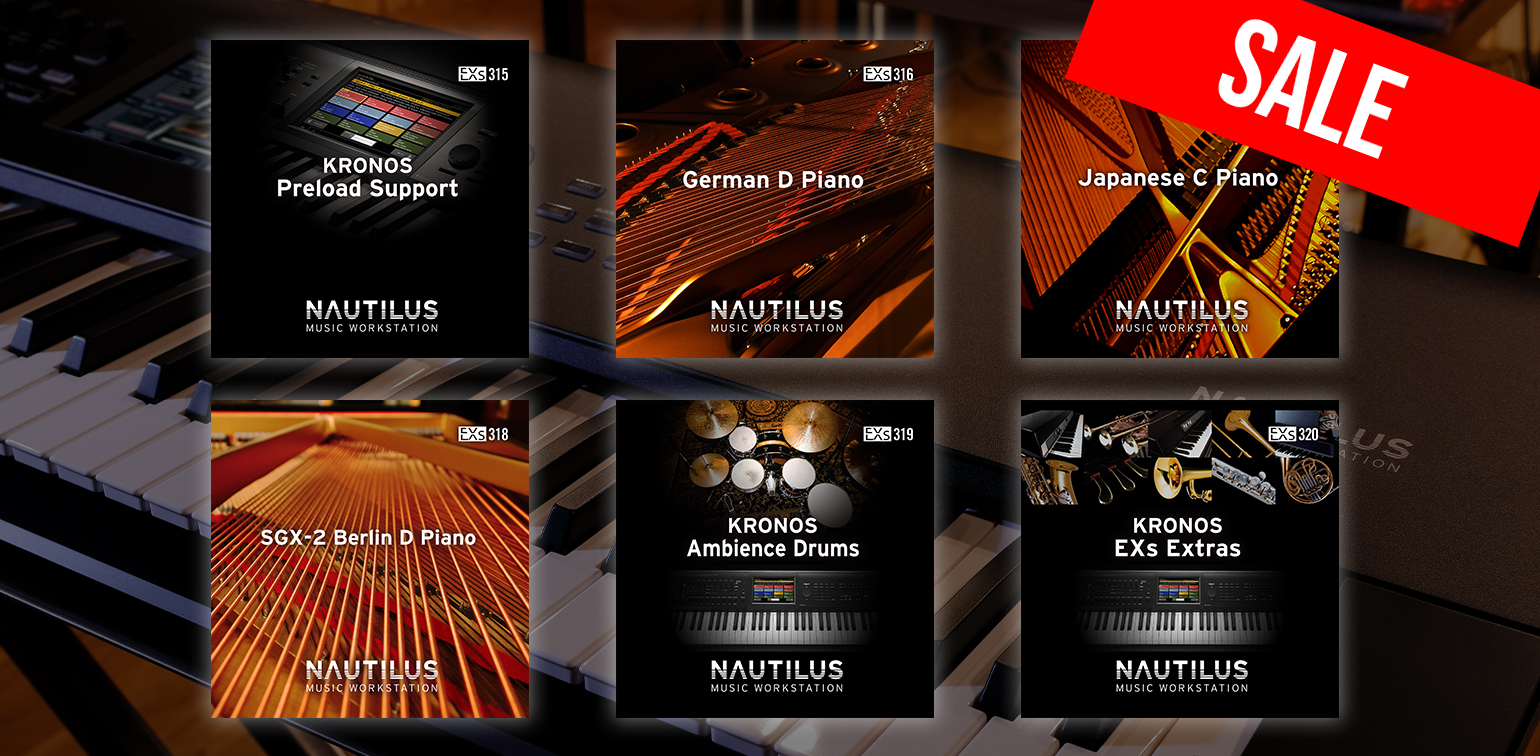 Opening Sale at KORG Shop. (Sale period has ended.)

Per celebrare adeguatamente il lancio delle Sound Libraries su KORG Shop, lanciamo una vantaggiosa promozione per un periodo di tempo limitato, tutti titoli EXs, KRS, e Bundle sono ora disponibili con uno sconto del 33% rispetto al prezzo regolare.
Stiamo inoltre rilasciando 6 nuovi titoli per NAUTILUS. Caricando tutte e 6 queste libreri, NAUTILUS riprodurrà tutti i suoni preimpostati di KRONOS.
* Esclude elementi sono difficili da riprodurre a causa di differenze nelle specifiche dei due strumenti come la presenza di KARMA su KRONOS.
I seguenti nuovi titoli saranno scontati del 50%.
- EXs315 KRONOS Preload Support
- EXs316 German D Piano
- EXs317 Japanese C Piano
- EXs318 SGX-2 Berlin D Piano
- EXs319 KRONOS Ambience Drums
- EXs320 KRONOS EXs Extras
- KRONOS Sound Pack for NAUTILUS (bundle dei titoli EXs315-320)

Cogli l'occasione per acquistare questi titoli a un prezzo scontato e assicurati che tutti i suoni predefiniti di KRONOS possano essere riprodotti sul tuo Nautilus. E con tutti gli altri titoli EX, titoli KRS e pacchetti bundle disponibili con uno sconto del 33%, questo è un ottimo momento per espandere la tua gamma sonora sia su KRONOS che su NAUTILUS. (Periodo di vendita: fino alle 0:00 EST del 27 dicembre)

KORG Shop: https://korg.shop/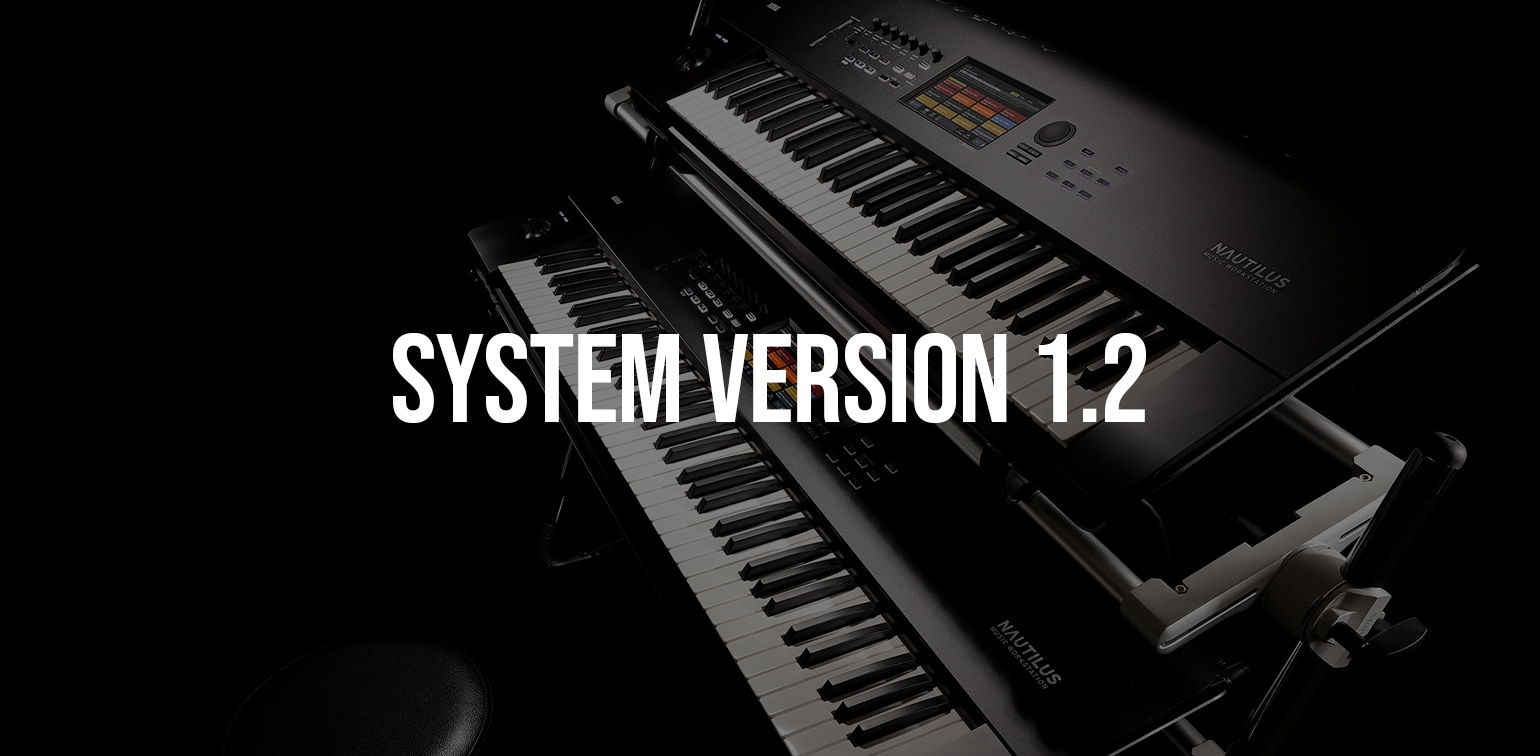 Disponibile l'aggiornamento OS Versione 1.2 per NAUTILUS.

Nuove funzioni:

- Compatibilità con KRONOS per il caricamento dei KRONOS PCG
- Supporto per le SOUND LIBRARIES per NAUTILUS.
- Ampliato il numero dei banchi Program/Wave Sequence.
- Miglioramento di tutti i riferimento per i Bank Change
- Aggiornamenti e miglioramenti minori

Per supportare le librerie di suoni NAUTILUS è necessaria la versione 1.2 o successiva.
Clicca qui per scaricare

Per gli utenti di NAUTILUS Editor
NAUTILUS System v1.2.0 NON è compatibile con NAUTILUS Editor Ver1.0.0.
Attendere fino al rilascio di NAUTILUS Editor ver1.2.0 per utilizzare NAUTILUS Editor con NAUTILUS System v1.2.0.

(Aggiunto il 25 febbraio 2022)
NAUTILUS Editor/Plug-in Editor v1.2.0 è ora disponibile! Clicca qui per scaricare.
How to use NAUTILUS Sound Libraries with NAUTILUS
Nuovi termini di licenza per le Sound Libraries KRONOS / NAUTILUS
Con il lancio delle Sound Libraries per KRONOS / NAUTILUS presso il KORG Shop, ogni titolo EX acquistato può essere utilizzato su un massimo di tre unità della serie KRONOS o NAUTILUS di proprietà dell'acquirente. Il presente contratto di licenza si applica anche a tutte le licenze acquistate in passato, consentendo di estendere l'utilizzo del software a più unità KRONOS/NAUTILUS di vostra proprietà. Si noti, tuttavia, che una volta autorizzato il software, non è possibile annullarlo.

Compatibilità dei suoni KRONOS e NAUTILUS

NAUTILUS OS versione 1.2 supporta il caricamento delle voci KRONOS, ma se carichi una voce utilizzando i dati KRONOS che non sono inclusi in NAUTILUS, questa non suonerà correttamente. Per la piena compatibilità, è necessario acquistare la libreria EXs315 ~ 320.

Si noti che le voci NAUTILUS non possono essere caricate su KRONOS anche quando si utilizza NAUTILUS ROM + EXs301 - 314.

NAUTILUS ROM + EXs301 - 314: NAUTILUS PRELOAD state
NAUTILUS ROM + EXs315 - 320 (ora in vendita): KRONOS 2 stato equivalente

NAUTILUS supporto delle Sound Library KRONOS.
Attualmente KORG fornisce 140 titoli per NAUTILUS e KORG prevede di convertire tutti i titoli di KRONOS Sound Libraries per NAUTILUS entro la fine di marzo 2022 (alcuni titoli potrebbero essere esclusi).
Controlla La lista delle Sound Library per NAUTILUS per lo stato dell'aggiornamento del supporto.
We use cookies to give you the best experience on this website.
Learn more
Got it