Nieuws Langverwachte KROSS 2 optionele libraries beschikbaar!
Er zijn nieuwe libraries voor de KROSS 2 gratis beschikbaar! Ze omvatten de geluiden van professionele kwaliteit die werden geïnstalleerd in het recent uitgebrachte topmodel van de reeks de KOROSS 88 MB en bevatten akoestische en elektrische piano's alsook sounds voor hedendaagse muziek. Hiermee breid je de muziekhorizon van de machtige KROSS 2 aanzienlijk uit.

Opmerking: Voorafgaand aan het installeren van de KROSS 2 Option Libraries met jouw KROSS eerst worden geüpdatet.
Klik hier om te downloaden

*We raden dringend aan een back-up te maken van de sounddata die je zelf hebt gecreëerd voordat je de nieuwe data installeert.
Klik hier om te downloaden

Updaten:
Raadpleeg pagina 128 van de KROSS gebruikshandleiding (English).


EXPCM001 (OASYS Piano)
Programma's: 32, preset-PCM-geheugen: ±90MB (berekend als equivalent van 48 kHz / 16-bits lineare PCM-data)
Verzameling van verschillende pianogeluiden op basis van de OASYS piano. OASYS is een legendarische monstersynth uit 2005 wiens reputatie tot op de dag van vandaag standhoudt. Binnen deze rijke collectie is de OASYS piano geliefd en gebruikt door vele artiesten, zowel op het podium als in de studio. Deze nieuwe verzameling voor de KROSS is gebaseerd op de Krachtige OASYS pianocollectie, geënt op een aantal van de van de grootste muziekhits, maar bewerkt om aan te sluiten op de hedendaagse smaak.
EXPCM002 (E.P. Collectie)
Programma's: 32, preset-PCM-geheugen: ±17MB
E.P. Mark I, die onontbeerlijk was voor veel van de legendarische muziek in jaren zestig en zeventig, en nog steed te vinden is in hedendaagse hits. E.P. Mark V en DYNO, die werden gebruikt in ballads in de jaren tachtig. Reed E.P., die uitputtend werd gebruikt in pop- en rock-hits van de jaren zestig en zeventig. Deze verzameling van elektrische piano's haalt de sound en sfeer terug van deze legendarische elektrische piano's.

EXPCM004 (Future Synth-collectie)
Programma's: 64, preset-PCM-geheugen: ±16MB
Omdat synths een belangrijke rol zijn gaan spelen in EDM en daarmee zelfs andere genres beïnvloedden zoals pop, r&b en country. Deze verzameling omvat 64 programma's die perfect passen binnen dit populaire muziekgenre.
KROSS SE (*1) is vanaf de fabriek voorzien van dezelfde PCM-date en praktische dezelfde programma's, en de KROSS 88 MB (*3) is voorzien van identieke PCM-date en programma's.

*1: Voor gebruikers van de KROSS SE (KROSS Special Edition)
De KROSS Special Edition bevat dezelfde PCM-data als EXPCM001, 002 en 004, en praktisch dezelfde programma's (*2). Je hoeft dus deze collecties niet te installeren.

Bij het inladen van sampledate in het KORG-formaat (zoals .KSC- of .KMP-bestanden) of bij het omzetten van pad-samples naar programma's, kan je het gevoel bekruipen dat er niet genoeg vrije ruimte is in het uitgebreide samplegeheugen.

Verwijder in dat geval EXPCM uit de sample-expansie via de EX PCM-pagina in de Global-modus en laad vervolgens de data van EXPM001, 002 en 004 die je wilt inladen. Je kunt zo de hoeveelheid beschikbare ruimte vergroten, maar als je ze allemaal inlaadt, komt dit overeen met hoe ze worden geleverd.

*2: Het verschil tussen de KROSS SE en de programma's van EXPCM001, 002 en 004.
De programma's 017 en 018 in de KROSS SE zijn piano- en synth-layers, maar als je ze vervangt door de EXPCM gebruikt de piano de EXPCM001-sample en de synth de EXPCM004-sample. EXPCM001 bevat dezelfde programma's als 017 en 0128, maar we hebben de layer-klank vervangen voor preset-PCM, zodat het ook klinkt zónder EXPCM004.

*3: Voor bezitters van een KROSS 88-MB
De KROSS 88-MB bevat dezelfde programma's en PCM als de EXPCM001, 002 en 004, dus je hoeft deze collecties niet te installeren. Net als bij de KROSS SE, gebruik deze bestanden als je de voorgeïnstalleerde EXPCM hebt gewist.
Productinformatie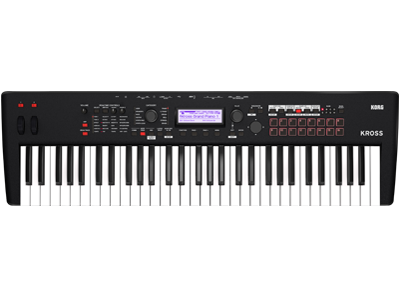 KROSS
SYNTHESIZER WORKSTATION
We use cookies to give you the best experience on this website.
Learn more
Got it