Software Updates Pa700/Pa700 ORIENTAL System software v1.1.0 - now available!
-- Operating system version 1.1.0 for Pa700, Pa700 Oriental --
New functions
User Interface
- Some pages have been redesigned and/or renamed
- Selected SongBook Entry indicator now blinking in the SET LIST section
Keyboard Set
- Split point now memorized into each Keyboard Set of a Style or SongBook Entry
Style Record
- New way of listening to the recorded Style
MIDI
- A fixed Note Off Velocity value for the incoming MIDI notes can now be chosen
Video Out
- The video mode is now memorized in the Global
File Management
- Localized Add-On musical data is now supported
- User/Direct banks can now be renamed in all Select Windows
- The procedure to select the Direct .set folder has changed
- Direct Pad, Voice and Guitar Preset locations added
- Direct SongBook Entry locations added
How to update
Installation manual in pdf format included in the package.
Production including the new operating systems
Production that includes the new system version will start from December 2017.
Download Pa700 Operating System version 1.1.0
here
Download Pa700 ORIENTAL Operating System version 1.1.0
here
Information produit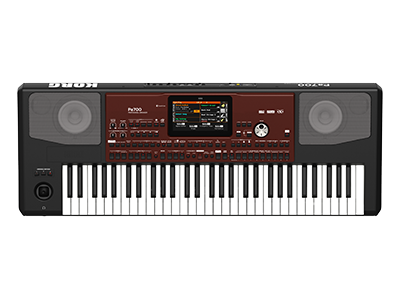 Pa700
ARRANGEUR PROFESSIONEL
Pa700 ORIENTAL
ARRANGEUR PROFESSIONNEL