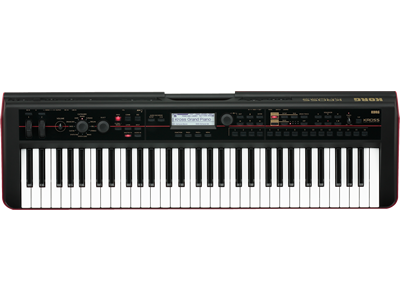 KROSS 1
MUSIC WORKSTATION
Support for Your Purchase
Learn More
Related Products
External input jacks allow a mic or audio player to be directly connected

The MIC IN jack (1/4" phone jack) lets you directly connect a mic. If you're a vocalist as well as a player, there's no need to obtain a separate mixer.

In addition, there's a LINE IN jack (stereo 1/8" jack) for you to connect your audio player, giving you the option of performing along with the playback in a variety of situations on stage or anywhere else you go.
Quick Layer/Split function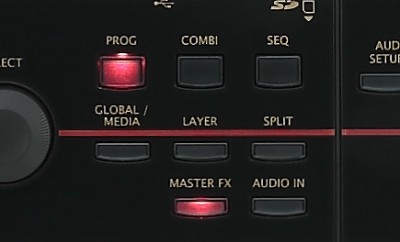 Dedicated buttons are provided for Layer/Split settings. Start by selecting the first program you want to use; then press the dedicated button to enable Layer or Split.

When this is on, a screen will appear in which you can choose the other sound and specify details such as the split point. Then simply write your settings, and the layer/split sound will be saved as a Combination.
Stereo audio recorder allows you to overdub your performances and vocals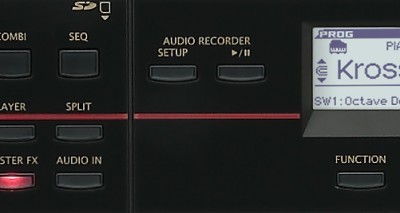 The built-in stereo audio recorder can record not only the performance of the KROSS itself, but also the sound of a mic or external input. You can play backing tracks that you created, or overdub onto them to create songs and demos.

Audio can be imported and exported as WAV files using an SD card (separately sold), making it easy to exchange material with your computer.
Step sequencer inherited from the Electribe, a 16-track MIDI sequencer, a drum track, and an arpeggiator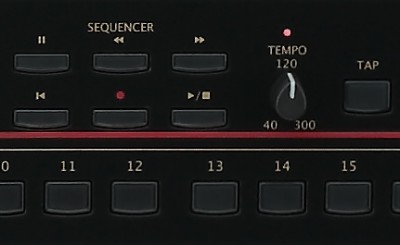 The KROSS features a step sequencer inherited from the popular Electribe series. It's a simple design in which you use the sixteen buttons to turn individual notes on or off, allowing you to quickly and easily create original rhythm patterns of up to 64 steps.

The lightweight body of the KROSS contains all of the basic functionality you expect from a music workstation, including a full-featured 16-track MIDI sequencer with quantization, copy and paste, and individual note event editing. By using an SD card (sold separately), you can exchange SMF-format data with your computer. The KROSS gives you a full set of workstation and production tools, including a Drum Track function that lets you add rhythm simply by pressing a dedicated button, and an arpeggiator that can be used not only with synth sounds but also to generate guitar and bass riffs.
Connects to your computer via USB
You can connect the KROSS to your computer via USB for easy transfer of MIDI data. By using KROSS Editor and Plug-In Editor you can simultaneously view and edit large numbers of parameters on your computer, and use the KROSS within your DAW as if it were a software synthesizer.
We use cookies to give you the best experience on this website.
Learn more
Got it