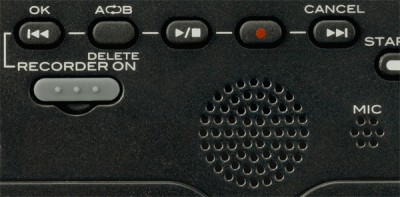 The built-in mic and speaker make it easy to record and play back your practice sessions
Since a mic and speaker are built-in to the TMR-50, you can start recording when the moment is right. Of course there is also an Input jack and a Phones jack, so you can record via a contact mic or play back the audio through earphones. There's also a convenient Loop Play function that repeatedly plays the specified region of the recorded data, allowing you to practice along with a specific phrase. In addition, the tuner, metronome, and recorder can be used simultaneously for even more effective training. The TMR-50 can help you check your playing in a variety of ways that will help you advance as a musician; you can record with a metronome pre-count, record a "tempo sync track"* that lets you check whether you were in time with the tempo during playback, or you can activate the tuner during playback to check your pitch.
*During recording, you'll be able to monitor the metronome sound in real time through the Phones jack.
High Quality Linear PCM Recording/Playback
In spite of its affordable price, the TMR-50 features high-quality linear PCM recording/playback (44.1 kHz / 16-bit, monaural). It's also able to automatically optimize the recording level as appropriate for the volume of your playing, ensuring great clarity and excellent sound. A maximum of 100 tracks can be recorded (total time approximately 20 minutes), which provides ample space for recording instrumental practice.

USB Connectivity
If the TMR-50's recording memory fills up and you want to save data, you can copy it to your computer via the USB connection. The data is saved in WAV format, so you'll be free to listen to your practice sessions on your computer whenever you want. Standard WAV format files can also be copied from your computer to the TMR-50 and they can be listened to through the built-in speaker or headphones*; for example, you may find it convenient to store the original recording of the song that you want to practice.
*If the WAV file is stereo, you can enjoy stereo playback via the Phones jack.
We use cookies to give you the best experience on this website.
Learn more
Got it