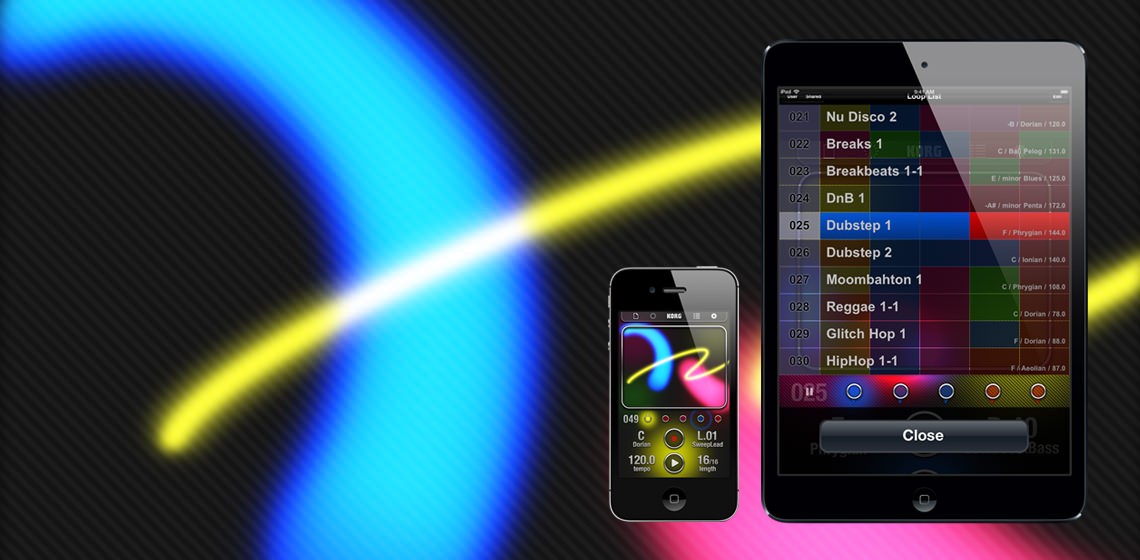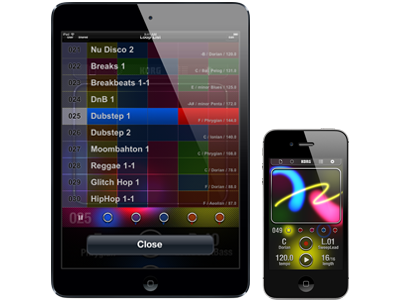 iKaossilator for iPhone and iPad
Support for Your Purchase
Support
Learn More
Related Sites
Related Products
Version 3.1.0 New Features (2015.12.16 Update)
Ableton Link - A new technology that synchronizes beat, phase and tempo of Link-enabled iOS apps such as KORG Gadget, iELECTRIBE and iKaossilator, and Ableton Live 9.5 for Mac/PC over a wireless network
This version requires iOS 8 or later
Bug fixes and improvements
Version 3.0 New Features (2014.9.11 Update)
The ability to export a project to Ableton Live
iKaossilator Expansions (In-App Purchase)
A new workflow with Ableton Live
Transform inspiration into a creative production. KORG has collaborated with Ableton to offer a new music production workflow that lets you move seamlessly from mobile to desktop. KORG iKaossilator can export your project in an Ableton Live format, via iTunes or Dropbox. The loops of each part you create are internally converted into audio files. You can then use Live's powerful Session and Arrangement workflows to edit and and refine your ideas, perform or record new parts, arrange your ideas, and mix your song. If you don't already have Ableton Live, sign up in app to receive Ableton Live Lite for free.
Products that support Ableton Live project export:
・electribe, electribe sampler
(NEW!)
・iKaossilator for iPhone/iPad
・KORG Gadget for iPad
iKaossilator Expansions, an expansion sound engine specifically for iKaossilator.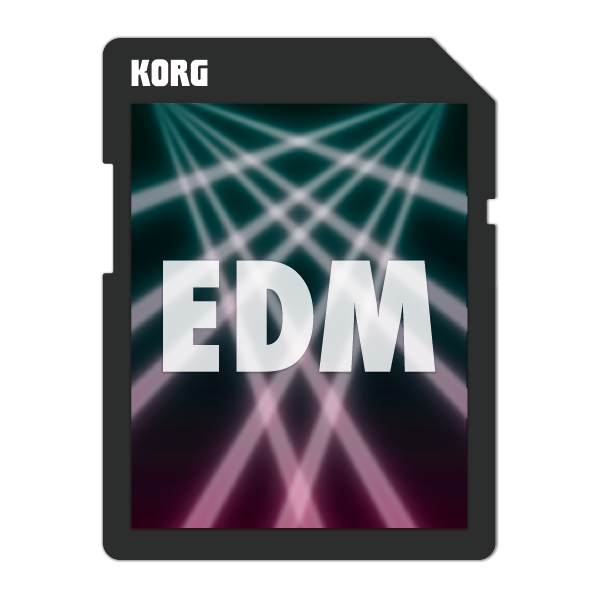 iKaossilator continues to break new ground in cutting-edge sound sets: the dedicated expansion sound engine iKaossilator Expansions (In-App purchase). The first of these is "EDM." This adds 40 cutting-edge EDM sounds that are standards in the mainstream of today's music scene, including dubstep, progressive house, and electro, drawing out the untapped potential and power of iKaossilator. You can obtain iKaossilator Expansions by purchasing it from within the iKaossilator app.


Version 2.3.0 New Features (2014.2.28 Update)
Optimized for iOS 7 design
Some improvements and bug fixes
Version 2.2.2 New Features (2013.4.10 Update)
Adds a new option to turn off the corner light animation.
Fixes a crash issue that may occur when opening the shared loop list.
Version 2.2 New Features (2012.12.19 Update)
Display size of iPhone 5 is completely supported
Background Audio support allows to play other music apps
iCloud data backup
"Audiobus" enables audio streaming between iOS Musical Instrument Apps* *Please visit here for more information about Audiobus.
Version 2.1 New Features (2012.4.27 Update)
Audio Loop Import
Seamless operation in tandem with the Kaossilator 2
Support for "AudioPaste"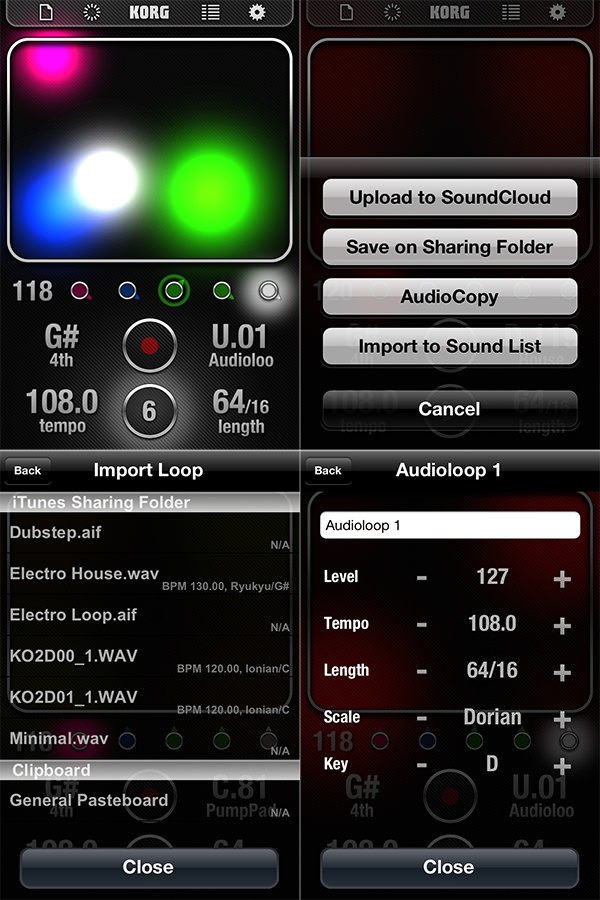 New Audio Loop Import function
Audio loop files can now be imported into each part of the sequencer. iKaossilator v2.1 has evolved into an app that provides not just MIDI loop sequencing, but also audio loop sequencing! To import, simply send your audio loop** via iTunes to iKaossilator and load it via the import menu in the sound list (the sound selection screen).

In addition to simply playing an imported audio loop, you can use a filter effect assigned to the touch pad to vary the character of the song just as you would on the Kaoss Pad. This represents a nearly infinite expansion of iKaossilator's track-making and performance potential.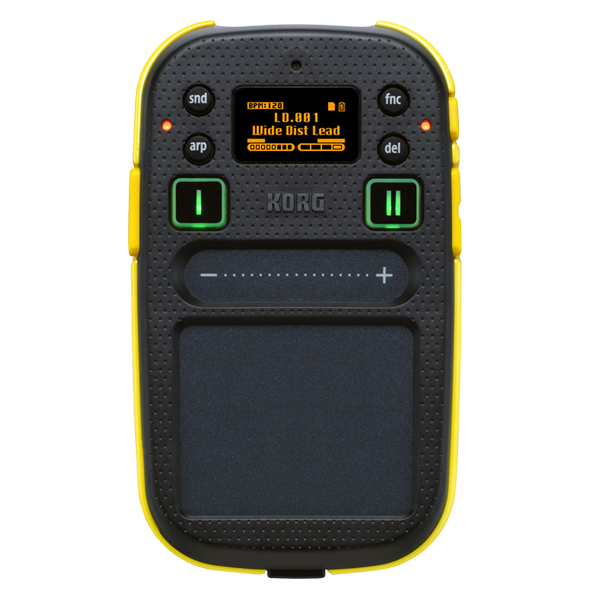 Seamless Integration with Kaossilator 2
The Audio loop import feature also enables closely coupled operation with iKaossilator's sibling --- the "Kaossilator 2". Loop recorder data created with a Kaossilator 2 can be imported into iKaossilator, or an audio loop created in iKaossilator can be loaded into a loop recording bank of the Kaossilator 2. When you do this, data such as the loop length and the BPM of the loop that you created is also loaded; resulting in a seamless transfer between the software and hardware.
Although iKaossilator and the kaossilator 2 are in the same KAOSSILATOR family, their sound engines and recording styles are entirely different. While iKaossilator contains a PCM sound engine, the kaossilator 2 uses a modeling synthesizer. While the iKaossilator provides a five-part sequencer that lets you freely insert or remove sounds, the kaossilator 2 allows unlimited overdubbing and is even able to record external audio input. If you combine audio loop data that takes advantage of the differing functionality of these two instruments, your performances will rise to even higher level.

Support for "AudioPaste"
iKaossilator now supports the "AudioPaste" function that was developed by Sonoma Wire Works, which allows audio data to be copied and pasted between iOS apps. You can export audio data from the Korg iELECTRIBE or iMS-20, or from any "AudioCopy" compatible app, and then import it into iKaossilator with ease.
Version 2 New Features (2011.11.30 Update)
Audio Export records and saves your performance, just as you heard it
iPad native support allows the iKaossilator to fill the iPad's large 9.7" screen
"SoundCloud" allows users to share and remix loops with other users worldwide
"AudioCopy" provides an easy way to copy audio data between musical instrument apps
Flex Play makes it easy to generate fills and breaks
iKaossilator v2 - New Features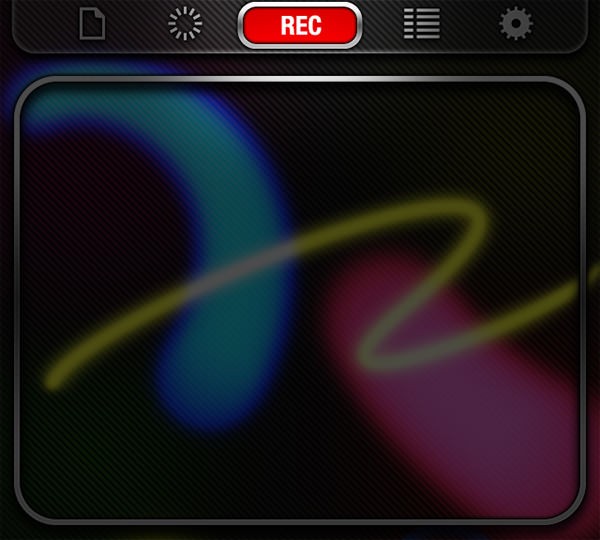 Audio Export saves your performance as a file
Now you can record your performance in real time, or export a completed loop as an audio file. By sending your creations to a Mac or PC via iTunes, you can share them with your friends or use them in a full-fledged music production. You can also upload them directly to SoundCloud.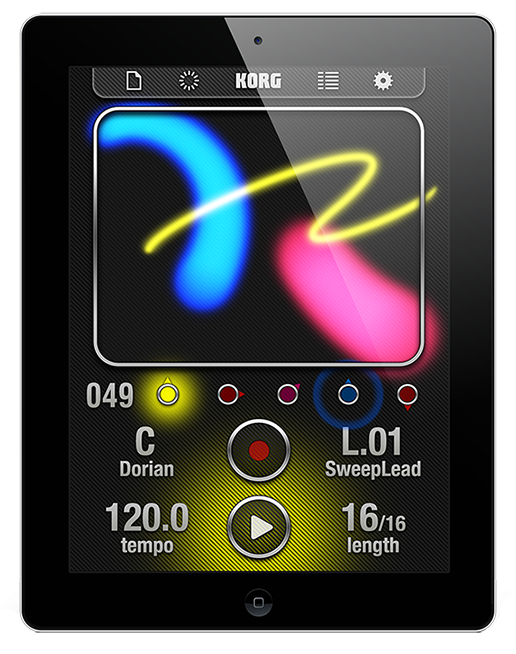 iPad native support provides full-screen (9.7") iKaossilator enjoyment
Now you can perform taking full advantage of the iPad's large 9.7" display. Enjoy iKaossilator on your iPhone while riding public transportation, and on your iPad while performing live!

"SoundCloud" allows sharing or remix loops with users worldwide
"SoundCloud" is a music distribution and sharing service that's very popular among musical creators. The loops you create can now be uploaded directly to "SoundCloud" from within the app. If you attach the loop data when doing so, it will be shared to other users' loop lists. Users worldwide will be exposed to new loops they've never heard, and can combine them with their own loops to create remixes. It's a new way of enjoying music by and unleashing your iKaossilator's potential throughout the world.

"AudioCopy" lets you share audio data between musical instrument apps
Newly added support for "AudioCopy" from Sonoma Wire Works means that you can copy and paste audio data between apps. Audio data you export from iKaossilator can be sent to apps that support AudioPaste.
Flex Play makes it easy to generate fills and breaks
Designed for live performance, the Flex Play feature makes it easy to generate fills or breaks. Touch and hold Length or Tempo buttons, and then try stroking the touchpad. Movement in the X-axis will change the Length of all parts, and movement in the Y-axis will change the Tempo, allowing you to add dynamic changes to your song that will further expand your performance possibilities.
What is "SoundCloud"?
SoundCloud, founded in 2008 by Alexander Ljung and Eric Wahlforss, enables music professionals and other creators to collaborate, publish and share their sounds on the web, in a simple, accessible and feature-rich way. SoundCloud allows music makers to upload large audio files; share them publicly and privately; embed tracks across websites and blogs; receive detailed analytics, plus feedback from the community directly onto their SoundCloud player. For more information go to: http://www.soundcloud.com

* In order to upload to "SoundCloud", you'll need a SoundCloud account. A variety of account types are available, ranging from free to paid. For details, refer to the SoundCloud website (English)
* When using SoundCloud, you must observe the terms of use prescribed by the SoundCloud Company, such as the prohibition on uploading songs whose copyright is the property of a third party.

The latest version of the iKaossilator for iPhone and iPad is available on the App Store. A free upgrade is available to users who have already purchased a previous version of the iKaossilator for iPhone and iPad.
We use cookies to give you the best experience on this website.
Learn more
Got it