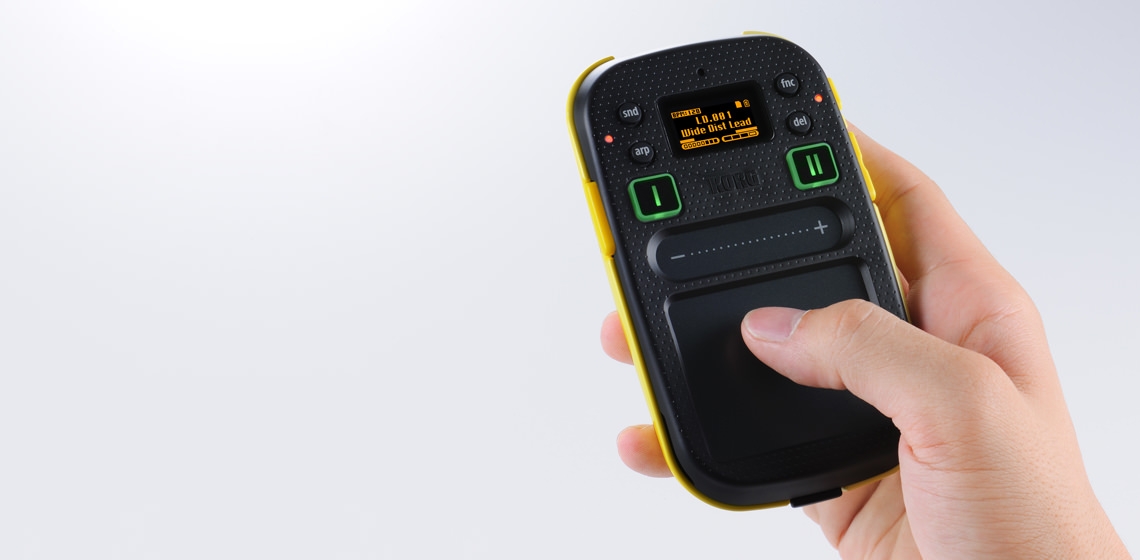 It's a totally new KAOSSILATOR!
--- the palm-size phrase synthesizer that can be played by anyone, at any place, and at any time.
Introduced in 2007, the KAOSSILATOR has won high acclaim as the original gadget instrument and gave rise to the KAOSSILATOR PRO and iKaossilator for iPhone. Now say hello to the impressive KAOSSILATOR 2.

Boasting a powered-up sound generator, KAOSSILATOR 2 delivers synth and drum sounds spanning a wide range of genres, plus dramatically expanded loop recording. KAOSSILATOR 2 is packed with capabilities that can be enjoyed alone on or together with other people. Use two loops to create DJ-like mixes. Use the internal mic to record guitar, vocals, or other audio sources – just like a looper effect. The Organic Electroluminescent (OEL) display provides superb visibility. Add to that a touch slider for ease of use, microSD card data saving, plus a built-in speaker and mic. All of these features reflect the enhancements incorporated into the sleek and exciting KAOSSILATOR 2.
Simply tap or slide your finger across the X-Y touchpad to generate sounds
150 built-in sounds cover every style of dance music
PCM sound engine serves up realistic sounding drums
Scale Key and Note Range eliminates "wrong" notes
Built-in Gate Arpeggiator with adjustable gate time and swing settings
Loop Recording allows for the creation of layered phrases with unlimited overdubs
Dual Loop Recording banks allow DJ-Style mutes and cross-fades
Record using the built-in mic; or use the mic input input to record an external audio input
Onboard microSD/SDHC card slot for saving loops and recorded performances
Operation linked with KORG iKaossilator for iPhone
Easy-to-read screen uses high-visibility organic EL (OEL) display
VALUE slider allows smooth parameter control
Battery operation and built-in speaker for on-the-go enjoyment
kaossilator 2 - The Go Anywhere Music Gadget
kaossilator 2 + mini kaoss pad 2 - by koishistyle
kaossilator 2 + mini kaoss pad 2 - overview & comparison
We use cookies to give you the best experience on this website.
Learn more
Got it