Noticias Great quality sound on your iPhone with iAudioGate, the ultimate high-resolution music player app.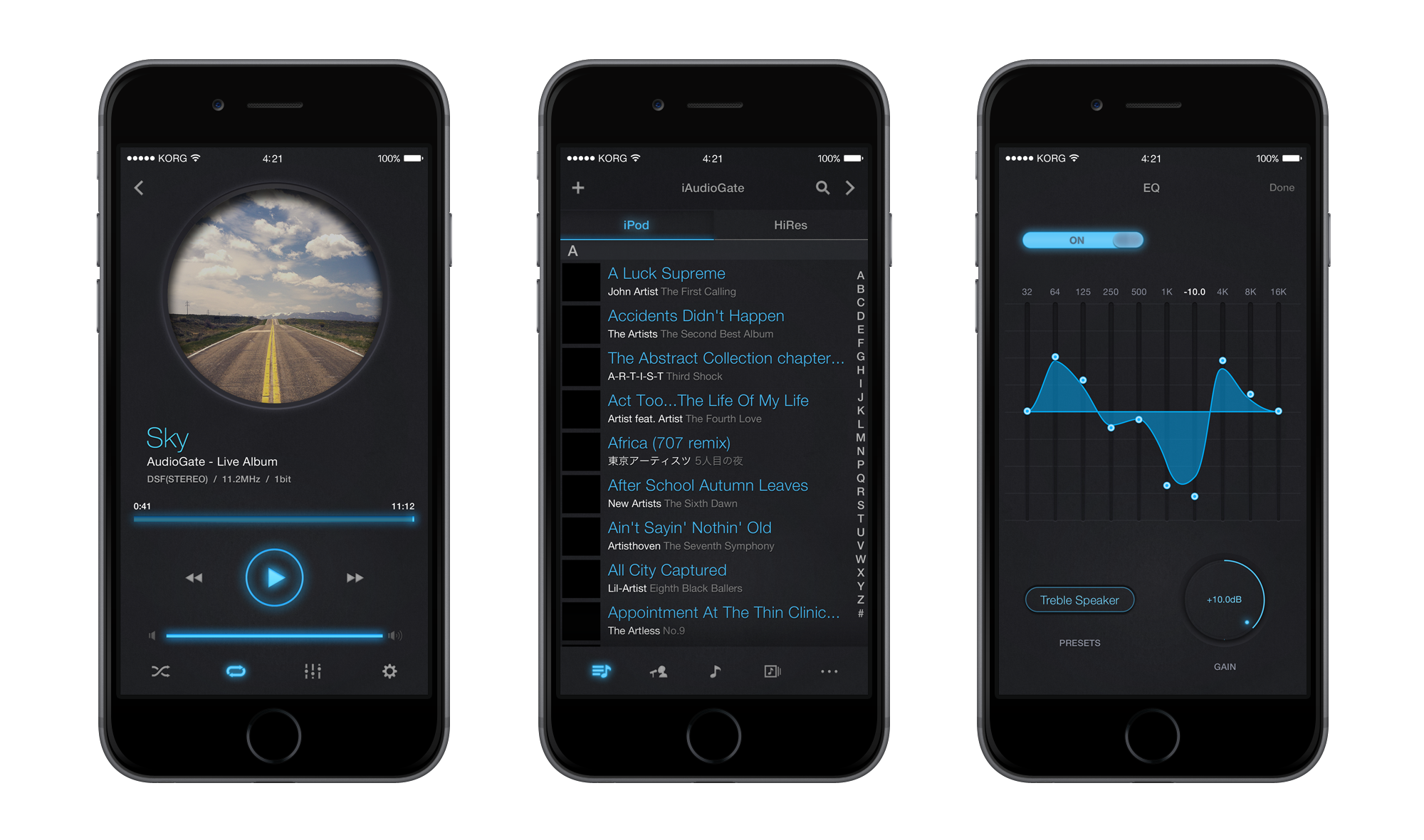 AudioGate, the music player software for PC, will be available on iPhone soon! (To be released this summer.)


KORG was one of the first to realize the potential of high-resolution audio sound, delivering DSD (Direct Stream Digital) in a series of acclaimed recording and playback products. From rack-type recorders for professional studios to portable USB DAC playback devices, combined with powerful format conversion software, Korg is recognized as a world leader in DSD hardware and software technology. AudioGate, the powerful DSD and audio format conversion software launched in 2006, has since become a blockbuster success boosting the awareness of DSD which had been previously known only to high-end users. AudioGate now has an overwhelming share in the DSD player and audio format software world.


Now, KORG will introduce a high-resolution music player fully loaded with the AudioGate player engine and customized as an iPhone app – iAudioGate. Besides immaculate sound quality, the application incorporates important features such as physically adjustable graphic equalizer all accessible through a stylish user interface. iAudioGate delivers faithful reproduction of the sound intended by musicians and engineers in a comfortable and reassuring playback environment.

Create, record, and listen to amazing high quality sound made possible by KORG, one of the leading experts in sound and winner of Best App in 2014 (Japan) from Apple.

* Detailed information coming soon.
Incorporates a high-quality sound playback engine equivalent to AudioGate, the leading DSD player-converter software.

Plays a wide range of audio file types, including high-resolution audio, DSD, FLAC, WAV, MP3, etc.

Easy to adjust high-definition graphic equalizer.

Intuitive and stylish interface fully exploiting the power of your iPhone.

Upsampling function enables reproduction of your favorite music with higher quality.

Enables wireless smart forwarding of audio from Mac / Win (via AirDrop, iCloud Drive, Dropbox etc.)

Flexible remote control via a dedicated Apple Watch app.
Operating Requirements
OS

iOS 8 or later
Devices

iPhone 6, iPhone 6 Plus, iPhone 5s, iPhone 5c, iPhone 5, iPhone 4s
Supported file formats

WAV, BWF, AIFF, FLAC, ALAC (Apple Lossless), AAC, MP3: compatible with 44.1kHz - 192kHz
DSD (DSDIFF, DSF, WSD):compatible with 2.8MHz, 5.6MHz, 11.2MHz
Languages

English, Japanese
* Not compatible with files protected with DRM.
* The software converts sound to 44.1kHz or 48kHz when iPhone plays back independently.
* Compatible with DSD native playback with DoP.
Informacion de producto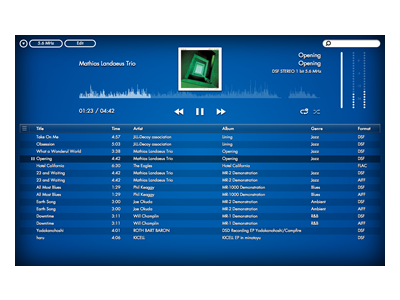 AudioGate3
HIGH DEFINITION AUDIO PLAYER SOFTWARE
We use cookies to give you the best experience on this website.
Learn more
Got it