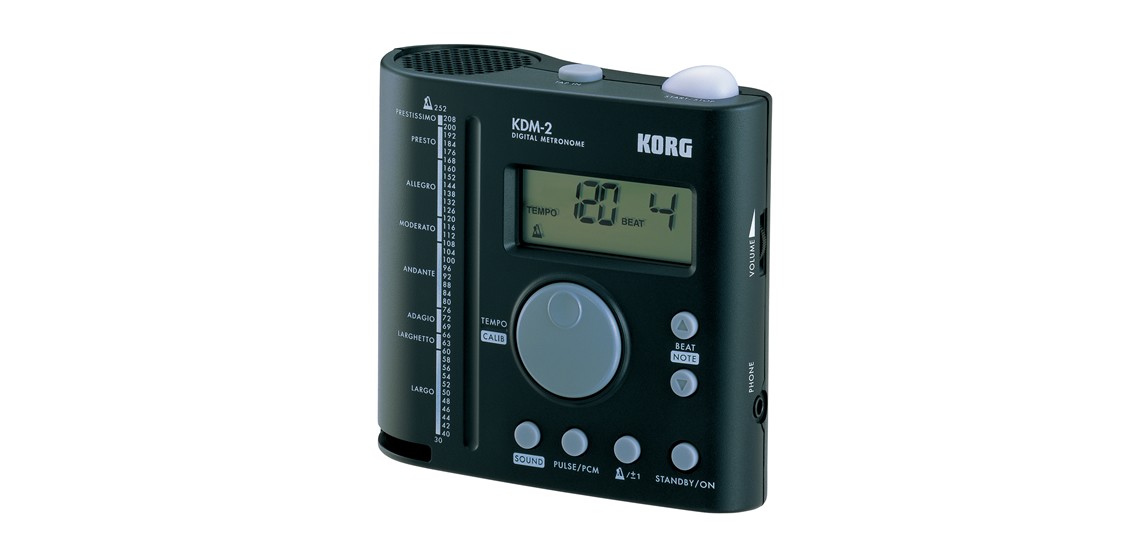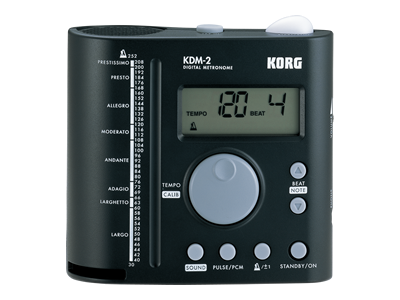 KDM-2
DIGITAL METRONOME
Support for Your Purchase
Support
Learn More
Related Products
Metronome Mode
Tempo Range

Quarter note = 30 to 252 bpm PENDULUM step, 30 to 250 bpm FULL step beats/minute
Tempo Setting

PENDULUM step/FULL step
Beat Range

0 to 9 beats, duplets, triplets, triplet with inner beat omitted, quadruplets, quadruplets with inner beats omitted, son clave (2-3) (3-2), rumba clave (2-3) (3-2)
Tempo Accuracy

± 0.2%
Sound Out Mode
Reference Tone

12 reference pitches (C4 to B4); C4 (261.63 Hz) to B4 (493.88 Hz), 1 octave
Calibration

A4=410 Hz to 480 Hz (unit: 1 Hz)
Tone Accuracy

± 1 cent
Main Section
Connectors

PHONE jack (ø 3.5 mm mini-jack)
Speaker

Dynamic speaker (ø 36 mm)
Power Supply

Four AAA alkaline batteries (6 V)
Battery Life

Approx. 120 hours (120 tempo, 4 beats, PULSE, maximum volume, using standard alkaline batteries)
Dimensions
(W x D x H)

106.0 x 48.5 x 106.5 mm / 4.17" x 1.91" x 4.19"
Weight

210 g / 7.41 oz. (including batteries)
Accessories

Four AAA alkaline batteries for verifying operation.
* All of product, company, and standard names are trademarks or registered trademarks of their respective holders.
* Appearance and specifications of products are subject to change without notice.
We use cookies to give you the best experience on this website.
Learn more
Got it