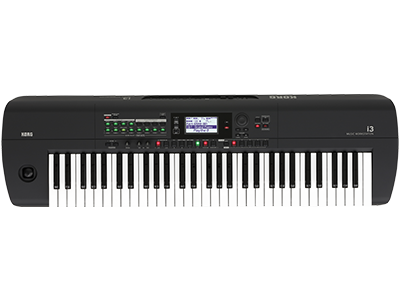 i3
MUSIC WORKSTATION
Learn More
Related Products
Inspiring, Intuitive, and Instant
With the KORG i3 Arranger, your musical ideas evolve effortlessly into complete ready-to-play songs. i3 makes playing and recording incredibly easy, thanks to fast access to fully arranged accompaniment, sounds, and even chord suggestions.

Organizing sounds and rhythms together by Style and Sound Performance Sets is fast and simple, making it easy to choose just the right sounds and rhythms for any musical genre. On-board effects and EQ further refine the sound for any performance setting. The i3 is the ideal arranger for the budding composer, energetic performer, or the inspired music producer looking for a portable, instant, simple to use, and fun to play instrument. With the ability to run on battery power, the KORG i3 can run anywhere, intelligently featuring a convenient auto-power off function to preserve battery life.
Korg i3 - All Playing, No Talking Sound Demo
Inspiring Sound Capability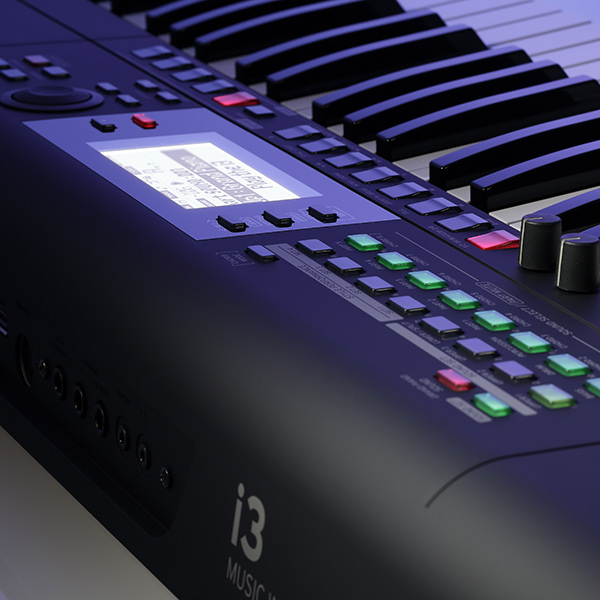 The i3 is packed with over 800 instruments, 200 sound sets, and 270 authentic musical styles, all created by a team of master programmers and musicians. An additional 59 custom drum kits and a complete MIDI GM2 sound set make the i3 a capable instrument. Calling up any of the 200 factory Sound Sets allows up to four sounds to be played at once: three layered across the upper keys, and one split to the lower keys. While Sound Sets are played in real time by the user, the 270 Style Sets contain various pre-programed drum, percussion and accompaniment parts to elevate your performance into a full sounding musical production. In order to achieve this full sound, there are up to eight parts that make up your backing tracks. A high-fidelity PCM sound engine and two stereo effects processors make the i3 capable of creating expressive music with motion and depth. A convenient Grand Piano button located on the main panel means you can instantly recall a beautiful acoustic piano sound at any time.
Ultra-Portable Design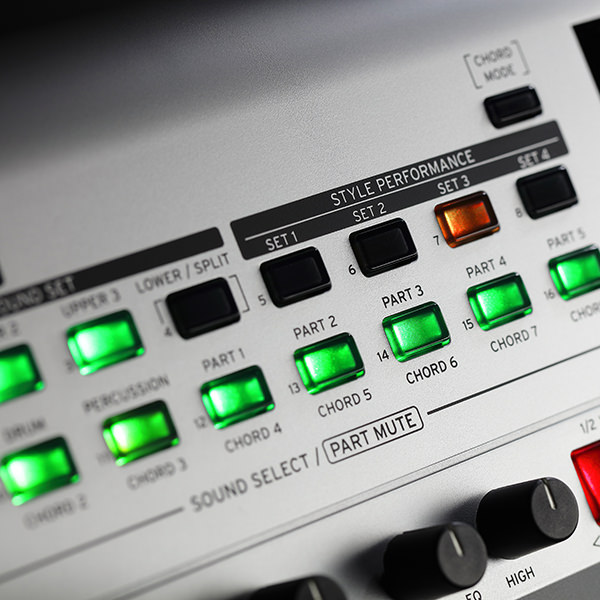 Weighing in at under 9 pounds (4kgs) and featuring 61 full-size, velocity-sensitive keys the KORG i3 is the most compact and lightweight arranger keyboard KORG has ever made. The keyboard response is adjustable using the three touch-curves designed to fit your playing style. Convenient transpose buttons shift the pitch of the keyboard up or down and a versatile X/Y joystick allows for real-time articulation of pitch bend, vibrato, and brilliance during a performance. The front panel controls are conveniently grouped together by function and a backlit LCD display clearly delivers the most important information regarding the i3's current settings. The color changing buttons on the i3's main panel further allow for easy visualization of the music creation process. With two colors to choose from (Black a rubberized touch surface or a clean Silver),, and sleek perforated end panels the i3 has a unique and premium look making it welcome in the home, studio or on any stage. Unlike other arrangers in this price range, i3 is designed to be sleek, slim, and even more portable by going "speaker-less." This makes i3 the perfect arranger for use as a main synth, and even main controller, on any desktop in a home studio, in addition to being a great go-anywhere instrument.
Arranger Roots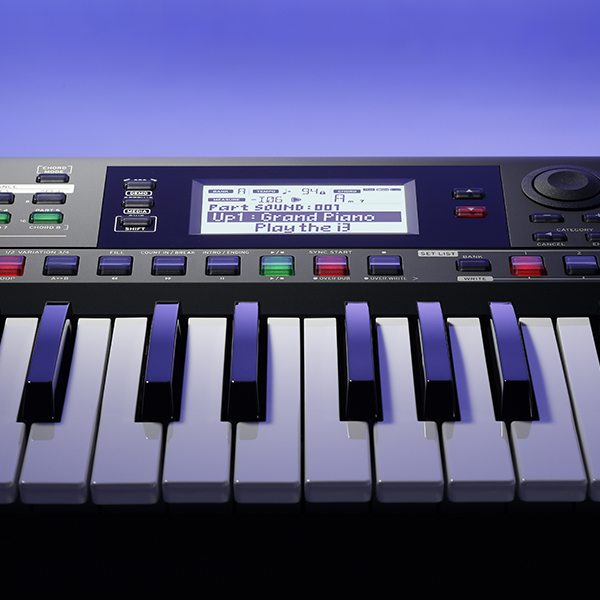 The KORG i3 inherits an easy-to-use arranger interface distilled from our renowned Pa series keyboards to help you put together ideas quickly and efficiently, making it easy to enhance any performance by adding in additional parts. Drumbeats, bass lines, percussion hits, and any other backing parts can be instantly selected or muted by pressing the convenient illuminated push buttons on the main panel. Style performance settings, sound set settings, tempo, effect settings, can all be saved into a single Set List location for instant recall. There are 10 banks of Set Lists, each with 5 locations to save your favorite configurations. Similar to our Pa Series, each Style includes four rhythmic variations, a count-in, a break, plus an intro and an ending. Active backing parts will follow your chord changes to create a personalized backing track to match your performance. If you need some harmonic inspiration, the eight Chord Buttons can trigger ready-made chords to keep your creative process moving forward. As you get more familiar with the i3, you can swap or substitute backing sounds, grooves and parts from any Style Performance Set, resulting in a truly custom sound. These features mean that each Style can be a complete song-creation environment, with ready-to-play sounds, parts, and chords.
Compose, Record, and Share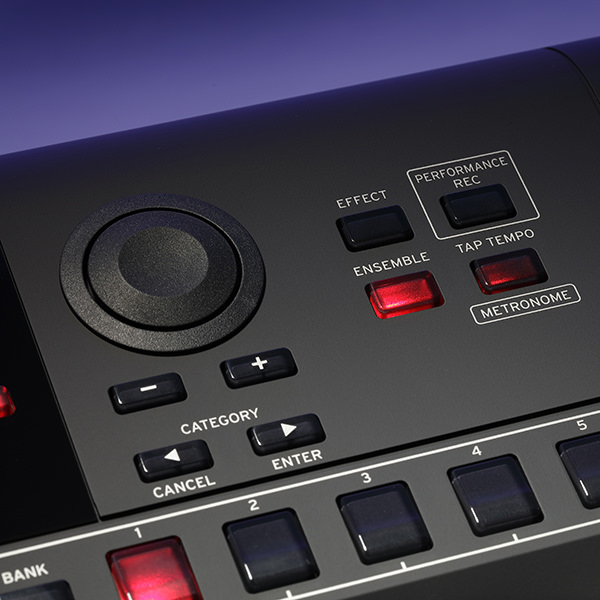 The KORG i3 Arranger offers a number of ways to easily capture your musical creations, and with convenient one touch recording, your ideas can be quickly captured when inspiration strikes. A powerful and easy to use sequencer can function as a linear 16-track recorder, allowing any individual track to be edited or replaced as you fine tune a recording. Once recorded, a project can be exported as a MIDI data file or as an audio .WAV (44.1 kHz) file. The onboard sequencer can even play back audio files saved in the .WAV (44.1 kHz) or MP3 format.
Easy Connectivity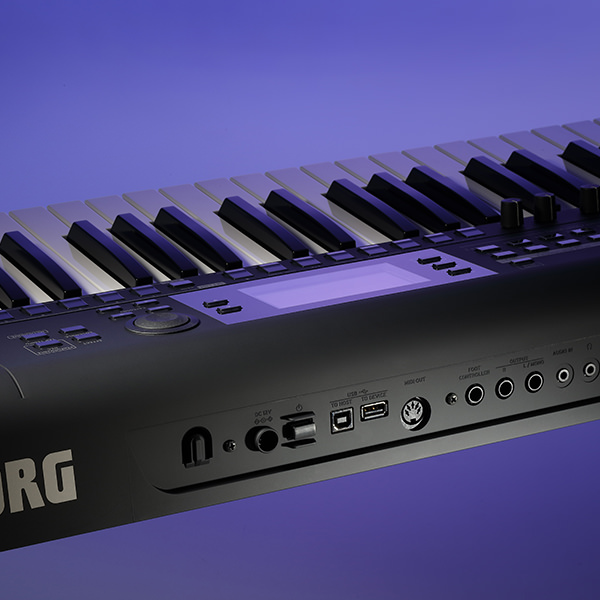 The i3 Arranger features plenty of connections to satisfy any musical situation.
When not running on battery power, the i3 can be connected to an AC power source using the included adapter. There are two 1/4" outputs (Left/Mono and Right), and a useful 1/8" stereo headphone output jack that makes it easy to connect your favorite pair of headphones. An 1/8" audio input is also provided for easy play along functionality with your favorite tracks. A 1/4" foot controller jack is provided, with the function of the footswitch or expression pedal being defined in the settings of the i3. A MIDI output jack sends note and timing data from the i3 to other MIDI equipped instruments or audio gear. Two USB ports are provided, one that can save and load user data and songs to and from a USB flash drive, and the other to connect the i3 to a computer.
Music software bundled at no charge
The i3 comes with an entire music software bundle. "Ozone Elements" not only lets you create songs but also features AI-powered mastering, "Skoove" helps you improve your keyboard skills, and "Reason Lite" is a DAW (Digital Audio Workstation) so you can immediately jump into recording your own music. Also included are software synths from KORG and other brands.

This means that as soon as you get your hands on this workstation, you'll have access to all the tools you need to begin creating the music you want to create.
Apps for iPad/iPhone
KORG Gadget 2 Le(music production studio DAW app)

KORG Module(piano/keyboard sound module app)
Software for Mac/Windows
KORG Collection - M1 Le(synthesizer sound module)

UVI Digital Synsations(synthesizer sound module)

AAS Ultra Analog Session(synthesizer sound module)

AAS Strum Session(acoustic guitar sound module)

AAS Lounge Lizard Session(electric piano sound module)

Propellerhead Reason Lite(DAW music production software)

Skoove free 3 months trial of Skoove Premium(online piano lesson)

KORG Gadget 2 Le for Mac(DAW music production software)

iZotope Ozone Elements(Audio Mastering Plug-in Software)
We use cookies to give you the best experience on this website.
Learn more
Got it