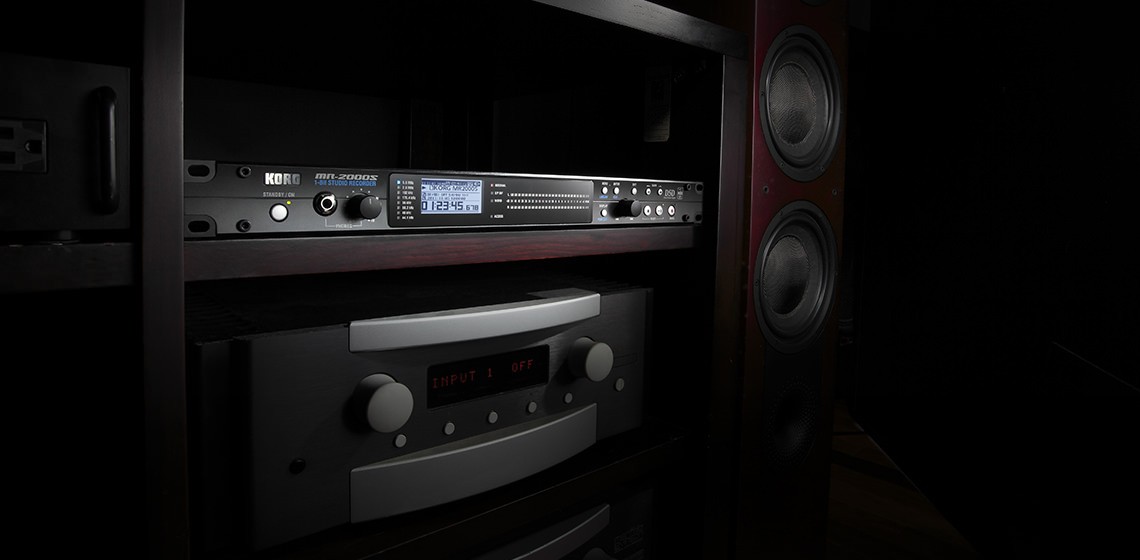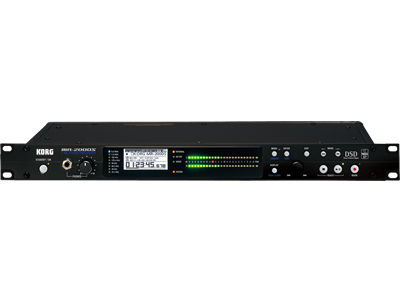 MR-2000S
1-BIT STUDIO RECORDER
Learn More
Related Products

Archiving Vinyl Records
Since the advent of the CD, audio equipment has become predominantly digital. Yet while sharp-edged sound is valued, the rich information content, warmth, and subtlety of analog records is also receiving renewed appreciation.
Although the MR-2000S-BK is a digital device, DSD's high degree of reproducibility allows it to faithfully capture the warmth of an analog record, and has contributed to the popularity of the MR-2000S-BK as an ideal method of archiving inherently high-maintenance analog records.
*Additional equipment is required in order to connect an analog record player. For details, refer to the owner's manual of your analog record player.
Easy Management of up to 160,000 Projects
When you record on the MR Series, two types of file are created; an audio file and a project file (which contains protect settings and mark data). These two files are collectively called a "project," and can be handled on the MR Series as a single audio file. The MR-2000S-BK lets you enter date information, and a date folder is created automatically for each day that you record.
Each time you record, a project will be created in this folder. For each format, the MR-2000S-BK lets you create up to 400 date folders, with up to 400 projects in each date folder. It's also easy to perform file management tasks such as renaming, deleting, or protecting individual projects.
You can also store up to 100 mark points in each project.
Future-Proof Recording
By mastering in this superior format, the recorded material can always be re-created natively in whatever format you require, providing a true future-proof archive. In supporting these recording requirements, the MR-2000S-BK uses the highest-quality components available - the CS4398 Digital to Analog Converter from Cirrus Logic and the Burr-Brown PCM4202 Analog to Digital Converter from Texas Instruments Corporation - minimizing any possible degradation of the audio signal. In addition to the aforementioned 2.8 MHz and 5.6 MHz 1-Bit formats (DSDIFF, WSD and DSF formats are supported), the MR2000SBK is ready to record in any of the current 16-Bit and 24-Bit formats (from 44.1 kHz up to 192 kHz) directly, in BWF (Broadcast WAV) or AIFF formats, and can even playback MP3 files.
The Ideal Connections for the Professional Workplace
The MR-2000S-BK offers the essential connectors for today's professional workplace. Analog connectors include XLR balanced input/output jacks, and RCA unbalanced input/output jacks. The reference level of the XLR jacks can be switched between -12/-14/-16/-18/-20 dB, allowing the MR-2000S-BK to be used in any recording environment from a music-related studio to a broadcast facility. Digital connectors include S/PDIF coaxial jacks for PCM sources, as well as word clock jacks for synchronization with other devices or additional MR-2000SBK units.
MR Control Link for Multi-Unit Operations
The MR Control Link feature allows one MR-2000S-BK to be assigned as the master, controlling the recorder operations such as playback and recording on multiple MR2000S/S-BK Studio Recorders. The synchronization clock and transport control signals are relayed via standard S/P DIF cables. This means that 7.1 channel surround or multi-track live recordings can be conveniently captured in the superlative DSD format. This function is also valuable as a way to create 1-Bit archives of multi-track sources such as stem mixes.

AudioGate Software included
KORG's acclaimed MR Series of high-resolution recorders, in combination with the AudioGate file format conversion application included with these recorders, gives you a new MR-Style solution with comprehensive support for the entire process of recording to mastering.
Repeated updates to AudioGate have continued to expand the list of supported formats. Regardless of the format of your master, AudioGate will take care of your conversion needs.
A high-resolution master recorded on the MR Series as 1-bit DSD or 24/192 PCM can be used to create a compressed file for network distribution, a PCM file edited and mixed on your DAW can be used to generate a DSDIFF file for use as an SACD master, or an SACD DSDIFF master can be converted to the native DSF file format of a DSD disc.
We use cookies to give you the best experience on this website.
Learn more
Got it