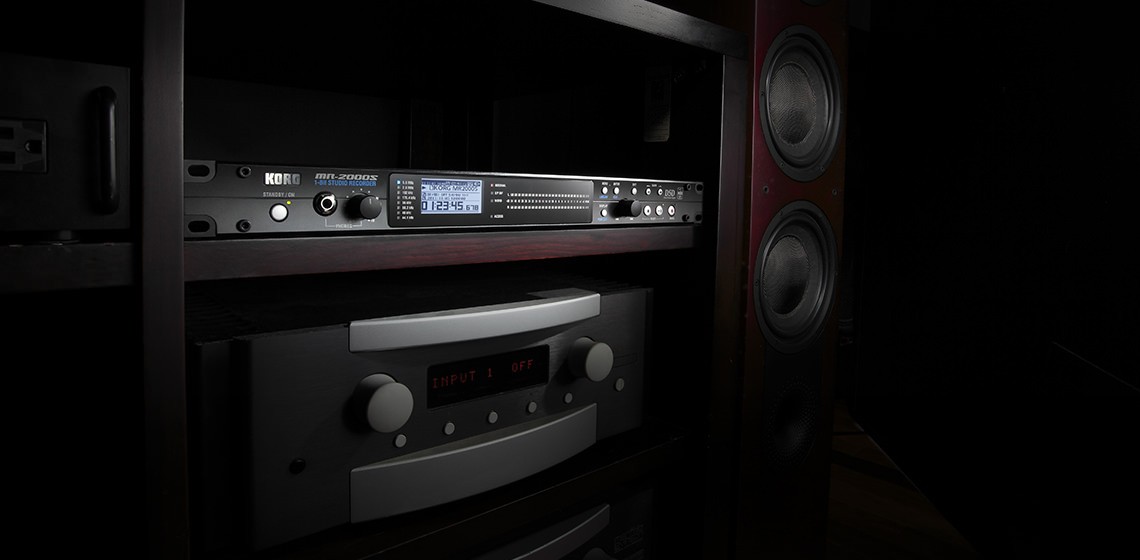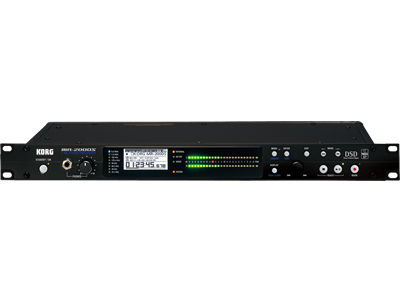 MR-2000S
1-BIT STUDIO RECORDER
Learn More
Related Products

Bold Black Design
The new black panel with its bold yet understated design will harmonize with studio equipment as well as your home audio system. To avoid impairing the atmosphere of your listening room, the LED level meters can be turned off, allowing you to immerse yourself in an undisturbed world of sound.
Legendary MR Series Audio Fidelity; Enhanced for the Modern Studio
The MR-2000S-BK combines KORG's legendary MR Series' unprecedented audio quality with the features that the modern studio demands, creating the ideal mastering and mixdown recorder. The single-rackspace design and ample on-board hard drive delivers a compact way to capture and carry away the sound you were hearing in the mixing environment. This compact format is also ideal for any live recording rig; or for grabbing that "off-the-board" live recording night after night. The rich black studio finish, backlit LCD, and bright LED level meters provide excellent visibility and response speed, ensuring accurate monitoring. The MR-2000S-BK fulfills the professional ideal of a truly future-proof studio master recorder.
Capturing the Complete Performance

A with all of KORG's MR Series recorders, the MR-2000SBK supports the 1-Bit/2.8224 MHz DSDIFF format used in creating the SACD (Super Audio Compact Disc). The MR-2000S-BK goes above and beyond this industry standard to provide 1-Bit/5.6448 MHz recording. At such accelerated sampling rates, the entire sound stage is faithfully captured, even during the softest passages. The clarity, ambience and true dynamic range of the original sound source are preserved with unprecedented accuracy.
Generous 128 GB SSD (Solid State Drive)
The internal 128 GB SSD allows approximately 23 hours of recording at the highest quality (1-bit 5.6448 MHz stereo), or approximately 190 hours of CD-quality (16-bit 44.1 kHz stereo). You can connect the MR-2000SBK to your PC via the USB 2.0-compatible port and transfer the recorded data at high speed. The MR-2000SBK can also be used as a FAT32 USB external drive to carry source material and other files when needed.

* The maximum continuous recording time is six hours.
We use cookies to give you the best experience on this website.
Learn more
Got it