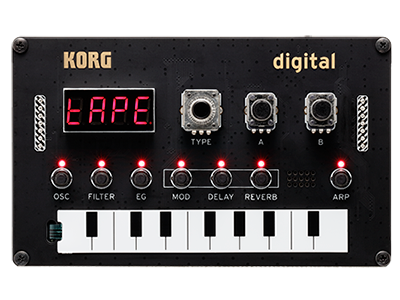 NTS-1 digital kit
PROGRAMMABLE SYNTHESIZER KIT
Detaylı Bilgi
Bağlantılı siteler
İlgili Ürünler
Build it, tweak it, connect it; a world of synthesis at your fingertips!
Korg is always building new ways to experience hands-on, fun music-making.
Now, you can too.

The Nu:Tekt NTS-1 digital KIT is a unique, flexible, and easy DIY synthesizer that you can easily assemble yourself, without any soldering (tool included!).

The first of its kind from KORG's DIY-focused Nu:Tekt brand, NTS-1 packs a powerful synth and multi-effects engine into a compact form factor that you can carry and connect anywhere. Its DIY nature means it's also very customizable. Explore the possibilities!

NTS-1 is also completely compatible with the logue-SDK*, so it is possible to run any custom oscillator and effect content available for minilogue xd and prologue, or, create your own.

* When using 3rd party plugins on the NTS-1 please consult with the developer first as the content may sound differently than with minilogue xd or prologue based on polyphony.
Geniş bir yelpazeli sonic imkanlar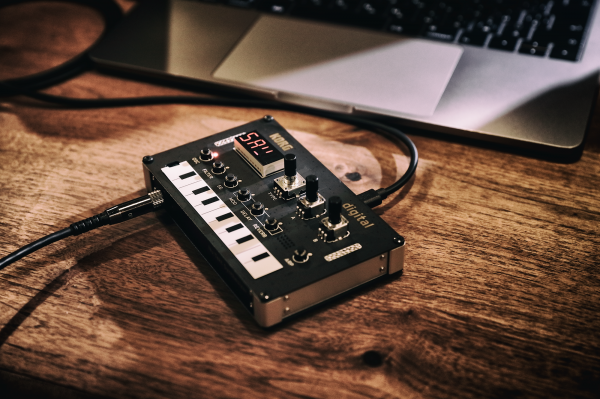 Boyutunun aksine Nu:Tekt NTS-1, çok sayıda ses aralığı, diziler ve modlar dahil olmak üzere son derece kullanışlı bir arpeggiator ile birlikte, her biri keşfedilmeye hazır birden fazla ayara sahip özel spatial, modülasyon ve delay bölümleri ile tanınmış prologue ve minilogue xd'deki MULTI motordan ilham alınan bir dijital osilatöre sahip.

Tek bir monofonik dijital osilatör, EG'de bir çok modlu filtre, üç LFO, üç stereo efekt işlemcisi ve tam arpeggiator olan NTS-1, çok güçlü, esnek, keşfedilmesi kolay bir synth.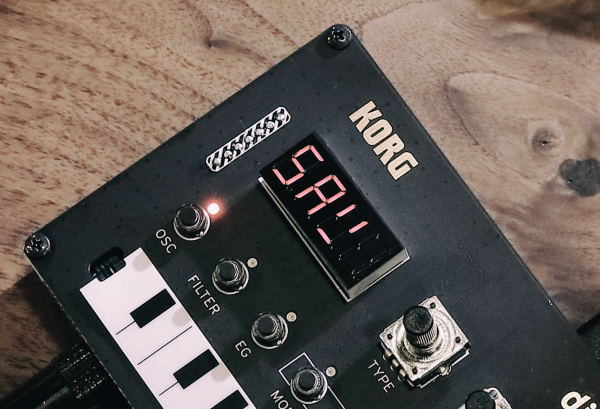 Ana osilatör Sawtooth, Triangle, Square ve VPM dalga formlarını üretebilir ve Korg'un logue SDK'dan oluşturulan özel osilatörleri yükleyebilir, bu da prologue ve minilogue xd için oluşturulan içerikle uyumlu olduğu anlamına gelir. Bu dalga formları sadece birkaç düğme çevrilerek kolayca yeniden şekillendirilebilir ve ayarlanabilir.

Çok çeşitli filtreler (Low pass 2/4-pole, High pass 2/4-pole, Band pass 2/4-pole ve OPEN modlu, tümü rezonanslı), genel osilatör tonu üzerinde ciddi kontrol sağlar.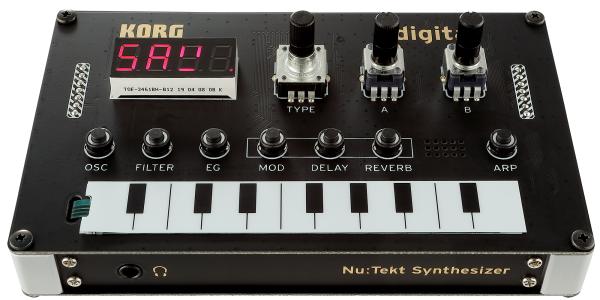 Dahili efekt üniteleri KORG'un efektlerini tamamen yeni bir seviyeye çıkaran minilogue xd'den ilham alıyor. Yaptığınız sesleri tam anlamıyla bitirmek için çok sayıda reverb, modülasyon ve delay efektleri istediğiniz zaman eklemek ve düzenlemek için kullanılabilir.

NTS-1 ayrıca çeşitli patternlere sahip eğlenceli ve pratik bir arpeggiator sunmaktadır. Diziler ve bir Rasgele mod da dahil olmak üzere çok sayıda nota sıralaması ile anında yeni ve orijinal fikirler oluşturmak için kullanılabilir. Pattern uzunluğu ayarlanabilir (1 ila 24 adım arasında) ve harici olarak senkronize edildiğinde adım uzunluğu de ayarlanabilir (16. ila 64. nota)

Ribbon controllerı, basit arayüzü ve ekranı sayesinde, NTS-1 sezgisel olarak çalınabilir ve keyfi çıkarabilir. Olanakları daha da arttıran çeşitli düğmeler/düğme kombinasyonları ile daha derin parametre değişiklikleri de mümkündür. Boyutunun sizi aldatmasına izin vermeyin; NTS-1 derinlere inebilir ama hepsine de kolayca erişim sağlar.
Customize the experience
The fun isn't over after you finish building the NTS-1. The screws on the side panels are long enough to let you easily attach custom side panels.

Get creative and use the NTS-1 in a wide variety of setups. Equipped with AUDIO IN, SYNC IN, SYNC OUT and MIDI IN connectors, the NTS-1 can easily be used in combination with other hardware and software.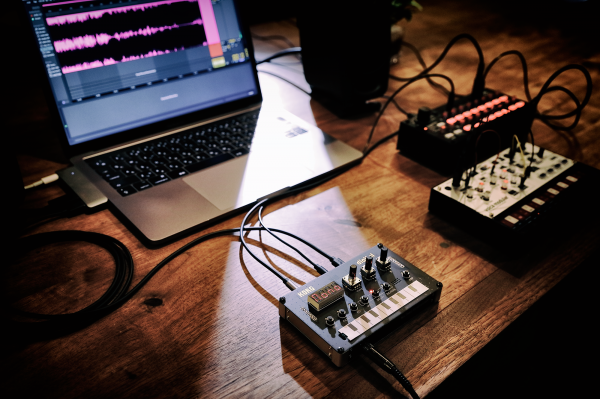 You can control it using external MIDI controllers and sequencers, use it to modify and audio signal with its powerful digital effects, or even sync it to other hardware and jam along!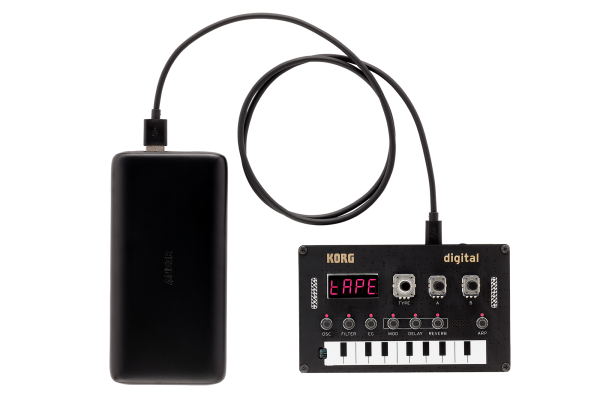 It's also USB micro-B powered so you can plug it directly to a portable battery and take it anywhere with you! You can also connect to your computer's USB port or directly to the power supply using a standard USB power plug.
Free bundle of music software
The NTS-1 comes with a diverse variety of music software from Izotope including "Ozone Elements" which lets you not only create songs but also master them using AI, "Skoove" which will help you improve your keyboard playing skills, "Reason Lite" DAW software, as well as software synths from KORG and other brands.

In other words, the moment you get your hands on this synthesizer you'll have a variety of tools to help you take your music to the next level.
Apps for iPad/iPhone
KORG Gadget 2 Le (music production studio DAW app)

KORG Module (piano/keyboard sound module app)
Software for Mac/Windows
KORG Collection - M1 Le (synthesizer sound module)

UVI Digital Synsations (synthesizer sound module)

AAS Ultra Analog Session (synthesizer sound module)

AAS Strum Session (acoustic guitar sound module)

AAS Lounge Lizard Session (electric piano sound module)

Propellerhead Reason Lite (DAW music production software)

Skoove free 3 month trial of Skoove Premium (online piano lesson)

KORG Gadget 2 Le for Mac (DAW music production software) i

iZOTOPE Ozone Elements (Audio Mastering Plug-in Software)
Contents of the package