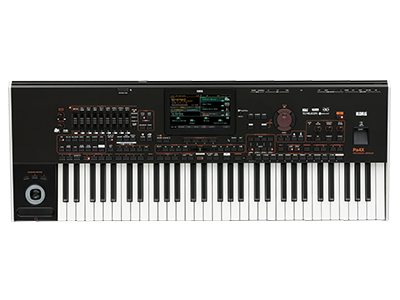 Pa4X
PROFESSIONAL ARRANGER
Learn More
Related Sites
Related Products
Do it with Style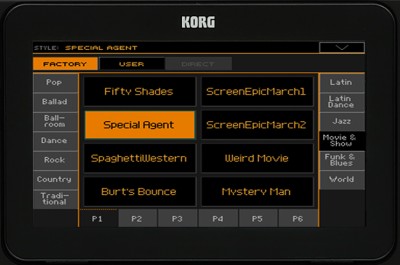 Each Style is a fully realized musical environment dedicated to reproducing a specific musical genre, and the Pa4X is packed with over 580* of them. Play along with these styles which cover song styles from around the world, from the past right up to today. These highly-versatile Styles have been created by KORG's international sound team to provide an extremely musical experience. New Styles have been added, and many cherished Styles have been brought up to date with new sounds, enhanced effects, and re-balanced mixing. In addition to drums, percussion, and bass, each Style can provide up to five additional instrument parts that follow your chord changes and voicings, as well as the tempo. Guitar Mode 2 makes the Style's guitar tracks more authentic than ever before possible. In addition, each Style can be enhanced by using the four Pads. Each Pad can add a one-time or repeating riff, a percussion part, an accent sound, or even a sound effect. You can even program your own Pad riffs and phrases. And of course, each Style features an assortment of Intros, Variations, Breaks, Fill-Ins, Endings—even a count-in. You may also create your own brand-new Styles, or customize the existing ones. The convenient Chord Sequencer function can quickly record and loop your chord progressions on the fly in Style Play mode; this can be useful not only for practice, but for freeing up your left hand while performing live. These Chord Sequences can now be also saved as Style and SongBook entries for easy recall.

The latest Styles – today!
Thanks to an all new built in SMF (Standard MIDI File to Style converter), you can quickly and easily have on board styles of the latest songs! Just obtain a new Standard MIDI File, load it into the Pa4X and the inbuilt converter will easily and quickly turn it into a full KORG style which you can save and recall any time you need it. Every function band musician will love the combination of latest styles and incredible KORG sound!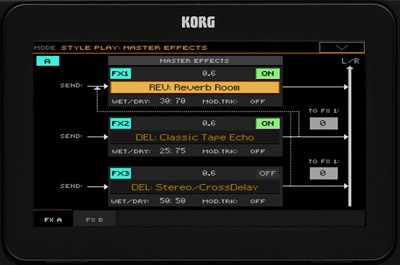 KORG is known for studio-quality effects, and the Pa4X includes the best of the KORG library. 4 Insert and 3 Master effects can be used for the accompaniment tracks, while 1 Insert and 2 Master effects can be used for the real-time keyboard tracks. Over 140 effect types are available, including reverbs, delays, vintage stomp box simulations, amp and cabinet simulators and more. In addition, each track features an EQ with Low, Mid and High controls, and a custom track EQ can be memorized in the Song Play mode—allowing your song to sound its best in any environment. The final effects are the result of KORG's long term cooperation with Waves Audio®, the world reference in studio mastering effects. The included Waves MAXX AUDIO™ suite delivers sound that is louder and clearer, easily adapting the sound to your musical taste or correcting a problematic live scenario.
TC Helicon® Voice Processor

KORG's long term cooperation with the world leader in vocal harmonies, TC Helicon®, continues in the Pa4X. The TC Helicon Voice Processor ensures that your vocals have the highest possible sound quality: up to 4 realistic harmony voices are available, and all can be controlled using the keyboard or MIDI events. Available vocal effects include Double, µMod, Reverb, Delay, Filter, HardTune, Pitch Correction plus Compressor, EQ, Gate, etc. Dedicated knobs (3) and buttons (3) for controlling the most important Voice Processor functions have been added to the top panel and placed within easy reach. The Adaptive Mic Setting—another KORG exclusive— monitors the input signal and auto-adjusts parameters such as the Adaptive Gate, EQ, Compression and the De-Esser to make the vocals sound smooth and "studio produced." Just plug your microphone into the balanced XLR connection (phantom power available) and let the Pa4X do the rest!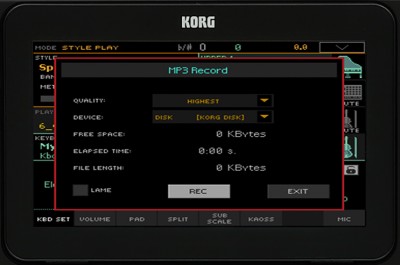 KORG's XDS Dual Player & Recorder features a crossfade slider for providing non-stop entertainment; load one as the other plays, then crossfade between them—or create a playlist for automatic playback. Two different MP3 or MIDI files can be played simultaneously. MIDI files and even MP3 files can be transposed, sped up or slowed down. There is also a Marker Function to allow direct jumps to a given position in the song, or to create loops between song sections. The "MP3+G" (also known as MP3+Graphics) format and other popular lyric formats are supported. This feature allows MP3 files to play with lyrics and graphics that can be displayed on the built-in display or on an external monitor—or both. The Vocal Remover quickly eliminates the vocal track from MP3 songs—ideal for live karaoke! The 16-track recorder allows sophisticated levels of sequencing and editing, and also provides quick and easy song creation using the Backing Sequence and Style functions. The Pa4X can record your entire performance; you can play back a song, play the keyboard, sing along, and everything will be recorded and saved as an MP3 file. You can then play that MP3 file again to add a further keyboard track or voice using the well known "sound on sound" technique. Using the note data saved in a MIDI file, the Pa4X can display traditional musical notation with notes and/or chords, together with lyrics and chord abbreviations. This sophisticated Score Viewer can be seen on the internal TouchView™ screen, or displayed on an external video monitor. Chord names can also be seen in English or Italian.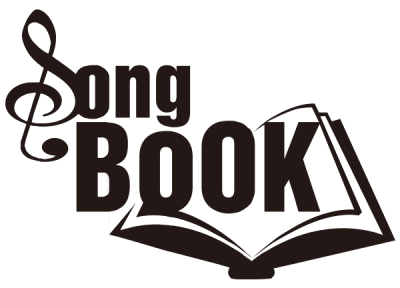 Particularly helpful for live use, the SongBook is a fully programmable and easily searchable Music Database. Each entry contains all the settings required to play a particular song. The SongBook can save and access Styles, MIDI files, or MP3s and immediately recall settings such as the song title, genre, artist, tempo, volumes, sounds, muted tracks, FX settings, easy-edit parameters, 4 keyboard sets, 4 pads, TC Helicon® presets, master transpose, and much, much more. Everything needed to play your song back perfectly is in the SongBook. This incredibly useful performance feature is another KORG exclusive. A more refined Filter feature allows you to search for entries using a combination of different criteria, such as all songs containing "love" in the title AND classified as a "ballad". The SongBook includes also a renewed Set List function, with a convenient panel-button association for fast recall, to make life easier during live gigs. With the SongBook Editor you can easily view, create, and edit your KORG Pa-Series SongBook entries and Set Lists using a Windows based computer. It can also be synchronized with iOS and Android tablets to become your handy external digital music sheet reader (third-party software required).
Connectivity, Data Storage, and Updates
In addition to the Main Left and Right outputs, the Pa4X includes two additional assignable outputs. This can be ideal for isolating a part for additional signal processing or feeding an external mixer. A headphone output is conveniently located on the front panel. The microphone input uses an XLR connector, and phantom

power is available. For inputs, the Pa4X provides a pair of balanced 1/4" inputs (Line 1) and a stereo 1/8" jack (Line 2) for use with smartphones, mobile devices, etc. MIDI In, Out, and Thru connectors are provided, as well as a USB to computer (Device) port. The composite RCA video output delivers the score and lyric display (or simply mirrors the internal display) to an external monitor.
We use cookies to give you the best experience on this website.
Learn more
Got it