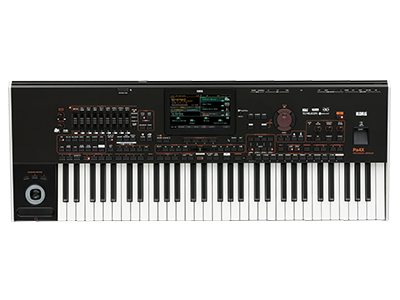 Pa4X
PROFESSIONAL ARRANGER
Learn More
Related Sites
Related Products
The New Pa4X
From the original SAS-20; through the i, iS, and iX Series; to the highly acclaimed Pa Series; KORG's arranger keyboards have been used by hundreds of thousands of music professionals across the planet. The Pa4X honors this rich history with powerful new technology and progressive input and ideas from leading performance musicians from around the world. The result is a combination of unbeatable sound quality, intuitive control, and innovative features—all housed in a modern, strong, and stylish aluminum case.
Sound quality at its best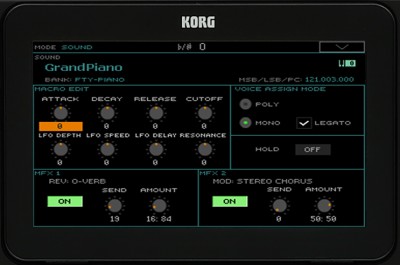 The Pa4X relies on KORG's advanced EDS-X (Enhanced Definition Synthesis-eXpanded) sound engine, and comes complete with over 1,900* ready-to-play sounds. This realistic collection offers a vast gathering of classic and contemporary keyboards, band and orchestral instruments, plus electronic and acoustic instruments—from techno to folk. Included is a new multi-layer stereo grand piano (with damper and body resonance), plus electric pianos from the acclaimed KORG SV-1 Stage Piano. The digital drawbar organ includes key on/off noises, leakage, and Rotary Speaker emulation. In addition, the Pa4X has been equipped with new wind instruments, strings, basses—even acoustic and electric guitars. Sounds have been painstakingly captured using state-of-the-art methods that allow the finest of details to be accurately reproduced.

Three assignable switches, the four-way joystick—even a ribbon strip—allow KORG's unique DNC (Defined Nuance Control) to reproduce the subtle nuances and articulations of acoustic instruments creating ultra-realistic performances rich in expression—all in real time and on demand. Bring any solo or melody to life with the growl of a passionately-played saxophone; the changing embouchure of a trumpet; the breath elements found in a clarinet or harmonica; and the added characteristics that give extra authenticity to the pizzicato and arco sounds of a string section. More than 110* authentic drumkits—including Ambient Drums—breathe life into any rhythmic passage; the Drum Family Easy Editing feature offers total control over volume, pitch, EQ, and more. An additional 1.5 GB (3.0 GB when compressed)* of user memory allows new sounds to be added quickly and easily using KORG, WAV, AIFF, and SoundFont™ formats. Conduct your own sampling session and take advantage of the complete sample recording and editing features found in the Pa4X.
Slim, powerful and easy to use

Both the Pa4X 76 and Pa4X 61 feature a naturally-responsive and semi-weighted keybed that provides both velocity and aftertouch sensitivity. The dynamic response is adjustable to accommodate any playing technique and any level of musicianship—from the hobbyist to the demanding professional. The main panel has been optimized to ensure that all controls are ergonomically positioned and intuitively located to make every performance feel smooth and natural. Big, bright, and bold, the new capacitive TouchView display hosts a redesigned graphical interface that is easier than ever to read, even under the most demanding lighting environments.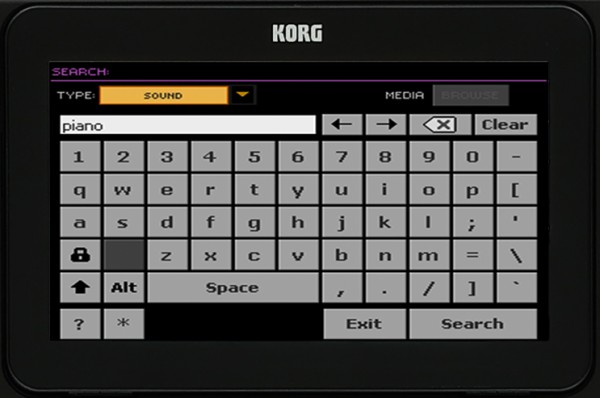 The entire screen can be tilted forward and back to provide the perfect angle for optimum viewing—on stage or off! Searching for that song, Style, or file that you were just using? The multi-function Search feature can find what you are looking for—quickly! Styles and Keyboard Sets can be read directly from a USB drive—without the need to load data in the internal memory.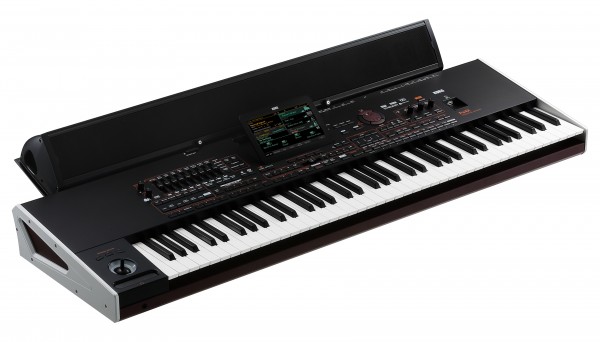 For those seeking an all-in-one solution, experience the optional PaAS Speaker System. This easy-to-use add-on provides spectacular sound for home and rehearsal use—or as a personal performance monitor. The bi-amped PaAS sound system contains five loudspeakers in a sleek cabinet that attaches directly to your Pa4X. Best of all, installation takes only seconds; no tools are required; no cables are needed, and no power supply is necessary.
We use cookies to give you the best experience on this website.
Learn more
Got it