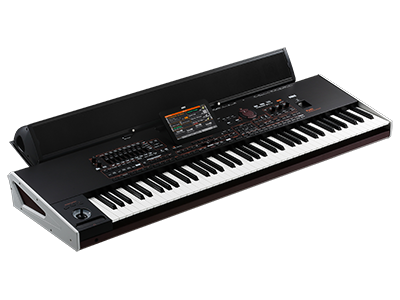 PaAS
Pa Amplification System
Learn More
Related Products
Pa Amplification System for Pa4X, Pa3X and Pa3X Le (76 and 61 keys)
The optional PaAS is a high-fidelity speaker/amplification bar specifically designed to connect directly to the Pa4X, Pa3X and Pa3X Le (61 and 76 key models). Useful for both home and on-stage monitoring, the PaAS uses KORG's "Easy Connect" system: no additional support, no cables, no power supply needed to deliver a crisp and clean full sound.
Specifications
System

3 Channel Amplification System
Power

2x20 Watt (Middle/High Frequency) + 1x40 Watt (Subwoofer)
Speakers

5 Speakers: 2 Middle range (80 mm) + 2 Tweeters + Dual Coil Subwoofer (130 mm).
Cabinet

Aluminum case with Bass Reflex System
Connectivity

Simple connection. The power and audio signal from the Pa4X/Pa3X/Pa3X Le are via a special connector that is automatically attached to the keyboard. No additional cable or power supply is needed.
Dimensions (W x D x H)

992 x 173 x 137 mm / 39.06" x 6.81" x 5.39"
Weight

5.7 kg / 12.57 lbs.
* All product, company, and standard names are trademarks or registered trademarks of their respective holders.
* Appearance and specifications are subject to change without notice.
We use cookies to give you the best experience on this website.
Learn more
Got it