Nieuws Minilogue Attack Interview Tats and Yuki!!
Attack editor Greg Scarth goes behind the scenes with Minilogue creator Tatsuya Takahashi and principle sound designer Yuki Ohta to discover how Korg's new analogue synth was born.
Since the release of the Monotron less than six years ago, Korg's analogue synth department has grown into one of the most exciting stories in music tech. At one point, analogue hardware seemed like it was no longer on Korg's agenda, but with products like the Volca series, the MS-20 reissue and now the excellent Minilogue, the iconic Tokyo brand has reestablished itself as one of the most exciting names in analogue synthesis. Shortly after the release of the Minilogue, Korg Japan offered us a rare opportunity to speak to two of the key figures in its development, Tatsuya Takahashi and Yuki Ohta.
Read full article:
www.attackmagazine.com/the-democratisation-of-synthesis-korg-designers-on-the-making-of-the-minilogue/
Productinformatie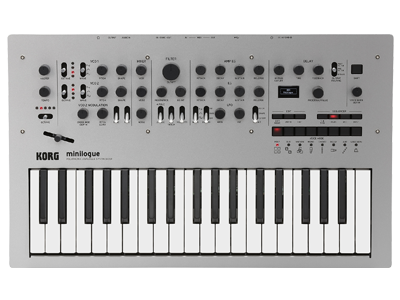 minilogue
POLYPHONIC ANALOGUE SYNTHESIZER
We use cookies to give you the best experience on this website.
Learn more
Got it