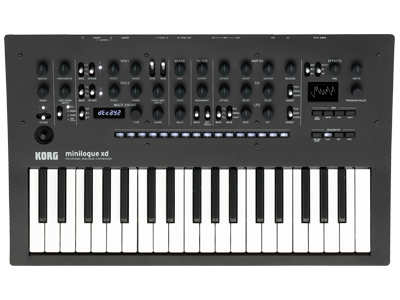 minilogue xd
SYNTHETISEUR ANALOGIQUE POLYPHONIQUE
Support pour votre achat
En savoir plus
Sites connexes
Produits correspondants
Accessoires
Un synthétiseur analogique évolué de nouvelle génération avec un énorme potentiel pour la conception sonore et les performances.
Nous voulions fournir un synthétiseur analogique de nouvelle génération pour une nouvelle génération de musiciens novices en synthèse analogique. Ce rêve s'est réalisé dans le développement du minilogue, qui a instantanément rendu le synthétiseur analogique accessible.

En plus de mettre l'accent sur le même son analogique réel et le plaisir de contrôler un instrument de musique électronique offert par le minilogue original, le minilogue xd ajoute un multimoteur numérique, des effets, un séquenceur étendu et une fonctionnalité de micro accordage, élargissant ainsi les possibilités de conception sonore et de performance.

minilogue xd est une évolution du révolutionnaire minilogue original.
minilogue xd - film d'introduction
Circuit synthétiseur analogique qui dépasse les attentes de sa catégorie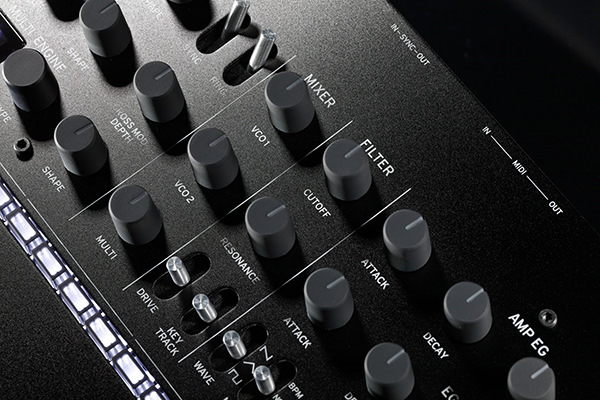 Synthèse analogique polyphonique à quatre voix. Le circuit synthétiseur analogique du minilogue, dont le véritable son analogique a eu un impact énorme sur le monde des synthés, a été amélioré pour le minilogue xd.
La structure de voix du minilogue xd est 2VCO + MULTI ENGINE, 1VCF, 2EG, 1VCA et 1LFO. En plus des circuits distinctifs que l'on retrouve dans la série, comme la mise en forme des ondes pour traiter les harmoniques de l'oscillateur et un commutateur de synchronisation/anneau, il y a aussi la modulation croisée, un filtre bipolaire tranchant et un drive ajoutant de l'épaisseur en commandant le signal du filtre du minilogue xd. Chaque paramètre a été réglé avec une infirme précision en fonction de ce que les musiciens attendent de leur synthétiseur. Les sons vont des pads chauds typiques des basses analogiques aux basses grasses et aux sons de de leads agressifs, couvrant toutes les situations.
Bien entendu, les programmes que vous créez peuvent également être sauvegardés dans l'instrument. Le minilogue xd est livré prêt à l'emploi avec 200 préréglages et un total de 500 programmes peuvent être sauvegardés.
Equippé du multi-engine numérique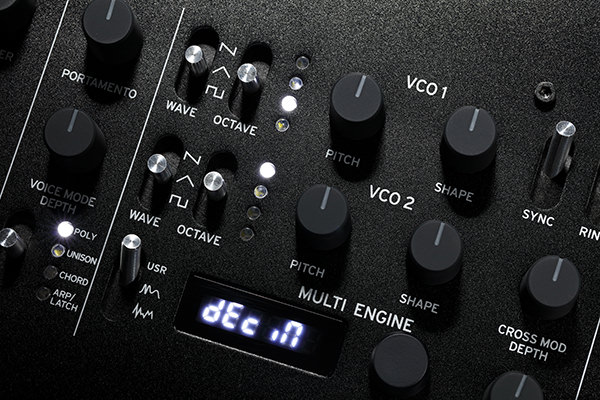 Les possibilités supplémentaires de création sonore du son numérique sont fournies par le multi-engine fourni comme troisième oscillateur en plus des deux VCOs analogiques. Ce moteur, qui est équipé de trois types différents de générateur de son (bruit, VPM et slot utilisateur) vous permet de profiter d'un caractère sonore différent de l'analogique et de l'utiliser en même temps que le moteur analogique, augmentant ainsi à l'infini le potentiel du design sonore hybride.
générateur de bruit
Le générateur de bruit fournit quatre types de bruit qui sont indispensables pour les sons percussifs ou pour les effets sonores. Vous pouvez utiliser le filtre numérique pour changer directement la couleur du bruit.
VPM oscillator
Le multi-engine du minilogue xd est équipé d'un oscillateur VPM (Variable Phase Modulation)/FM avec une structure à deux opérateurs. Il peut produire des sons métalliques aigus avec des harmoniques complexes au-delà des possibilités offertes par les systèmes analogiques. Avec 16 types d'oscillateurs et une commande par bouton SHAPE, vous serez capable de créer des sons complexes de manière intuitive.
Oscillateurs utilisateurs
Les oscillateurs utilisateurs vous permettent de charger vos propres oscillateurs que vous avez créés ou obtenus via Internet. Il y a 16 emplacements utilisateur, ainsi qu'un type d'oscillateur de table d'onde de morphing fourni comme préréglage.
Effets numériques de haute qualité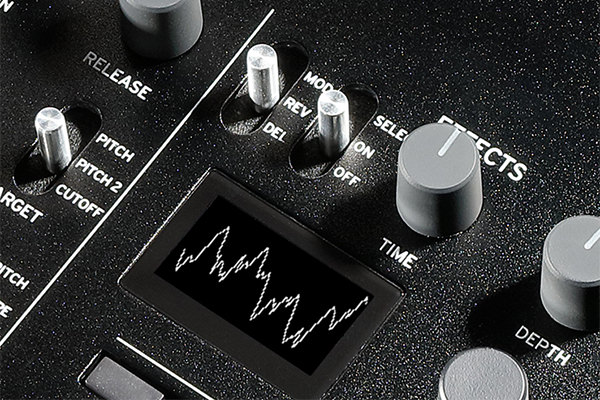 Les effets numériques de haute qualité du minilogue xd utilisent un traitement DSP en virgule flottante 32 bits, ajoutant une touche finale à sa plate-forme de conception sonore profonde. Les trois types (effets de modulation, réverbération et delay) peuvent être utilisés simultanément, ce qui vous permet de choisir parmi une large gamme de variations incluant le chorus, l'ensemble, le delay à bande chaude et une variété de réverbération. Les emplacements d'effet utilisateur vous permettent de charger vos propres programmes d'effets que vous avez créés.
La personnalisation utilisateur lui confère un potentiel infini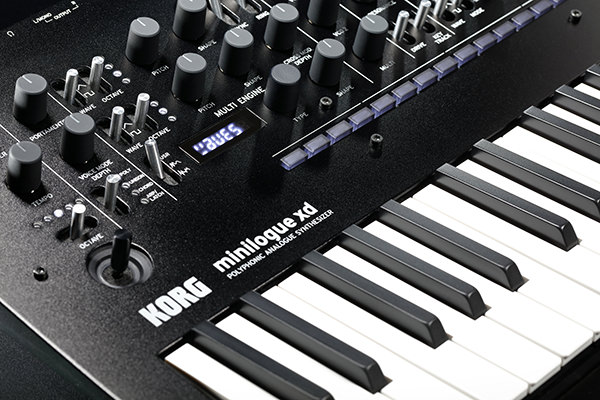 Le minilogue xd dispose d'un environnement ouvert personnalisable. L'appareil est livré avec 16 emplacements pour oscillateur utilisateur et 16 emplacements pour effets utilisateur que vous pouvez personnaliser. Les oscillateurs et les programmes utilisateurs que vous avez créés avec le SDK (Software Development Kit) peuvent être chargés dans le minilogue xd via le logiciel bibliothécaire dédié.
Quels sons pourraient résulter de la fusion des oscillateurs numériques élargis avec la synthèse analogique ? Créez des programmes originaux, partagez du code et participez à la communauté des utilisateurs. Vous pouvez commencer par un exemple de code fourni par KORG.
Polyphonic step sequencer controlled by 16 buttons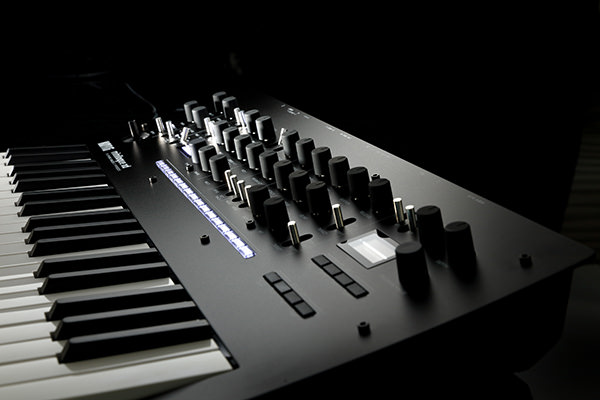 The step sequencer provides 16 steps, and supports both realtime recording and step recording. You can use the 16 step buttons to select a step directly, allowing quick editing to replace the pitch of a step or to mute it, or even improvisatory performances. Motion sequence lets you record the movements of up to four knobs, adding time-varying change to the sound, and you can record not only smooth changes in value but also values that change precisely at each step. You can use this to design the sound differently at each step; for example, you might create a drum pattern or sound effect from just a single program. This allows countless ideas to be unleashed.
A thoughtfully designed interface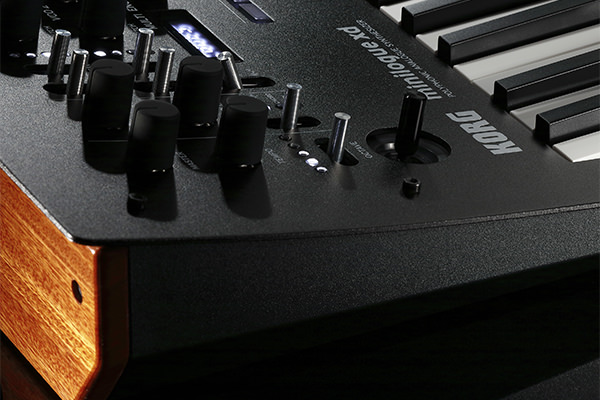 Joystick
Controls pitch bend and modulation depth, etc. A desired parameter can also be assigned to the up/down axis.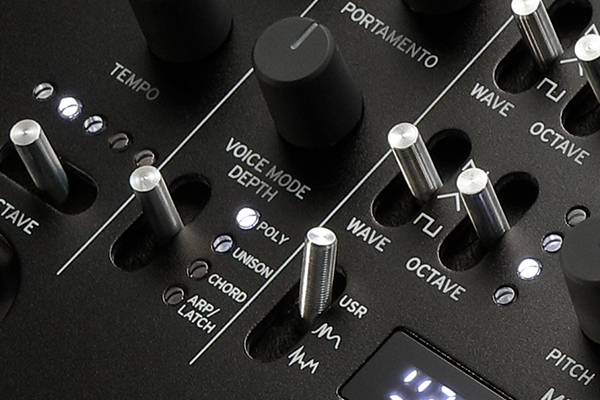 Voice mode
The four voice modes were selected for the minilogue xd.

- POLY: The minilogue xd operates as a four-voice polyphonic synth.
- UNISON: The unit operates as a monophonic synth, with the four voices working in unison.
- CHORD: Chords are produced using one to four voices.
- ARP / LATCH: (ARP) Provides an arpeggiator with up to four voices that can also be used while the sequencer is running / (LATCH) Switches latch on or off.

A voice mode depth knob is also provided, which applies a corresponding effect for each mode.

- POLY: Turning the knob toward the right switches to DUO mode and deepens the detune.
- UNISON: Turning the knob toward the right deepens the detune.
- CHORD: Selects mono or chord type.
- ARP / LATCH: (ARP) Selects the arpeggiator type.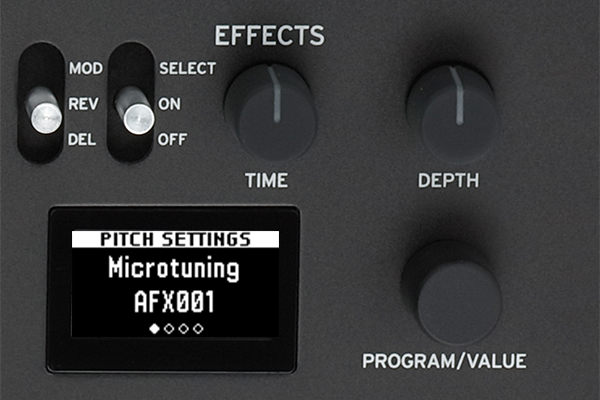 Micro tuning
The minilogue xd is equipped with the micro tuning function featured on the monologue, allowing you to individually adjust the pitch of each key. Built in are 23 preset tunings that include some created by Aphex Twin and Dorian Concept, and users can also create and store six user scales and six user octaves. Start by trying out the preset tunings of famous musicians, and then advance to creating your own original tunings.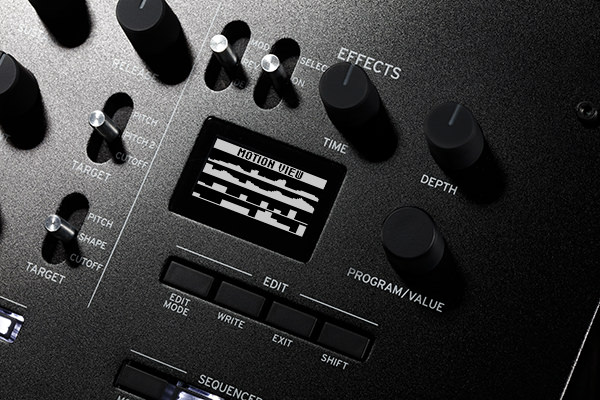 Oscilloscope and motion view display
The organic EL display is now larger, and also provides oscilloscope functionality for you to view sound as the electrical signal's waveform. This makes parameter changes visible in real time, giving you visual feedback that helps you understand how the synthesizer works. The display can also show motion view for visualizing the movement of a stored motion sequence.
A full complement of input and output jacks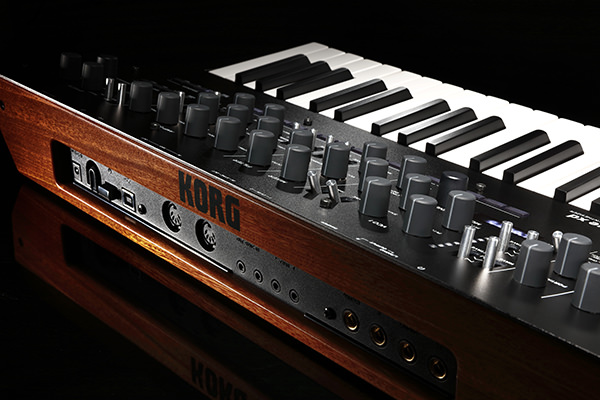 Output is now stereo
A stereo effect unit is provided at the final stage, and the output jacks are now also stereo. Spatial-type effects such as delay, reverb, and chorus will add an even more convincing touch to your thick analog synth sounds and sparkling digital synth sounds.
Damper pedal jack
A damper jack has been added in response to requests from artists and users.
Two CV IN jacks
Two CV IN jacks are provided, with voltage levels of -5V–+5V. In addition to CV/Gate, these can also input modulation signals, allowing you to use external devices to control parameters in the same way as moving the joystick up or down.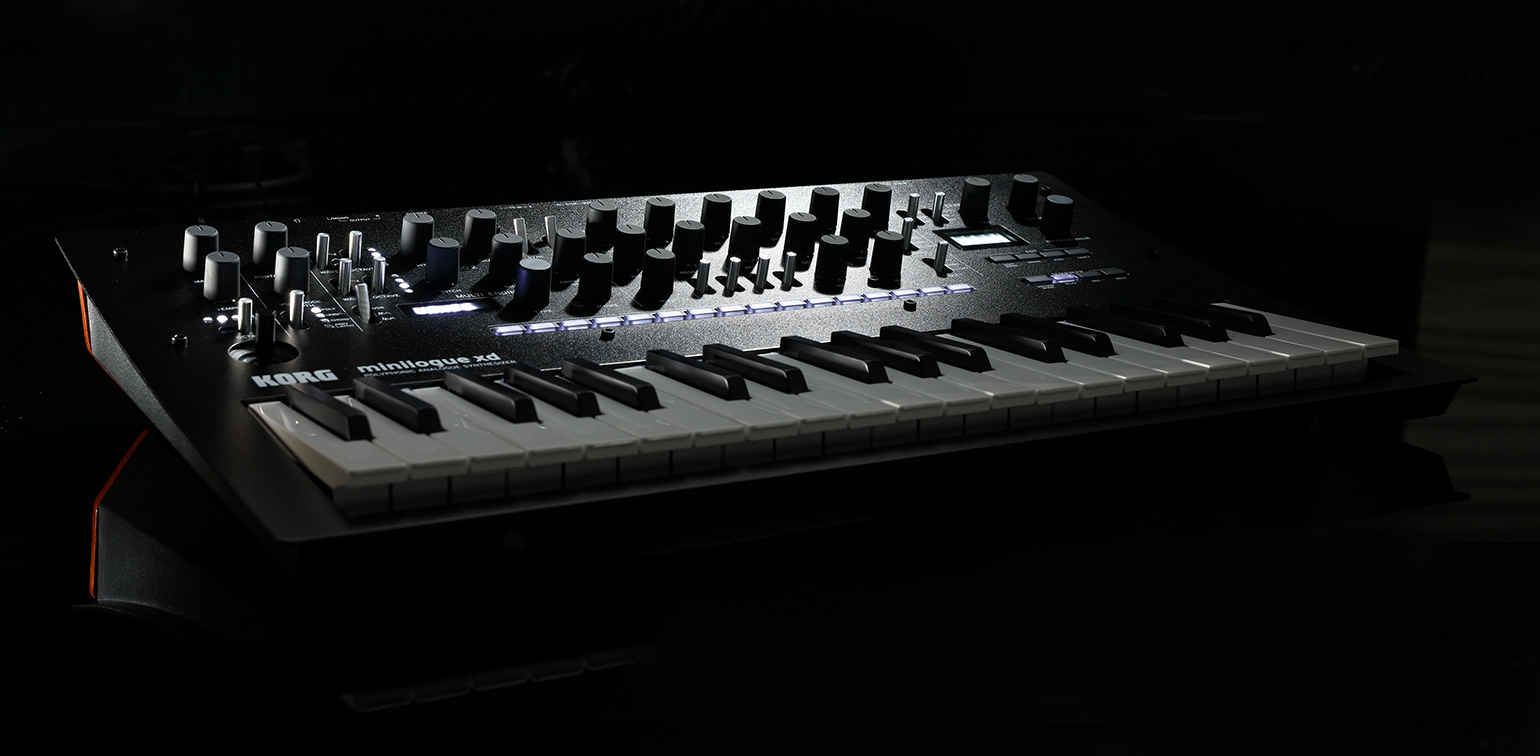 Dorian Concept


Taylor Mcferrin

"The minilogue xd covers so much ground sonically. It's incredibly easy to dial up classic and modern synth sounds, but more importantly for me it can do some things that no other synth in my studio can, the multi engine wave forms, along with the polyphonic sequencer and effects section can really get wild in the best possible way. It's a beast!"

Website http://www.taylormcferrin.com/

Artemiy Pavlov

"What strikes me most about the minilogue xd is just how much power and character there is in such a compact package - and at the same time how easily accessible it is. With custom oscillator and effect plugins it gets even more powerful, and actually more tailored to your personal taste and style - so you can literally build a dream synth of your own, which you will find yourself emotionally attached to."


Website
https://www.sinevibes.com/


Tomohiro Nakamura (Ghostradioshow)

"Analog and Digital hybrid, polyphonic, motion sequencer, compact body... it feels as this synthesizer embodies KORG's history of synthesizers produced since the monotron and takes the all my favorite parts of each to create this unique and spectacular machine. Just put one sound you created onto the motion sequencer and let the magic happen, you will have created a full track before you realize it! That's how amazing this synthesizer is!"


YouTube
https://www.youtube.com/user/ghostradioshow
We use cookies to give you the best experience on this website.
Learn more
Got it