Introducing the GT-120, a guitar/bass needle-type tuner in a new, easy-to-use design.
The GT-120 – a new style of needle-type meter

The needle-type meter that has enjoyed enduring popularity for its easy visibility and stable detection is now available in a handy size, with the meter located at the top of a sleek black aluminum body. The backlit LED screen also shows the calibration setting, flat mode, note name, and the remaining battery amount. Two b (flat) and # (sharp) LEDs light to indicate pitch drift or perfect tuning in a way that's obvious even on a dimly lit stage. A large dial makes it easy to choose the mode you need to use. Using the stand located on the back, you can conveniently place the GT-120 upright on your amp or other surface while practicing. The GT-120 is a new style of needle-type tuner that delivers sophisticated functionality and easy operation. A suede-type soft case is also included.
Two different tuning modes; Auto and Manual
The GT-120 also supports seven-string guitars and six-string basses. In Auto mode, string names are automatically detected and the LCD automatically shows the name of the note that's closest to the pitch you play. In Manual mode, you first choose the name of the note (C-B) you intend to tune.
Adjustable calibration
The calibration can be adjusted in a range of 438–445 Hz to accommodate a variety of pitch standards. With its wide detection range of A0–C8, the GT-120 lets you tune for any song or key.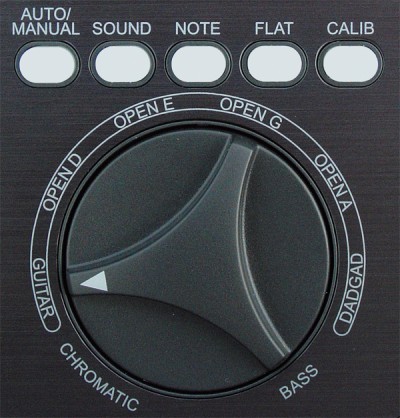 Support for open tunings and flat tunings
The GT-120 supports the open tunings often used with slide guitar or finger picking, with five tunings that include open D/E/G/A as well as the DADGAD tuning used by famous rock guitarists. The flat tunings used to achieve ultra-heavy sounds are also supported, down to a maximum of four semitones below standard pitch.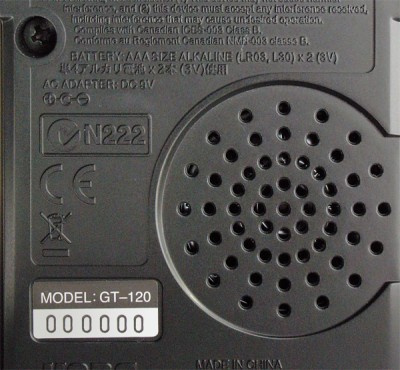 Reference pitch
The GT-120 can sound a reference pitch in a range of C2 (65.41 Hz)–C7 (2093 Hz), letting you tune using your ears while you also watch the meter. The large speaker opening produces powerful sound.
Built-in mic allows tuning of acoustic guitars
Since a mic is built into the GT-120, it's also easy to tune acoustic guitars.
Long-life design for extended operation time
The GT-120 is designed for an extended battery life of greater than 100 hours when running on two AAA batteries. It can also be used with an AC adaptor (separately sold option).