Inspiring New Sounds,
Refreshing New Workflow,
Entirely New Arranger
Pa5X is the new flagship in the KORG Professional Arranger lineup, redefining an arranger keyboard. Completely redesigned with a state-of-the-art sound engine and a streamlined color-driven user interface, Pa5X produces a stunningly rich and unique sonic experience that inspires you to create and perform!

Pa5X comes packed with thousands of inspiring Sounds and hundreds of fresh Styles, all instantly accessible through an inviting workflow. A completely new front panel featuring an assignable Pad Matrix and Mixer section, multicolored LED buttons, and a huge tilt-able touchscreen puts you in control of your music making experience at all times. Pa5X excels both as a live performance instrument and as a powerful creative tool in the studio, allowing you to find your ideal sound no matter where your music takes you.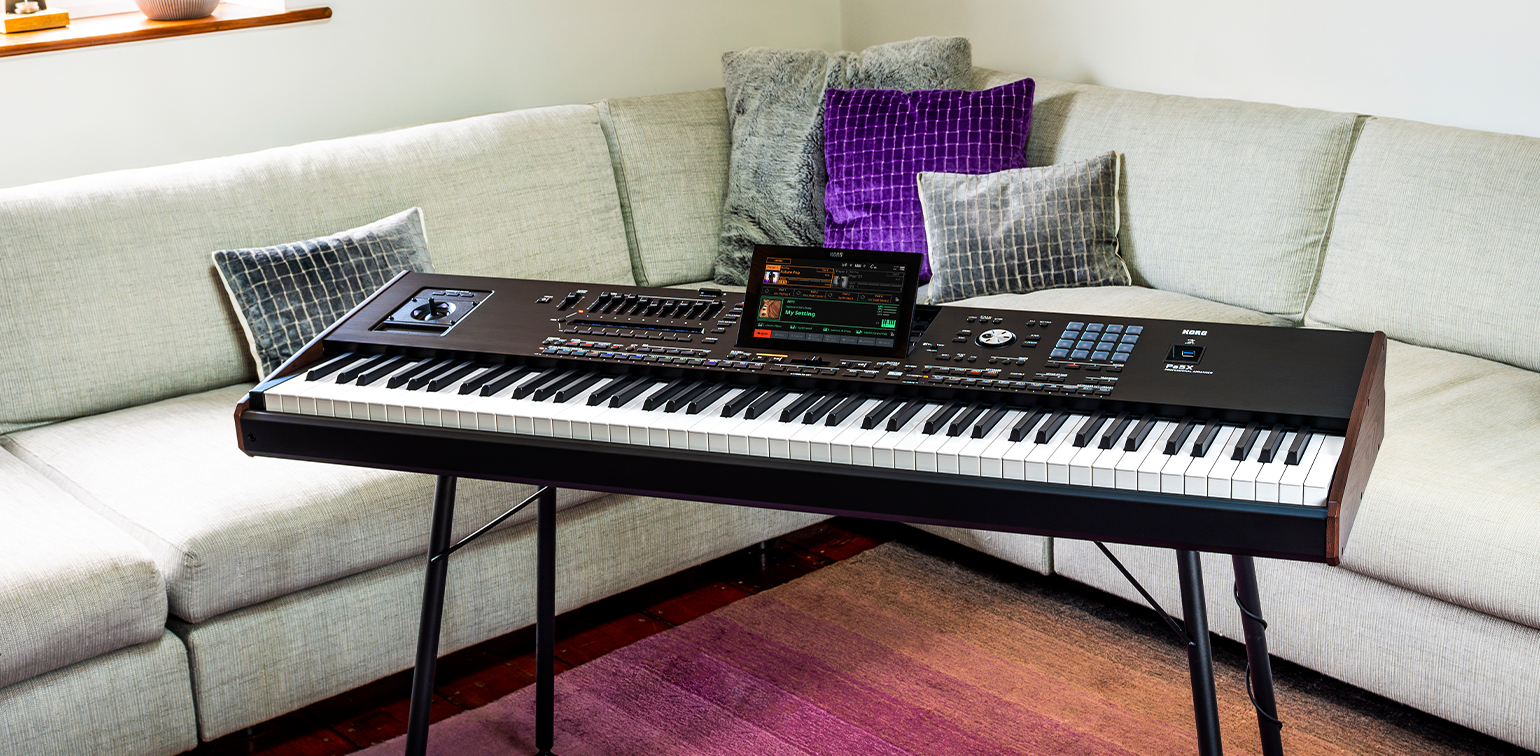 The Pa5X was designed with elegance and durability in mind, featuring a sturdy aluminum body and genuine wooden side-panels for a luxury appearance. All of the keybeds on Pa5X provide an authentic feel and full control of expression for any playing situation. The 88-key weighted action has a realistic piano-like touch while the 76- and 61-key versions feature lighter touch semi-weighted keys. All the keybeds include aftertouch control for added expressivity.
At the center of Pa5X is a large 8" tiltable touch screen that displays a completely redesigned GUI (graphical user interface). This makes all the sounds and features of Pa5X easily accessible to home and studio musicians as well as live performers. The colors in the display are carefully matched to the ones used in the LED programmable buttons on the control panel. This color driven interface allows you to easily navigate Pa5X, adding color to your music!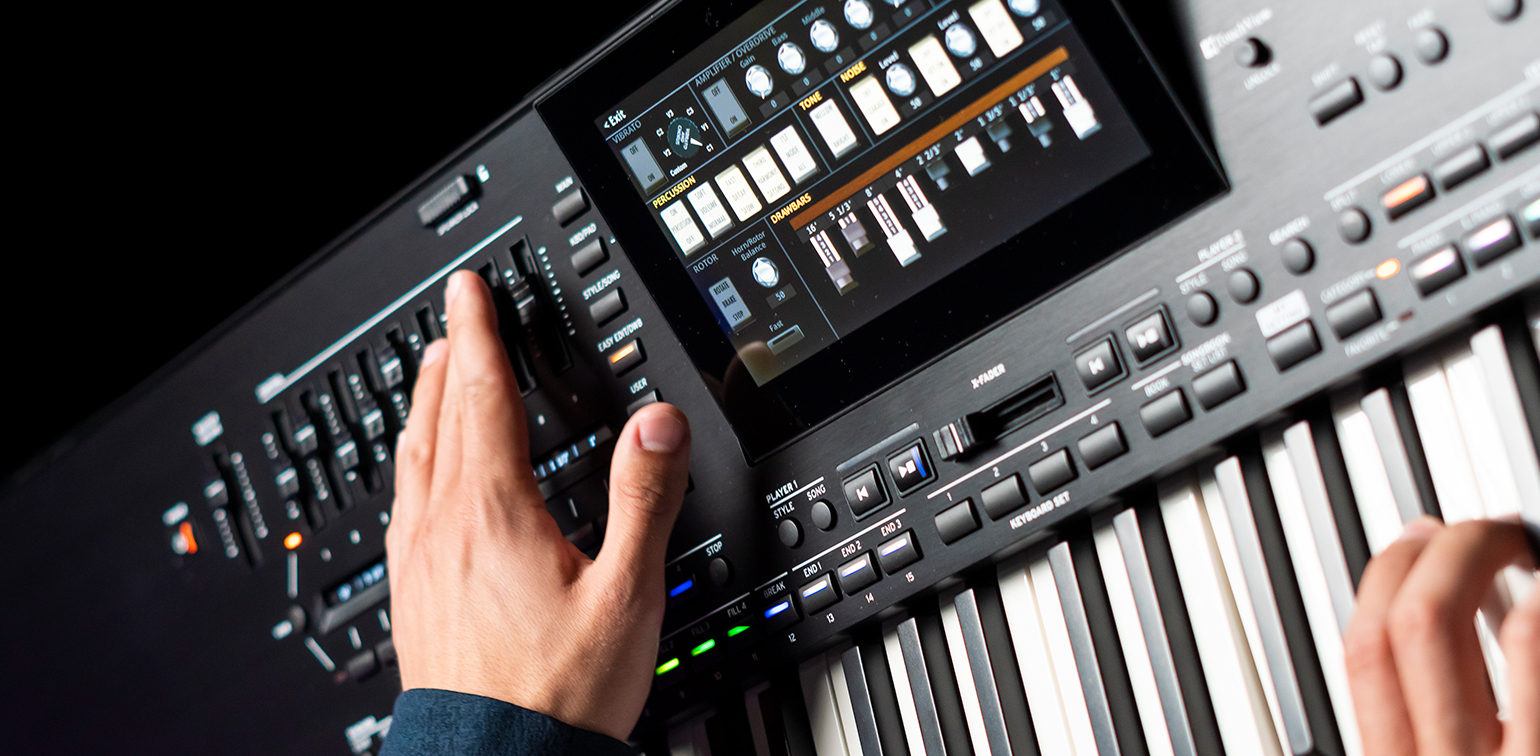 KORG Professional Arrangers have set the industry standard for powerful musical expression, featuring sound engines that inspire musicians to create and perform. Pa5X introduces the EDS-XP (Enhanced Definition Synthesis – Expanded) sound-engine, which builds upon the technology used in Pa4X with advanced hardware and a powerful new operating system, taking sounds on Pa5X to a new level. The 24 stereo Oscillators and 160 voices of polyphony power thousands of high-quality sounds, covering a wide range of musical instruments and genres. The EDS-XP sound engine also introduces new cutting-edge features such as Round-Robin drum and percussion performance, Smooth Sound Transition, Sound-Controller 3 functionality and much more. This provides an unprecedented level of sonic realism and expression that is only available on Pa5X.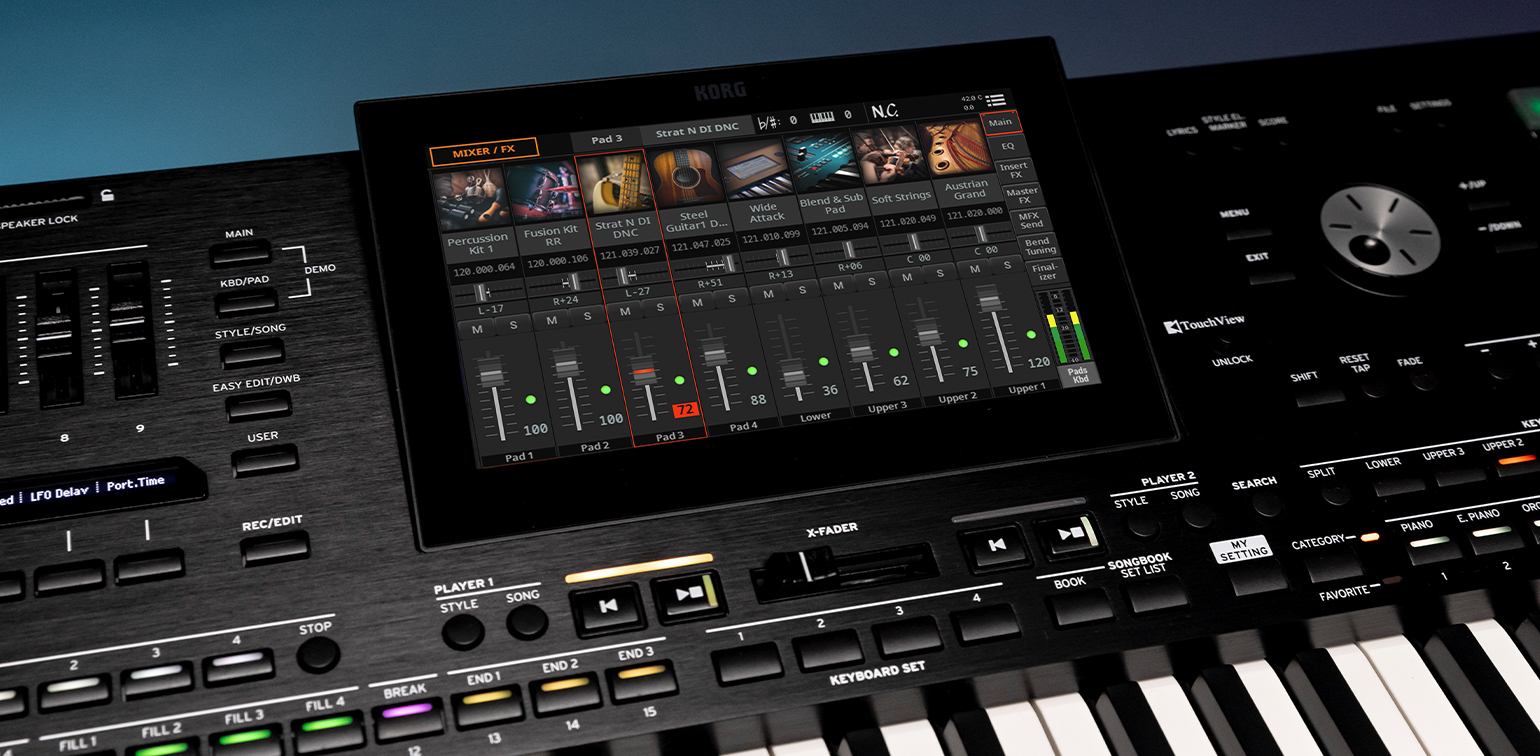 Pa5X features a fully programmable control section with 9 buttons and 9 sliders. You can assign any function to it, from mixer volume to drawbar settings, from microphone mute to bass inversion, to lyrics scroll commands and more. The assigned function is shown by an auxiliary strip display so that you always know what you have under your fingertips – even if you are on a different page to the main display.

Numerous assignable controllers are available for expressive real time playing and Korg's DNC (Defined Nuance Control) which supplies so much of the detail in the sound of musical instruments. Faders, switches, real and virtual matrices of real time controls, the joystick, and the ribbon controller can be assigned to modulate any parameter of the sound. This provides precise control of the most subtle nuances and articulation of the instruments you are playing on the Pa5X.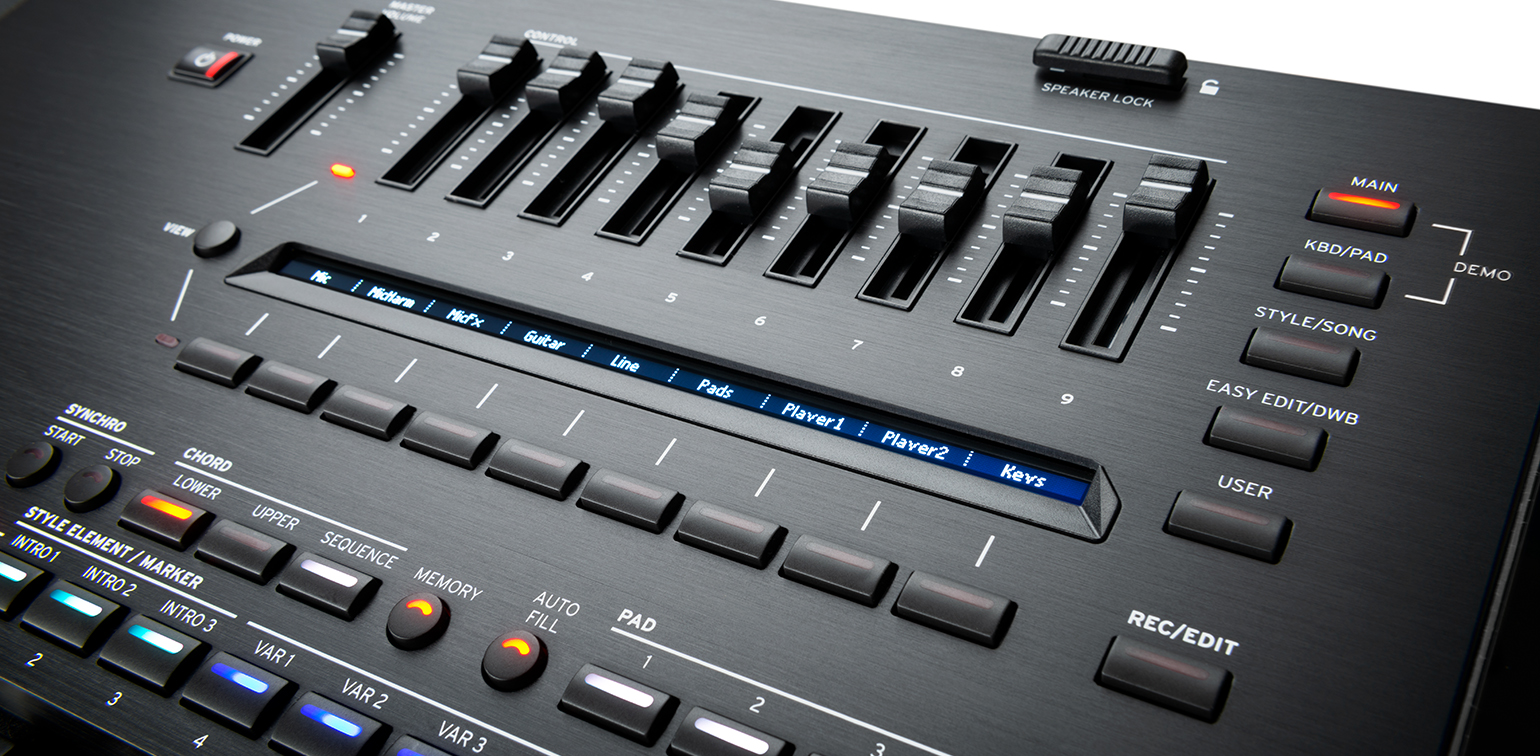 Pa5X's chord recognition system is the most sophisticated around, featuring an Expert mode that is crafted around the playing styles of the best modern jazz pianists. This chord recognition system can be as simple or advanced as desired, even allowing you to trigger chords with a single finger!

With automatic harmonization, a chord sequencer, and a sophisticated chord recognition engine, Pa5X gives you the tools to create rich musical arrangements no matter what the genre of music.
Pa5X adds Smooth Sound Transition (SST) technology, allowing for seamless transitions between Sounds, Styles and Songs without any interruption. When you select a different element, the sound, effects and sequences will continue to play, fading away naturally until you are ready for the next sequence or note to begin, making for an uninterrupted and realistic performance.
Pa5X can play two Styles, MIDI files, or MP3 files simultaneously and in any combination, made possible by the dual onboard Players*. These two Players can be mixed with a handy crossfader, or can be used to play a song while another one is waiting to start. All the while, Pa5X's sound engine delivers the power, effects processing, and polyphony to make these transitions happen seamlessly.
*KORG's exclusive XDS Crossfade Dual Sequencer/Player

Lyrics, Chords, Score and Marker can be clearly shown on the large internal display of Pa5X, or even on an external display when connected via the built-in HDMI port. A wide variety of Lyrics formats are supported, and you can even automatically generate a score from a MIDI Song. Markers allow for quick navigation of a song using the Style-Element buttons, allowing you to easily jump back to a passage you wish to repeat while studying, rehearsing, or performing live.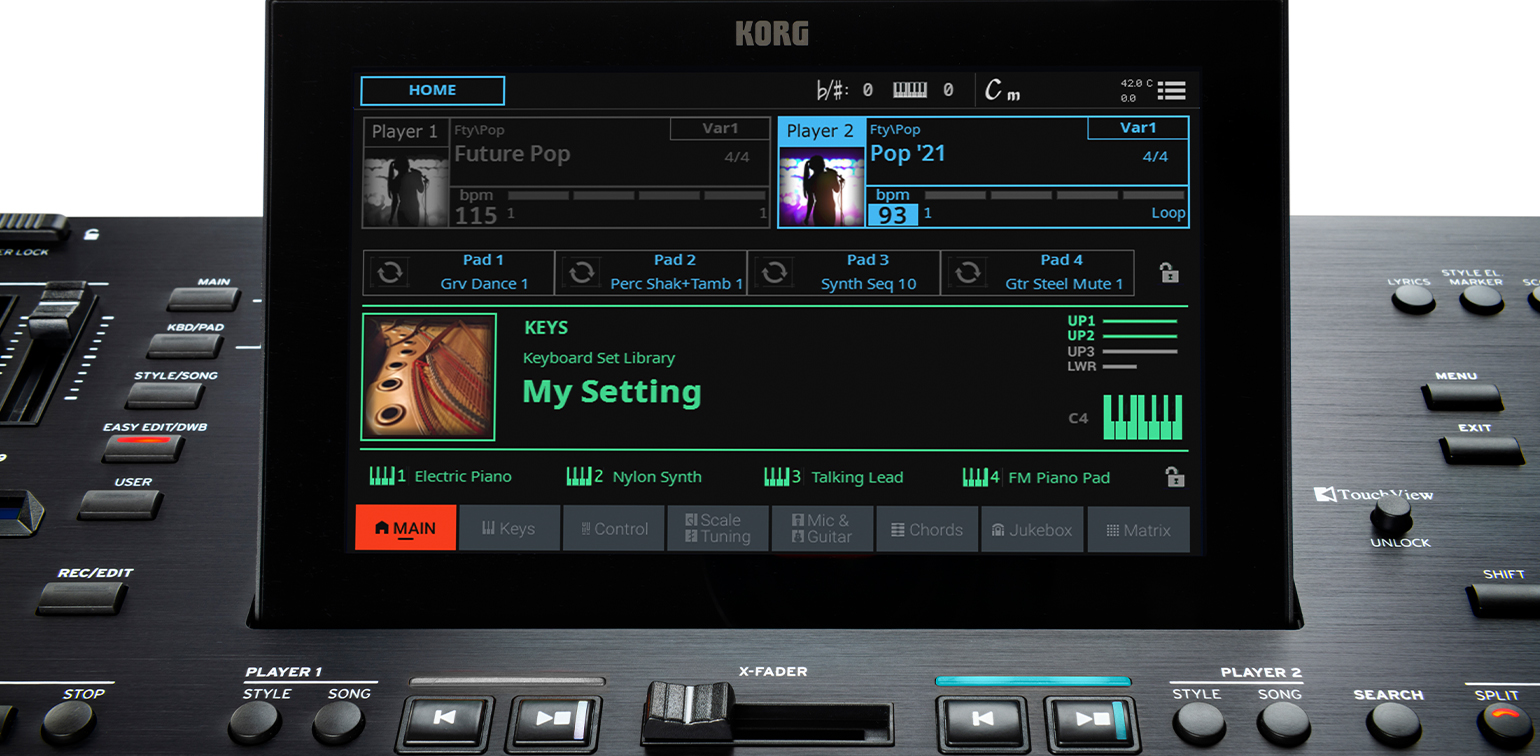 You can create your own Styles, and record your own MIDI and MP3 Songs. The included editing features allow for detailed editing of each single recorded event. A sophisticated transposition table adapts the sequences to any chord you may play.

You can record a MIDI Song using a full-featured Sequencer. Even easier, just record what you sing and play (including MP3 Songs) as an MP3 file, and listen to it anywhere you like.
Songs and Styles can be saved into the onboard SongBook, whose database-like entries are easy to synchronize with external score readers on a tablet. You can therefore use a digital music book to control your Pa5X.

The songs in the music database can be saved into Set Lists, each one dedicated to a show, to a singer or a style of music, for easy handling of all music resources at once during live performances. When choosing a song from the SongBook, you also immediately get the necessary Sounds, the Style, a Song, the effects and even a chord sequence.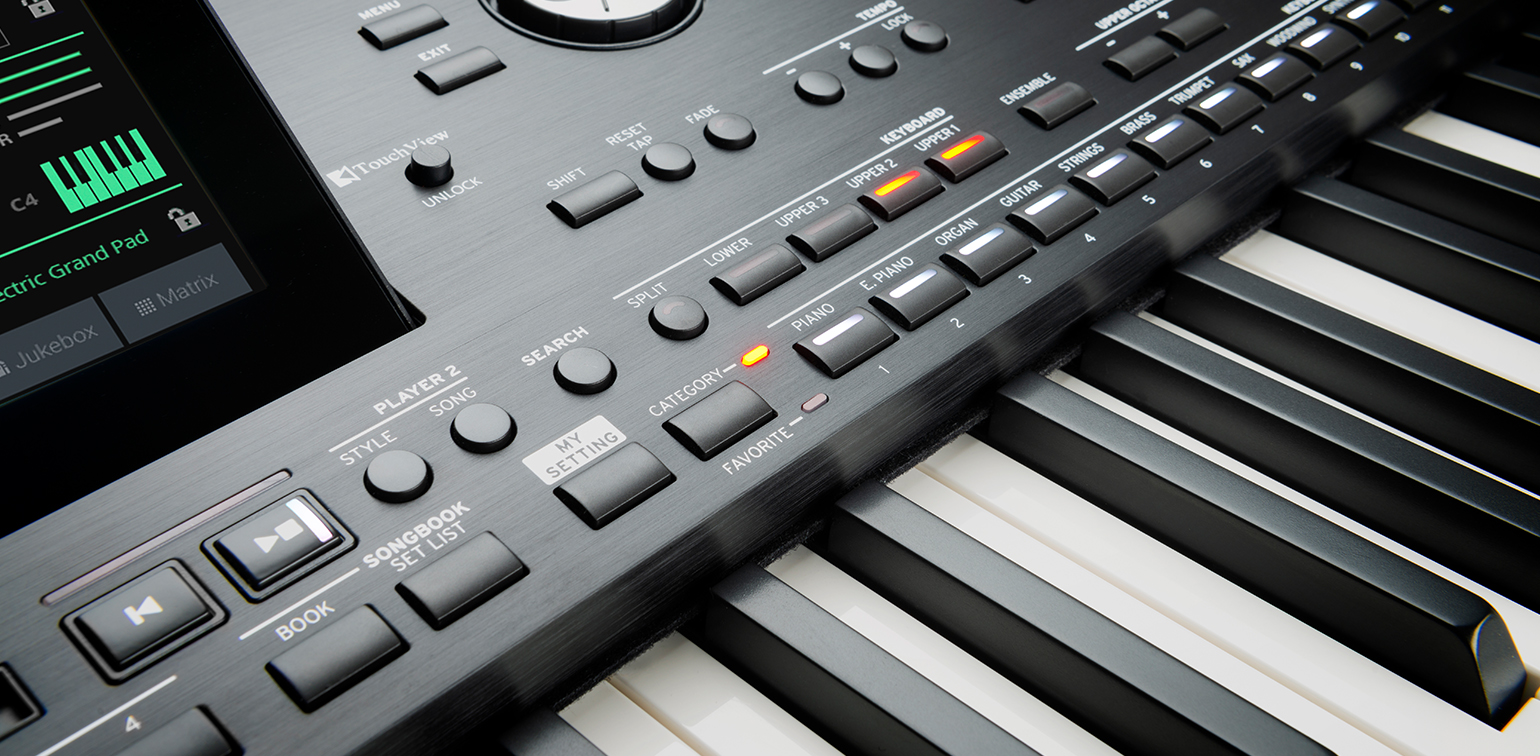 The onboard sounds range from ultra-realistic acoustic instruments, to electric vintage keyboards, to synth classics, with the addition of fantasy sounds and special effects for game, media, video and cinema production. We have also included instruments from various ages and world cultures, while also leaving ample room for your own expansions.

The curated selection of acoustic and electric pianos, which includes sounds from our celebrated SV-2 Stage Vintage Piano, is particularly suitable for the hammer action 88 key version. We also included specially selected sounds from our flagship synth workstations: Kronos and Nautilus.

A new Drawbar Organ section proudly boasts a realistic control surface that can rely on the physical sliders and buttons on the main panel of Pa5X. New effects that are derived from the legendary KORG CX-3 Combo Organ are also included.

The new Drum Kits were recorded making use of a new technology, based on round robins to increase realism. No two drum hits are equal, resulting in authentic-sounding drum performances.

In addition to the huge amount of included sounds, the onboard sampler will help create new Sounds, Drum Kits and Audio Loops. Record your own sounds or import from standard file formats like AIFF, WAV and SF2. The detailed on-board sample editor allows you to fine tune your samples and even transform an audio loop into a percussive kit.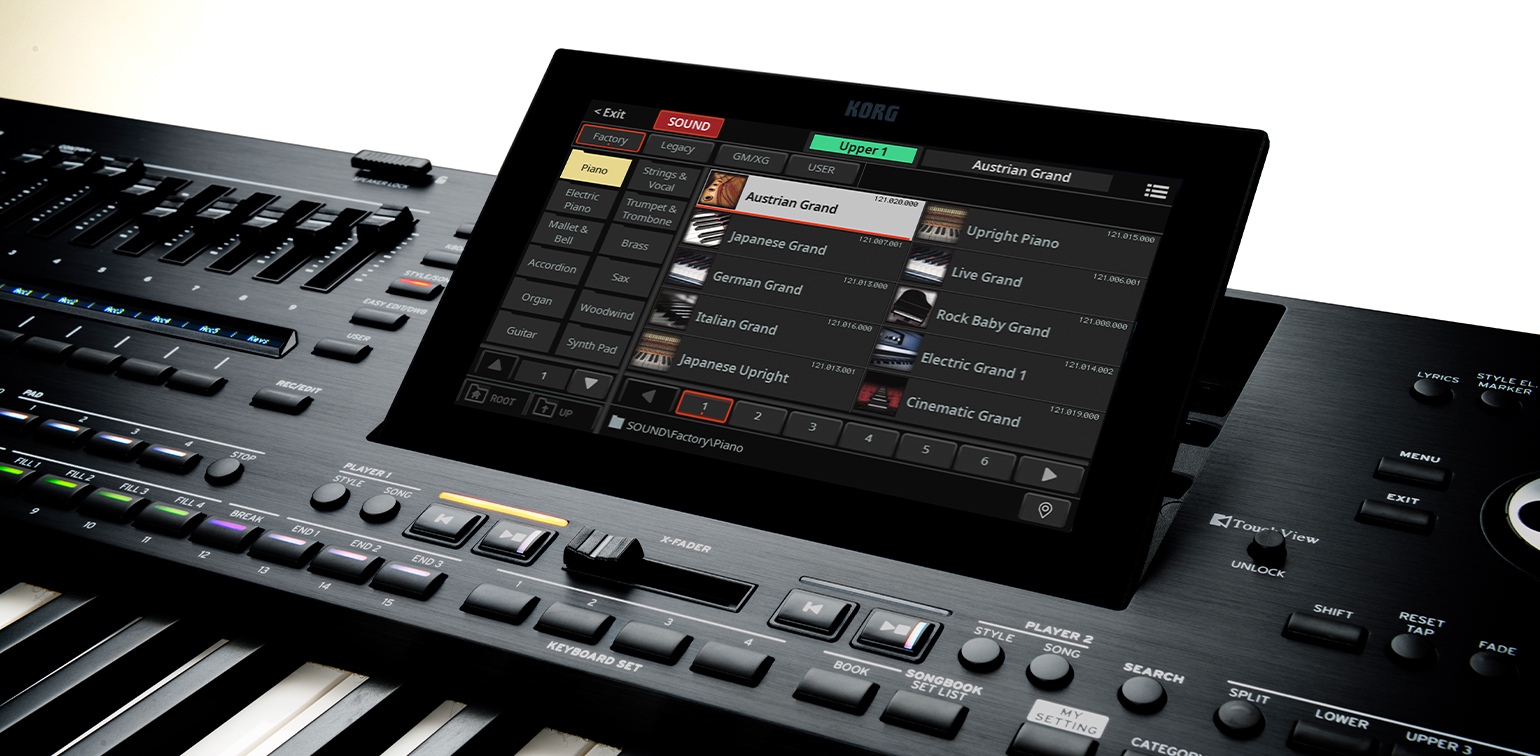 Sounds on Pa5X are processed by an elaborate chain of professional studio quality effects, with up to 10 Insert FX, 3 Master FX and 1 Finalizer for each of the two Players. The Keyboard Sets can use up to 3 Insert and 3 Master FX.
Final mastering effects are applied as the last step on the audio outputs of Pa5X, resulting in a polished sound which is blended and produced. This is a result of KORG's long term cooperation with Waves MaxxAudio®, the world reference in studio mastering effects.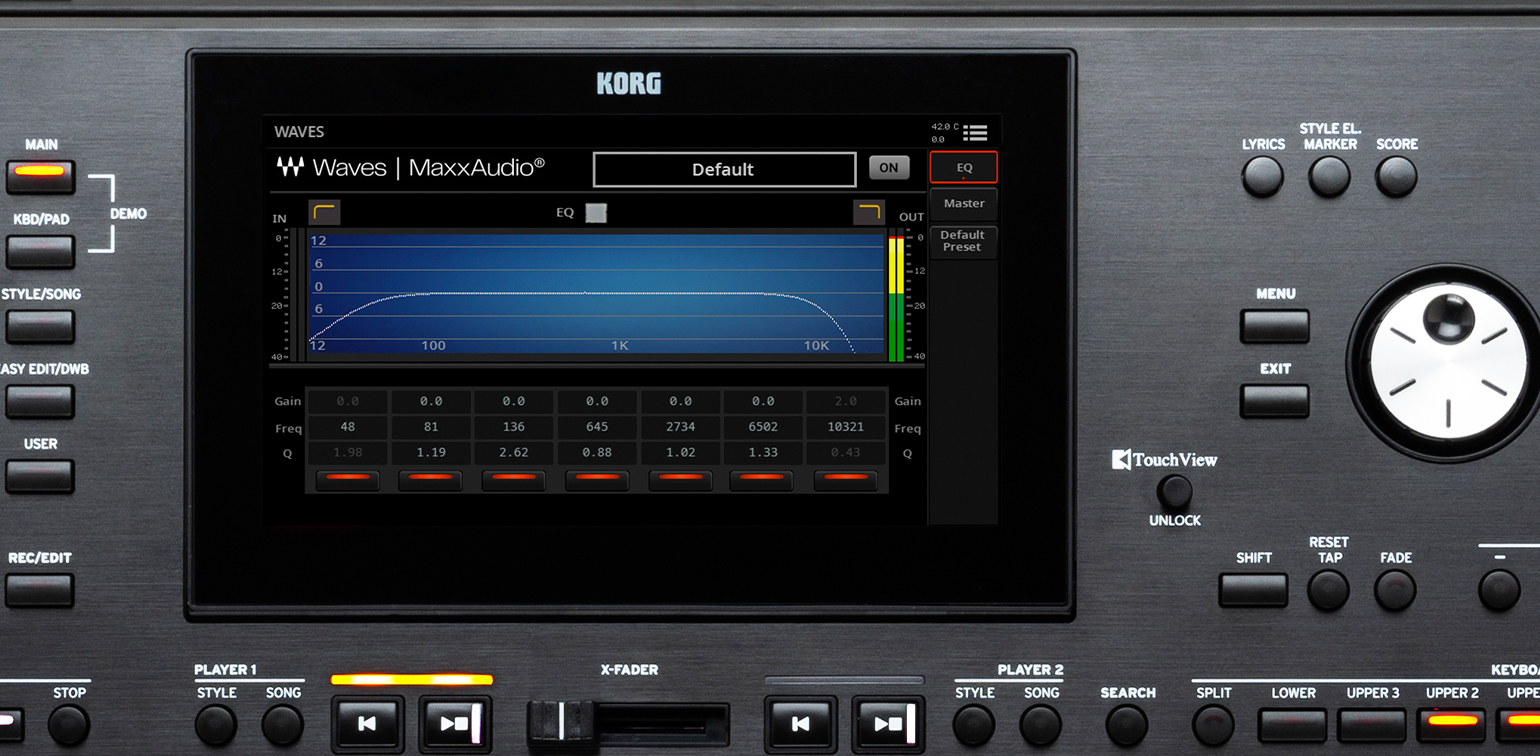 We are proud to have teamed with Shift Audio, a company with 30 years of experience in vocal processing technology. The founders of Shift Audio came from an industry leading company specializing in vocal processing products building on their experience to deliver. The latest generation of vocal processing algorithms optimized to run on the latest technology used in the Pa5X.

The result is incredible lifelike four-voice harmonies that give you the feeling of a real singing group surrounded by your own music. You will also enjoy the new Auto Pitch feature in the Pa5X delivering performance and sound found in a lot of modern music.

The separate guitar input is completely independent and even has its own gain control. Guitar effects include vintage pedal and amplifier simulators to enhance your guitar sound and performance. There are many predefined guitar-presets of up to 4 insert-effects provided, and it is also easy to create and save user effects presets. These new powerful guitar effects make the live performance of your guitarist much easier, as all the effects and effect-settings are handled by the Pa5X.

One vocal and one guitar-preset can be assigned to each SongBook entry which makes for an easy and fast musical performance.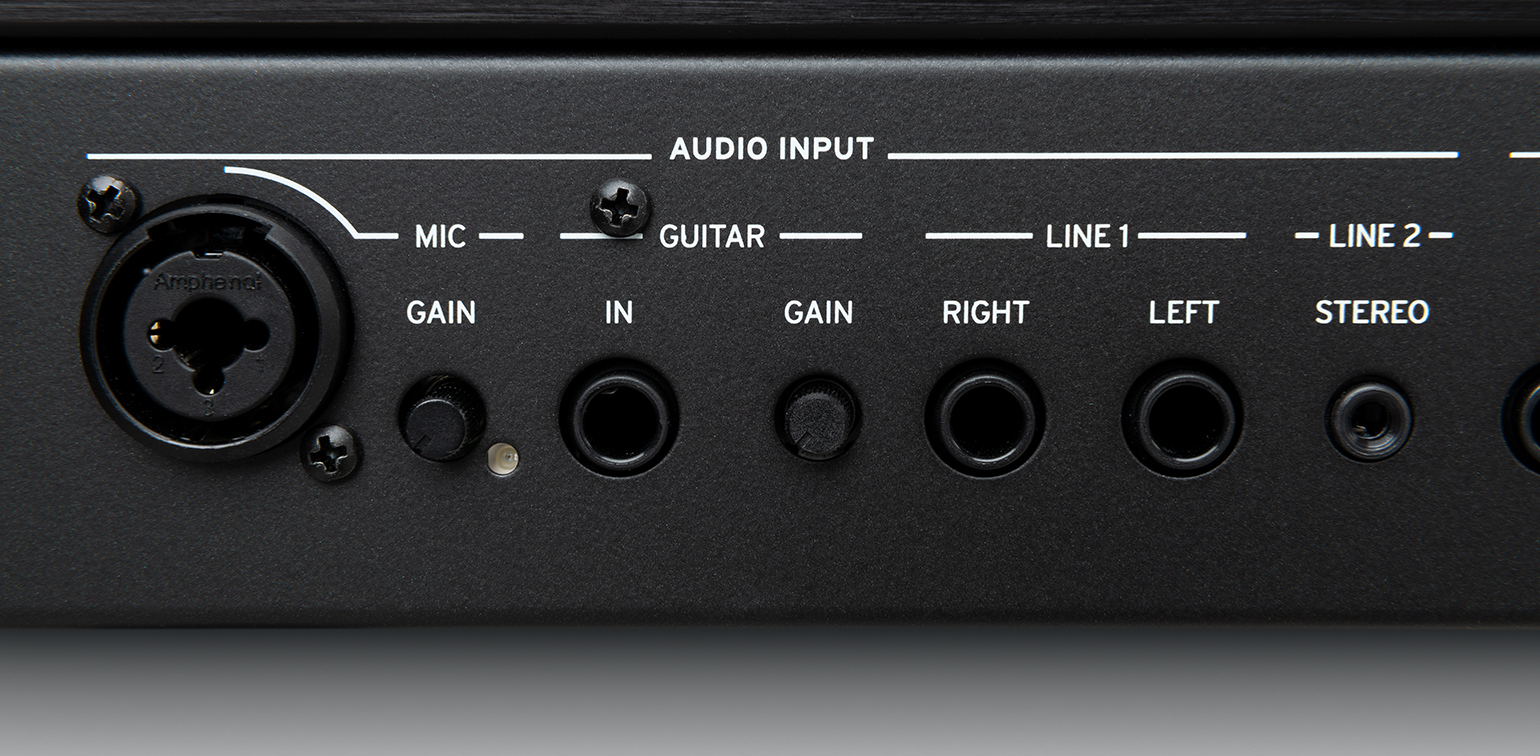 Pa5X offers a plethora of audio, control and storage connections. You can use MIDI and USB for controllers or storage devices, HDMI for an external display, the XLR, jack and minijack audio connectors for other keyboards, condenser and dynamic microphones, guitars and bass guitars, smartphones and tablets, or to connect your instrument to powered speakers or PA systems via the balanced outs. Four separate line outs are available to handle sounds separately.

Three pedal inputs allow for connecting your preferred damper pedal (with half-pedal support), footswitch, volume and expression pedals. You can use the ones you already own, or choose from our range of optional accessories.

The use of standard file formats, such as MIDI or MP3 for songs, WAV, AIFF and SF2 for samples, opens up a world of possibilities when exchanging files. The MIDI and USB ports allow Pa5X to connect with any external storage device, personal computer, smartphone, tablet or external controller. The HDMI connector is compatible with many modern monitors and club video circuits, allowing Pa5X to serve as the center of your studio or stage setup!
The optional modern and stylish ST-SV1-BK stand keeps Pa5X sturdy while performing on stage and thanks to an elegant design, it can also function as a stylish piece of furniture when setup in your home.

Pa5X is compatible with the KORG PaAS Amplification System, a speaker system which has been specifically designed to easily connect directly to Pa5X without cables. This allows you to listen with the best audio quality, even at the lowest volume levels for rehearsing at night. Simply put it in place and play!
Pa5X-76 with ST-SV1 stand (sold separately) and PaAS amplication system (sold separately) and music stand
New OS, New Features
The new operating system 1.2.0 for Pa5X offers some of the most commonly requested features especially Pa4X SongBook import and onboard Style programming and editing. Apart from the onboard Style edit features such as Quantize, Delete, Copy, Transpose OS 1.2.0 also features new Groove-import functionality for Audio-slices. Furthermore, for countries with special locally developed sounds and styles OS 1.2.0 delivers localized data made especially for the Pa5X using a newly developed high-end microSD protection system.
Conclusion
Pa5X is the most evocative, powerful, and easy to use Professional Arranger ever produced, with much more to explore on this cutting-edge new platform. The unique combination of Pa5X's new sound catalog, operating system, streamlined navigation, and feature set are ready to take your performance to an all-new level.

Discover the next generation of arranger keyboard with KORG Pa5X and be inspired!
We use cookies to give you the best experience on this website.
Learn more
Got it