Powering new heights of musical expression
NAUTILUS is KORG's flagship workstation. The successor to the wildly popular KRONOS, the range now includes two new AT models. Available in 61 and 88-key versions, NAUTILUS AT introduces Aftertouch to the lineup, putting new heights of musical expression at your fingertips.

NAUTILUS AT features an expertly-tuned sound library that brings exciting aftertouch-controlled effects to the existing programs, meaning you can fully embrace the expressive capabilities of Aftertouch right out of the box.

Aftertouch, in combination with initial touch and the DYNAMICS knob (giving instant control over the changes in sound) opens a wide range of musical expression in just one instrument. Combined, these features truly unlock the full potential of nine powerful sound engines, and a vast array of other features on NAUTILUS.

NAUTILUS AT comes in two versions: an 88-key model with a premium weighted RH3 keyboard for an incredible piano feel, and a 61-key model with a light, responsive and smooth synthesizer keyboard feel.
(*) NAUTILUS-73 does not have an AT version.
Discover the power of Aftertouch with NAUTILUS AT
Flagship model, Premium quality
NAUTILUS is manufactured in Japan to the highest levels of quality. The 88-key model uses the critically acclaimed RH-3 piano keyboard, a four-stage weighted hammer action keybed that provides an extremely realistic piano feel for even the most discerning of players. RH-3 keyboards are gradually weighted, meaning that the lower notes are heavier, and the higher notes lighter for superb playability. The 61-key NAUTILUS AT features a synthesizer keyboard with a light touch able to reproduce the most complex of performances reliably and with the smoothest feel.

As part of the wider NAUTILUS range, it's easy to identify aftertouch-equipped models thanks to the AT mark above the NAUTILUS logo on the front panel.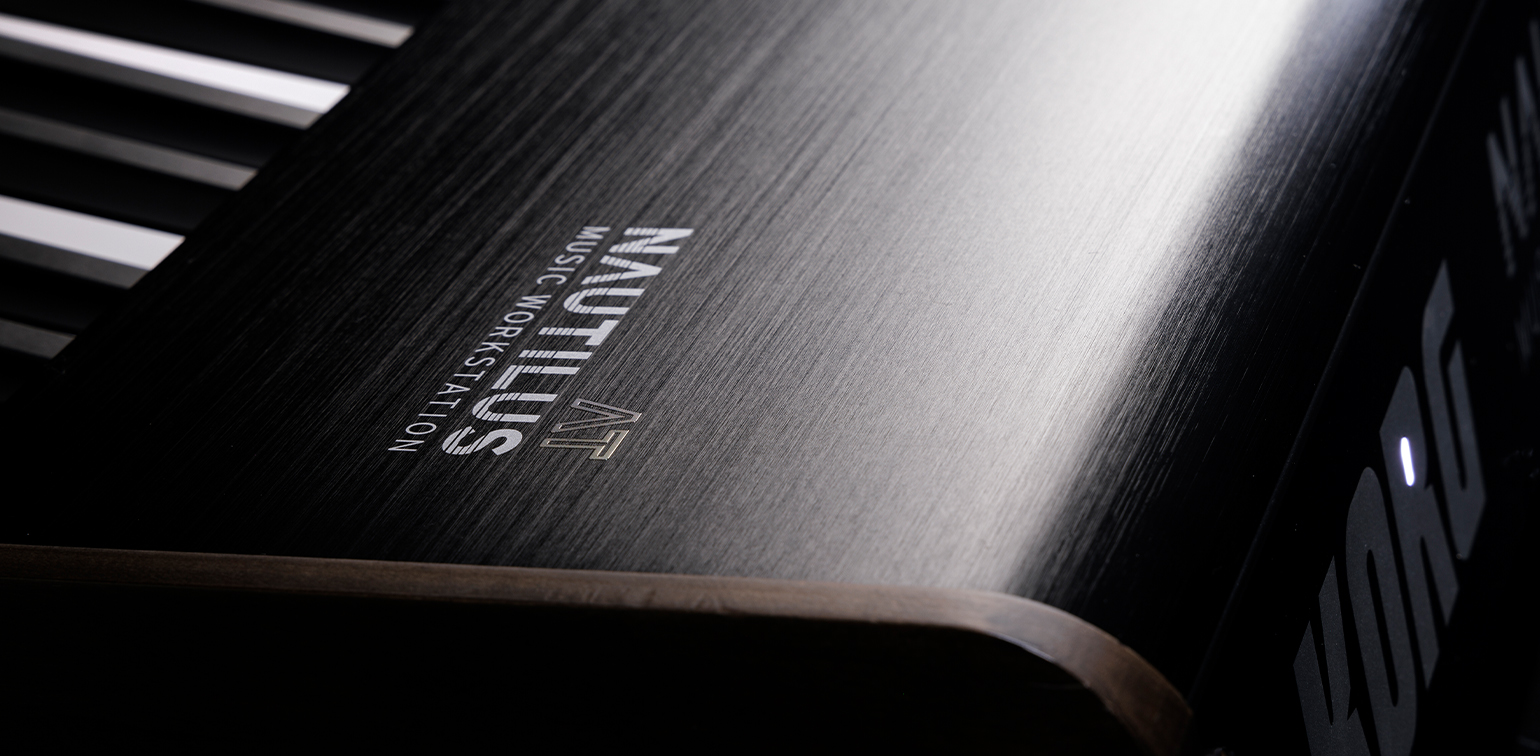 Upgrade your NAUTILUS
Existing owners of 61 and 88 key NAUTILUS* need not miss out. KORG is rolling out an upgrade service that updates both the hardware and software of your keyboard, transforming your NAUTILUS into a NAUTILUS AT. For more information, and pricing of the upgrade service where you are, contact the KORG customer service team in your territory.
*This service is only available for 88 and 61-key models
Main Specifications
Keyboard

88 key: RH3 (Real Weighted Hammer Action 3)*
61 key: Natural Touch Semi Weighted*
*Supports Velocity sensitive and aftertouch.
imensions: (W x D x H)

88 key: 1,437 x 387 x 139 mm / 56.57" x 15.24" x 5.47"
61 key: 1,062 x 386 x 116 mm / 41.81" x 15.20" x 4.57"
Weight

88 key: 23.1 kg / 50.93 lb.
61 key: 13.0 kg / 28.66 lb.
* Difference is only aftertouch, specifications are exactly the same as the standard model.
We use cookies to give you the best experience on this website.
Learn more
Got it