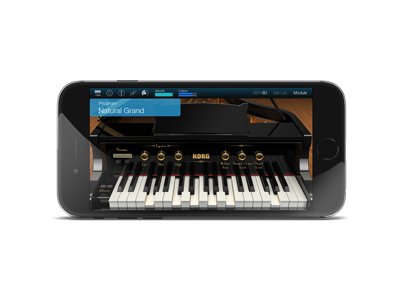 KORG Module Standard for iPhone
MOBILE SOUND MODULE
Support for Your Purchase
Support
Learn More
Related Sites
Related Products
Equipped with KORG Module's standard sounds.
A high-quality mobile sound module app for use on iPhones.
This is an affordably priced iPhone app that comes with 5 standard sound modules from the sound library of the high-quality mobile sound module app KORG Module. It lets you get top grade grand piano and studio quality classic keyboard sounds at the lowest price.

In addition, we are also selling the iPad and iPhone compatible universal app KORG Module, containing every feature and sound. Please choose the app you prefer and experience for yourself the best mobile sounds.
Stunningly high-quality piano and a full range of keyboard sound engines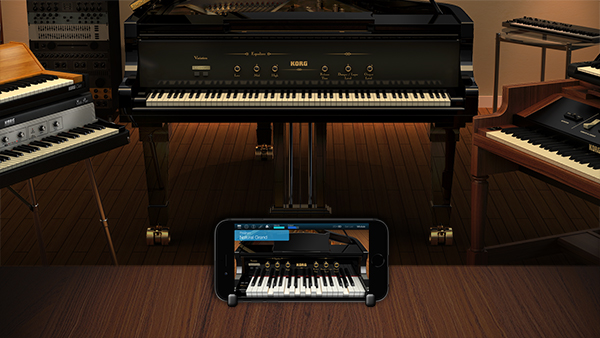 Due to KORG's decades of technological experience gained by developing historic workstations and synthesizers, the "NATIVE ENGINE" brings a generous amount of high-quality sounds and smooth playback to mobile devices. We've carefully ensured ideal playability and designed the system for ultra-low latency. The core of this engine consists of five dedicated sound engines: Acoustic Piano, Electric Piano, Clav, Organ, and Multi. Similar to the iPad version, there are 100 programs built in. Beautiful graphics are designed for each module, showing carefully selected parameters that make it easy for anyone to edit the sound. Don't wait to experience the superb sounds that emanate from such a compact device.

With your iPhone and the new microKEY or plugKEY, you can enjoy great sound anywhere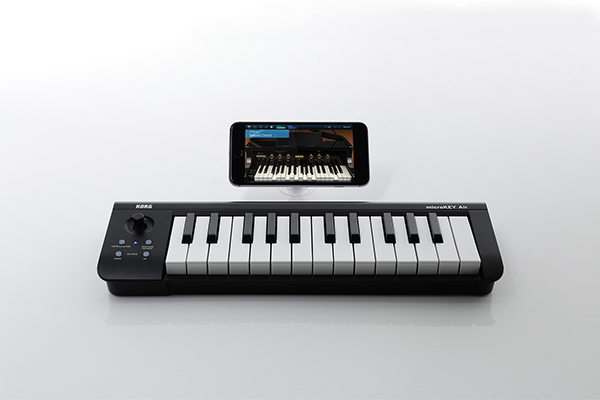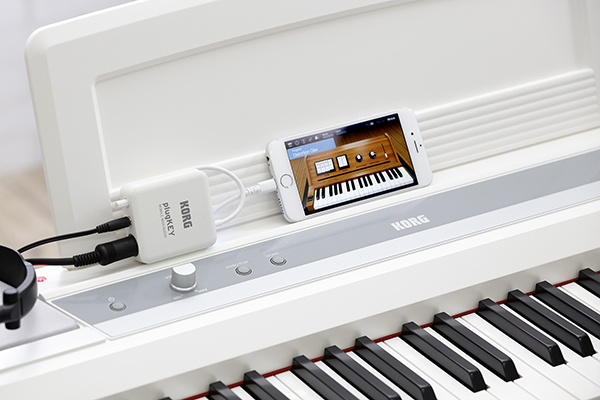 KORG Module and the microKEY are the best possible combination for a mobile performance environment. With the new microKEY which supports a damper, or the microKEY Air which provides a wireless connection via Bluetooth MIDI, your iPhone instantly transforms into a high-quality sound module. In your room, in a practice studio, when riding in a moving vehicle, or outdoors, it's easy to set up and immerse yourself in a superb playing experience wherever you are.

In addition, you can also use any MIDI keyboard with plugKEY mobile MIDI + audio interface (*). The velocity curve function conforms the sound to your playing dynamics, so you'll be able to perform comfortably using any MIDI keyboard.

Even without a MIDI keyboard, you can play using the app's keyboard or phrase function.

(*) In order to connect a device that uses a USB connector instead of MIDI connector/plugKEY, you'll need a separately sold Apple Lightning -- USB camera adapter.

Two graphic modes: 3D for overflowing realism or 2D for superb operability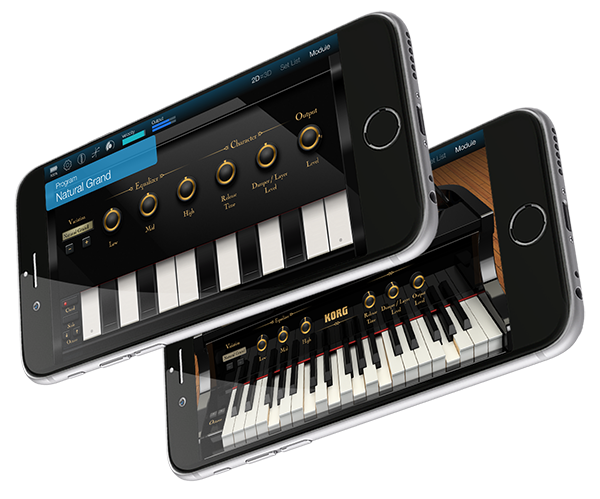 The beautiful 3D graphic screen provides an atmosphere that evokes a great playing experience. We've paid attention to details such as the three-dimensional appearance of each module and the reflected highlights of the keyboard. In contrast, the 2D screen features a simple design with excellent visibility and operability, allowing effortless editing even on the compact screen of your iPhone. The 2D screen also provides a "smart keyboard" that lets you specify the scale appropriately for the song and also allows you to play chords with just one finger. You can use the interface that's best for your needs.
Set List function is convenient for practicing, performing, or rehearsing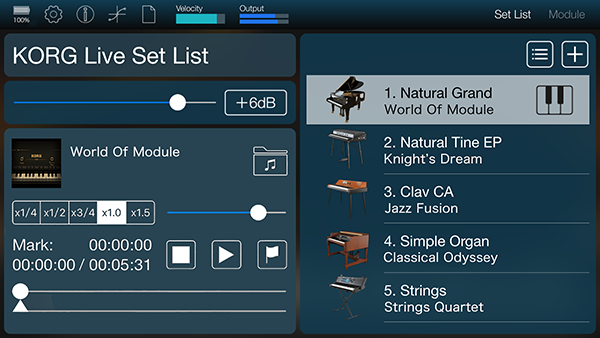 The Set List function is convenient during live performance, rehearsals, or lessons. It can recall sounds in the order of the songs that you're playing, or adjust the volume of each sound. There's also a Music Player function that lets you select and play back your practice songs from the library of the "Music" app. You can use the Tempo Change function to slow down the speed without changing the pitch, allowing you to practice a passage accurately or learn a song by ear.
Register here to get Korg App News Letter
Register for the KORG app News Letter so that you won't miss the latest news and information about KORG Module.
KORG Module Standard for iPhone and KORG Module (universal model with all sound engines and functions) are available for download purchase from the Apple App Store.