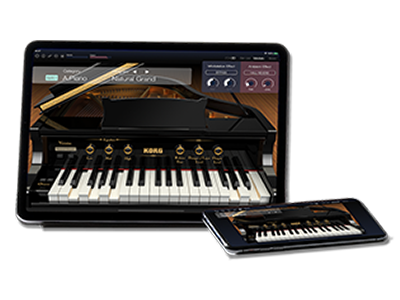 KORG Module
MOBILE SOUND MODULE
Support for Your Purchase
Learn More
Related Sites
The best sounds, available to everyone.
A high-quality mobile sound module app
for iPad / iPhone!
Ideal for performance and music production, KORG Module is a high-quality sound module app for iOS that contains a professional sound library. With just your iPad/iPhone and a MIDI keyboard such as the microKEY, you can play studio-quality keyboard and grand piano sounds anywhere. You can also use the sounds of KORG Module series* for the KORG Gadget music production app.

Maintaining its position at the forefront of mobile music apps, KORG now offers you a new style of performance and production with KORG Module.

* Using the KORG Module, you need to unlock KORG controller product or purchase an Expansion Sound Library.
KORG Module v4: New Features
KORG Module v4: Hybrid Expansion Sound Pack Preview
KORG Module v4: Hybrid Sound Preview
KORG Module - Expansion Sound Libraries
Stunningly high-quality piano and a full range of keyboard sound engines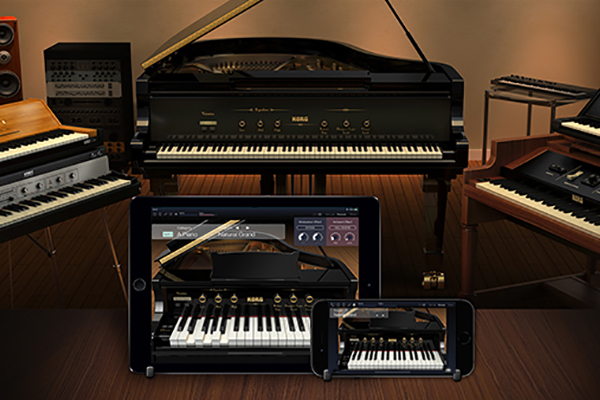 KORG Module has six dedicated sound engines, providing a number of high-quality sounds that can be played back on your iPad / iPhone using the "NATIVE ENGINE". These engines feature technology that was developed for KORG's historic line of workstations and synthesizers including: Acoustic Piano, Electric Piano, Clav, Organ, Multi and Hybrid. Each display has carefully selected parameters, making it convenient and easy to adjust the sounds. We've also carefully ensured ideal playability and designed the system for ultra-low latency.

Once you experience the quality of the sounds being produced from the slim body of your iPad / iPhone, you'll agree that KORG Module is radically different than anything else currently on the market.

With just an iPad / iPhone and the microKEY, you can enjoy great sound anywhere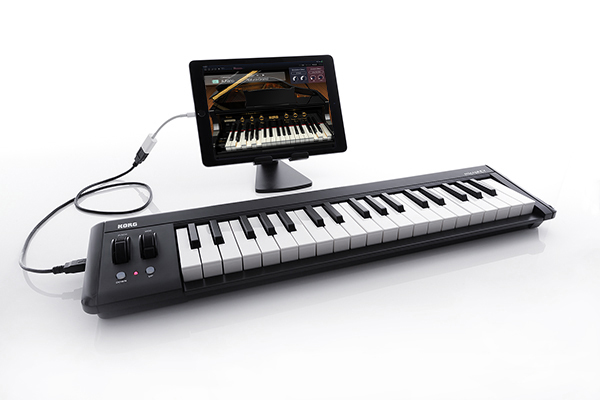 KORG Module and the microKEY are the best possible combination for a mobile performance environment. With the microKEY which supports a damper, or the microKEY Air which provides a wireless connection via Bluetooth MIDI, your iPad / iPhone can transform into a high-quality sound module. In your room, in a practice studio, or performing on stage,, it's easy to set up and immerse yourself in a superb playing experience wherever you are.

Even if you don't have a MIDI keyboard, you can use the apps on-screen keyboard, phrase function, or MIDI player to play the sounds. The MIDI player can load and play standard MIDI files using the unbeatable sounds of KORG Module for your listening enjoyment.
Mobile music production in tandem with KORG Gadget 2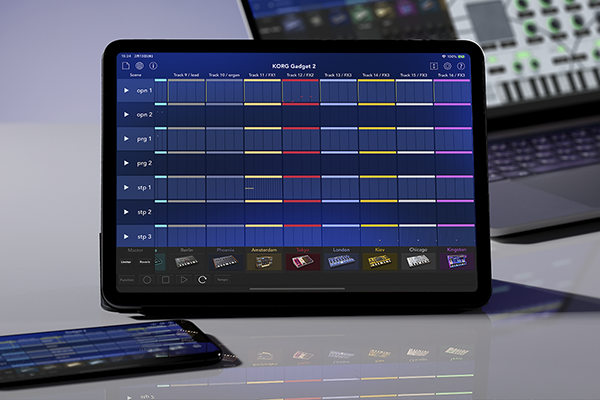 You can also use the high-quality KORG Module sounds inside KORG Gadget 2, the mobile music production app. If you have KORG Module and KORG Gadget 2, the six tools Salzburg, Montreal, Alexandria, Firenze, Glasgow and Firebanks are added inside, allowing access the same way as KORG Gadget 2. These five powerful gadgets will add even more variety to your music productions, raising your music to the next level. Whether for performance or for production, both of these apps deliver ultimate sound.
Long-awaited AUv3 support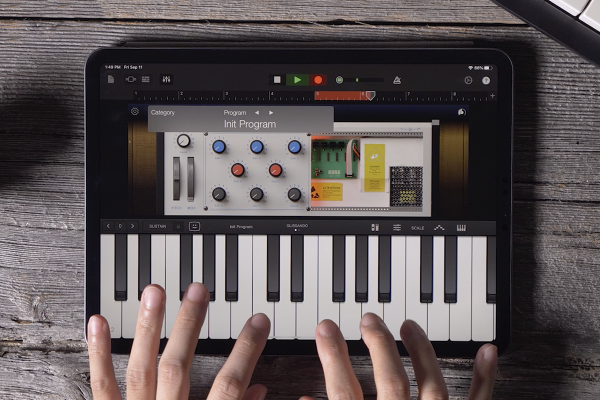 KORG Module is now compatible with AUv3 and can be used not only within KORG Gadget 2, but also using other iOS music production apps such as Apple Garageband.
Module Performance Expansion* for extending useful functions for performance, such as layering/splitting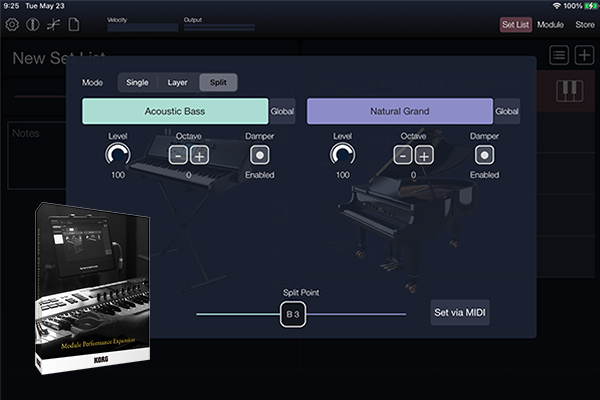 The "Module Performance Expansion" is a new pack available for optional purchase for both Module and Module Pro users. For Module, this new expansion pack extends the performance capabilities of the KORG Module to a more professional level, including layer/split functionality, MIDI CC# Learn functionality, a sound library ideal for layer/split, and a setlist template.

Includes layer/split sounds that are perfect for combining with the Essential Complete that come with KORG Module Pro. With KORG Module, you can cover everything from band performances to music production using only your iPad/iPhone (Essential Complete is available an optional soundpack for Module users to bring it up to Module Pro.) Module Pro customers can purchase this pack for access to layer/split and MIDI CC Learn functionality.

* Module Performance Expansion is an optional upgrade that provides additional features and can be purchased on the Store page to use the above features.
Power-up even more with expansion sound libraries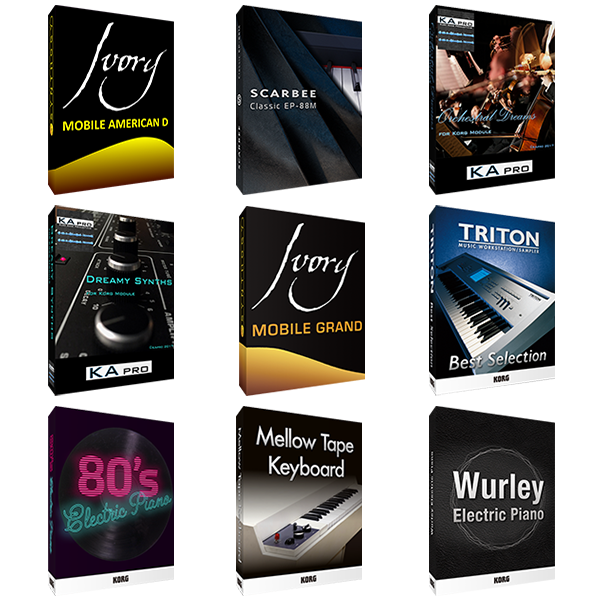 While KORG Module provides a powerful collection of sounds even with its basic set, you can purchase expansion sound libraries to further extend its sonic scope. As the first round, we present two titles: the third-party mobile premium piano "Ivory Mobile Grand" from SYNTHOGY, and KORG's own vintage electric piano sound set "Wurley Electric Piano." Add sound libraries to enjoy an expanding world of mobile sound modules. The added sound libraries can be used with KORG Gadget 2* as well.

* KORG Gadget 2 for Mac and KORG Gadget 2 Plugins for Mac/PC cannot use Expansion Sound Libraries provided by third parties other than KORG. Please be aware of this.
Convenient set list function with a PDF/image score viewer and music player
KORG Module provides functions you'll find convenient in any environment. The set list function (*) provides unified management of all the settings a player needs; it lets you recall the sounds in the ideal order, view music notation, or hear a practice song. The score viewer can load and display an image or PDF file; eliminating the need to carry along a printed music score.You can use the internal camera of your iPad to record and view hand-written memos. There's also a text edit function that allows the ability to make a note of things to remember during your performance. You can use the music player to select and play a song from the library of the Music app. Since there's a tempo change function, you can slow down the tempo without changing the pitch in order to practice with greater accuracy or to learn a difficult part.

(*) When iPhone is used, some functions are excepted.
Easily record your performances, and share song sketches on SoundCloud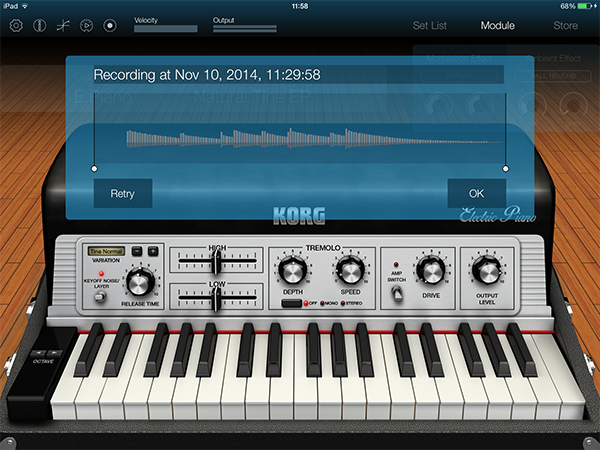 KORG Module contains a recorder that you can use to practice your own performance or to sketch out your song ideas (*). You can publish your recorded data to users around the world by uploading it directly to the SoundCloud. Since performances can be shared with the best sound quality, you can improve your skill by listening and learning from performances around the world. You can also share your performances with friends via social network sites such as Facebook and Twitter.

(*) iPhone is not supported.
Free version lets you experience high-quality sound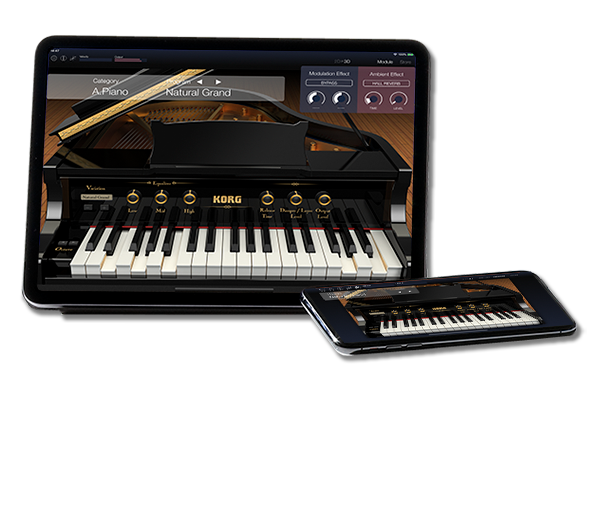 A new free version KORG Module is available. All of your favorite sounds can now be purchased through the library store. The ability to unlock options*1 using KORG controllers/keyboards*2 are still available.

*1 Please refer to the specifications page for a comparison chart of KORG Module versions.
*2 Only if you own KORG Software Bundle Code.
Register here to get Korg App News Letter
Register for the KORG app News Letter so that you won't miss the latest news and information about KORG Module for iPad.

KORG Module Pro is available for download purchase from the Apple App Store.
We use cookies to give you the best experience on this website.
Learn more
Got it