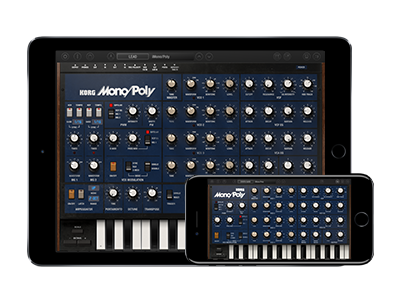 KORG iMono/Poly
4VCO SYNTHESIZER
Support for Your Purchase
Learn More
Related Products
Reviving a classic KORG analog synthesizer.
The iconic 4VCO synthesizer, reborn on iOS.
The Mono/Poly analog synthesizer appeared in 1981 at the same time as the acclaimed Polysix. Not only was it a fat-sounding four-VCO monophonic synthesizer, it featured a revolutionary design that allowed it to also be used as a four-voice polyphonic synthesizer, which helped cement its legendary status.

The long-awaited "KORG iMono/Poly" iPad/iPhone app completely reproduces all features of the original Mono/Poly. Four VCOs and a rich array of modulation allow a wide range of detailed sound design. New functionality such as two multi-effects units and eight virtual patches are also provided. In addition, the seamless integration that you expect from KORG's iOS apps will fit perfectly into your music making process. The Mono/Poly has been reborn for today's world, bringing you a unique and legendary sound.
KORG iMono/Poly - Introduction Movie
Deep 4VCO sound. A complete reproduction of the classic Mono/Poly.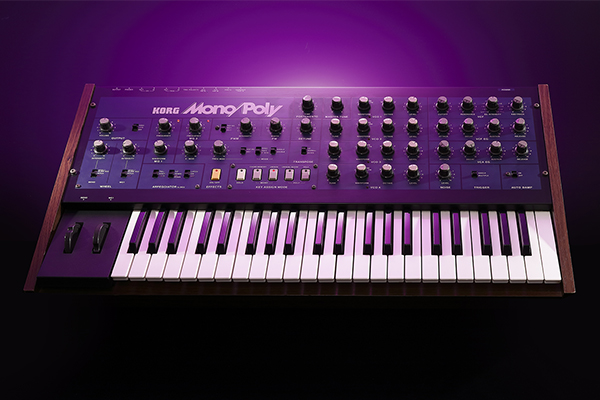 The Mono/Poly synthesizer featured four VCOs, a dedicated envelope generator for the VCF, and also sync and cross-modulation, earning it a reputation for its detailed sound-shaping potential and its distinctive character. iMono/Poly faithfully reproduces the thick sound and rich parameter behavior of the original Mono/Poly by using KORG's proprietary CMT (Component Modeling Technology) to model the electronic components and circuits of the original unit.

The unique key assign modes of the Mono/Poly included Unison, which created four times the depth of a single oscillator, and Chord mode, which allowed you to memorize a chord and play it with a single finger. This reproduction provides an Original mode which allows four-voice polyphonic performance just as on the original Mono/Poly, as well as a powerful Poly mode that delivers powerful depth using all four VCOs. Switching modes enables a diverse range of performance possibilities.
Powerful virtual patches, and the latest presets to catch the scene.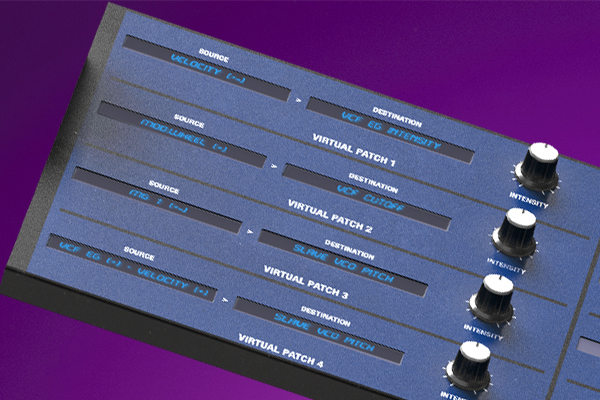 Eight virtual patches provide the ultimate expansion of the Mono/Poly's distinctive sound-design potential. A total of 159 modulation sources such as MG, EG, velocity, and keyboard tracking can be used to modulate 35 destinations such as oscillator pitch, level, filter, MG, and EG. Two multi-effect units are also provided, allowing you to create complex and broad-ranging sounds with complete freedom.

In addition, 128 of the latest preset sounds (*) that fully exploit the unique functions of iMono/Poly are built in. Contemporary sounds that are not limited by the concept of vintage synths will be an exciting stimulus to vintage fans as well to those who are experiencing the Mono/Poly for the first time. Also provided is a template function with a rich array of basic sounds. Even if you're unfamiliar with how to design synth sounds, you'll be able to easily arrive at the sound you want.

* A sound bank containing an additional 128 sounds is also available as an in-app purchase.
Quick access to all panels.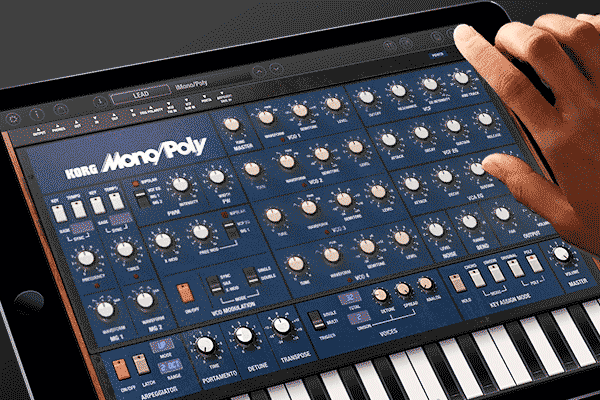 Although iMono/Poly provides a vast number of parameters, it's designed with a screen structure that provides quick and seamless access to all of them. With a single tap, you can rotate between the main synth & key assign screen and the virtual patch & effect screen (*). There's no need to open individual screens for specific functions, or to move back and forth between them. You can just concentrate on the iPad screen in front of them, and immerse themselves in sound and creativity in a way that's possible only with iMono/Poly. KAOSS PAD functionality has also been added, providing an interface that takes advantage of the ease and intuitiveness that you expect on the iPad/iPhone.

* On the iPhone version, you can move by switching screens.
Produce music in conjunction with KORG Gadget.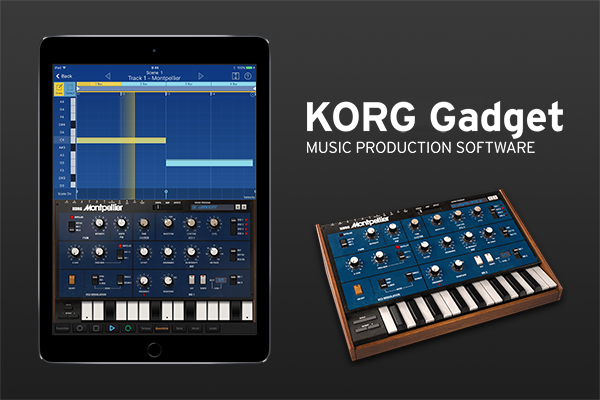 iMono/Poly can be used in conjunction with "KORG Gadget," the music production DAW app that has won numerous prizes within Japan and around the world. When you install both apps, iMono/Poly appears as the "Montpellier" gadget within KORG Gadget (*). This means that your KORG Gadget-based music production system can now enjoy the limitless potential of four VCOs and virtual patches. Audiobus and Inter-App Audio are also supported, allowing you to use this as a sound module for GarageBand.

* In the case of KORG Gadget for Mac, this is expected to be added in a future update.
Connect a MIDI keyboard and use iMono/Poly as an external sound module.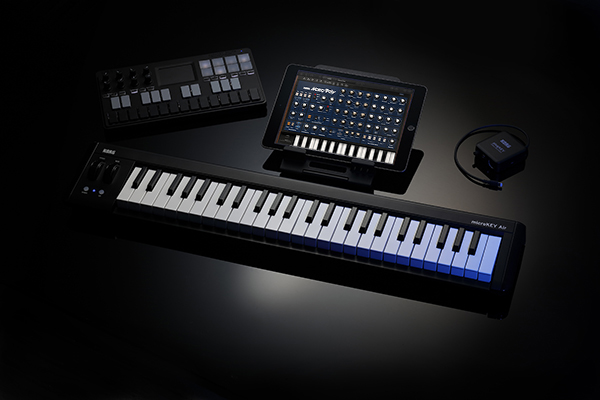 In addition to enjoying iMono/Poly on its own, you can connect a MIDI controller and use iMono/Poly as an external sound module for performance. Most MIDI keyboards can be used to play iMono/Poly, including the Bluetooth MIDI compatible nanoKEY Studio and microKEY Air that allow wireless play, the microKEY that connects via a Lightning adapter, and the plugKEY mobile MIDI+audio interface. The uniquely rich and sharp synth leads and synth basses of the KORG Mono/Poly can now thunder from your iPad/iPhone-based mobile setup into rehearsals, studios, and stages.
Register here to get KORG App News Letter
Register for the KORG app News Letter so that you won't miss the latest news and information about iMono/Poly.

KORG iMono/Poly is available for download purchase from the Apple App Store.
We use cookies to give you the best experience on this website.
Learn more
Got it