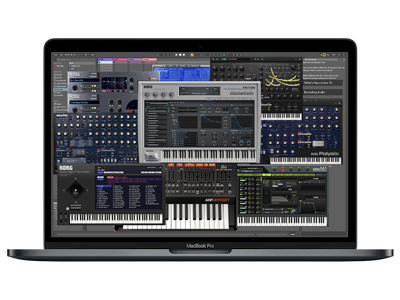 KORG Collection 3 for Mac/Win
SOFTWARE INSTRUMENTS
Support
Learn More
Related Products
KORG's lineup of analog/digital masterpieces as software
KORG's famous MS-20, Polysix, and Mono/Poly analog synthesizers were reproduced at the circuit level using what would become CMT. The legendary M1 and unique WAVESTATION round out the digital side of the Collection. The sixth member of the collection is MDE-X, an easy-to use multi-effects unit.

Enjoy the vintage sounds that defined various eras of music in your DAW, without quality only KORG can achieve.
KORG Collection 2: Refined
Free Updates for Your Products
If you already own any of the existing KORG Legacy Collection series or KORG Collection series plug-ins, you can update your registered products to latest version and enjoy the refined GUIs and additional functions for free. Update now to try out the new and improved KORG Collection.
KORG MS-20
MONOPHONIC SYNTHESIZER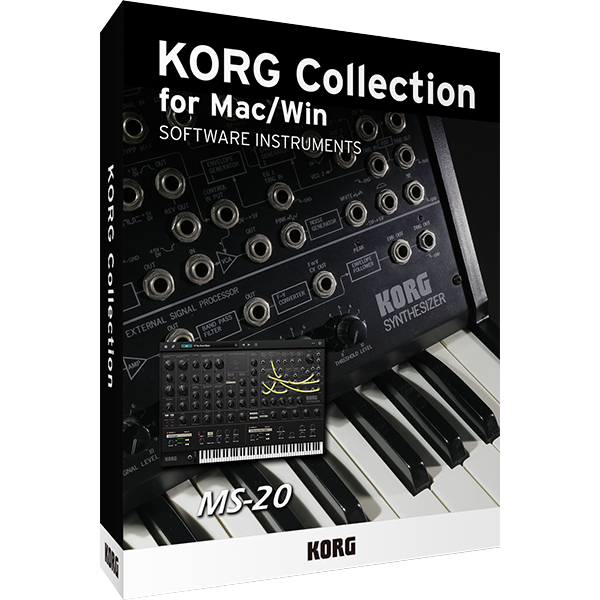 The analog monophonic synthesizer with the potential for patching that went on sale in 1978: the MS-20.

The entirety of the MS-20 is reproduced with its two oscillators (which can be ring-modulated), high-pass/low-pass self-oscillating filters with unique distortion, and a patch section with an external signal processor that can accommodate external audio input.
For the software, 32 voices of polyphony and up to 16-voice unison (with detune/spread function) were added. Flexible external modulation settings and MIDI clock synchronization have also been introduced, allowing for sound production with a high level of flexibility and freedom.

In the further designed and refined MS-20 of KORG Collection 2 there are now two additional multi-effect units, a new sound browser, and new preset programs.
KORG Polysix
POLYPHONIC SYNTHESIZER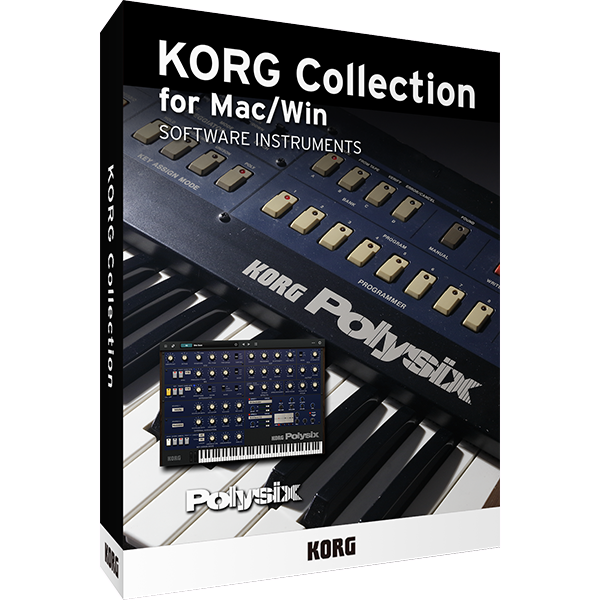 The programmable 6-voice polyphonic analog synthesizer released in 1981: Polysix.

Everything from Polysix has been completely reproduced: the 1VCO (with sub-oscillator) /1VCF/1VCA/1EG configuration which enables a choice of SAW/PW/PWM waveforms, the chorus/phase/ensemble effects, and performance functions such as chord memory, arpeggiator, and unison.
The software enables versatile sound creation with enhancements such as 32-voice polyphony (max), up to 16-voice unison (with detune/ spread function), flexible external modulation settings, MIDI clock synchronization for the modulation generator and arpeggiator, and a spread function that adjusts the spaciousness of the effects.

In the further designed and refined Polysix of KORG Collection 2, there are now two additional multi-effect units, a new sound browser, and new preset programs.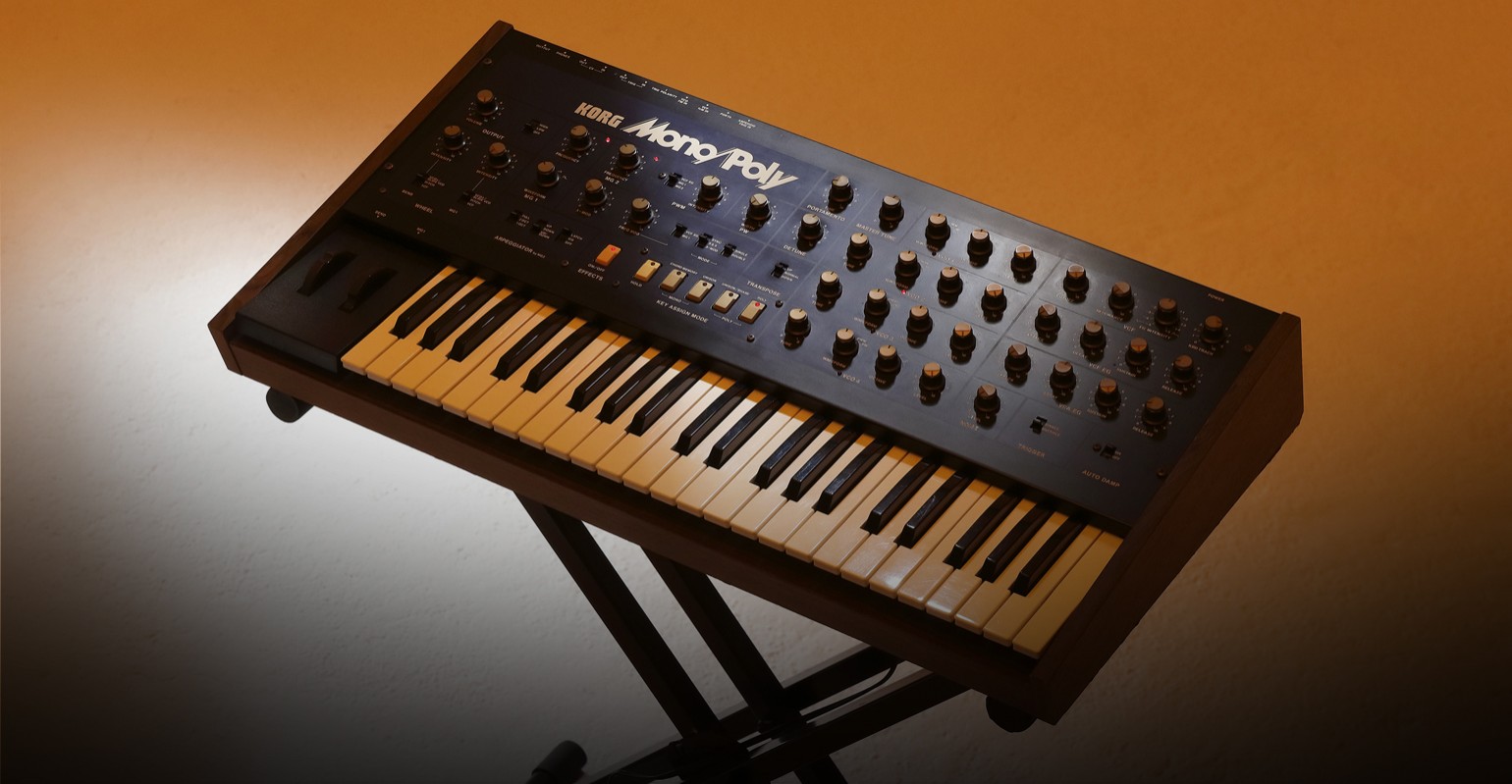 KORG Mono/Poly
4VCO SYNTHESIZER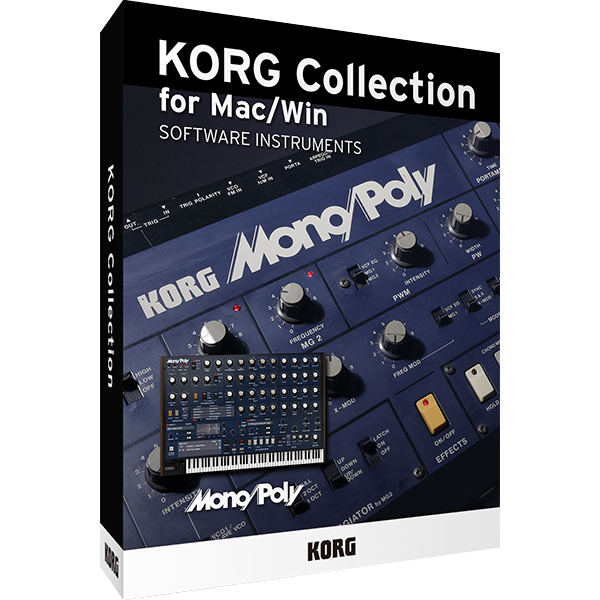 The four-VCO monophonic/polyphonic synthesizer that went on sale in 1981 and was considered the culmination of Korg's experience building analog synthesizers: Mono/Poly.

All of the Mono/Poly's multi-colored features have been completely reproduced: its programming structure featuring four VCOs, each providing adjustable pitch, waveform, octave, and level, together with one VCF, one VCA, two EGs, and two MGs; advanced Chord Memory and Arpeggiator functions; and the Synchro and Cross Modulation functions which can create revolutionary tonal effects.
The software adds many enhancements such as 128-voice polyphony (max) with up to 16-voice unison, two integrated multi-effects, an eight-way virtual patching matrix. The virtual patch functionality lets you use 159 different modulation sources to modulate 35 different destinations. This evolution of Mono/Poly allows for complex and diverse sound creation.

The further designed and refined Mono/Poly KORG Collection 2 sees two new high-end effect types included Distortion and Feedback Reverb.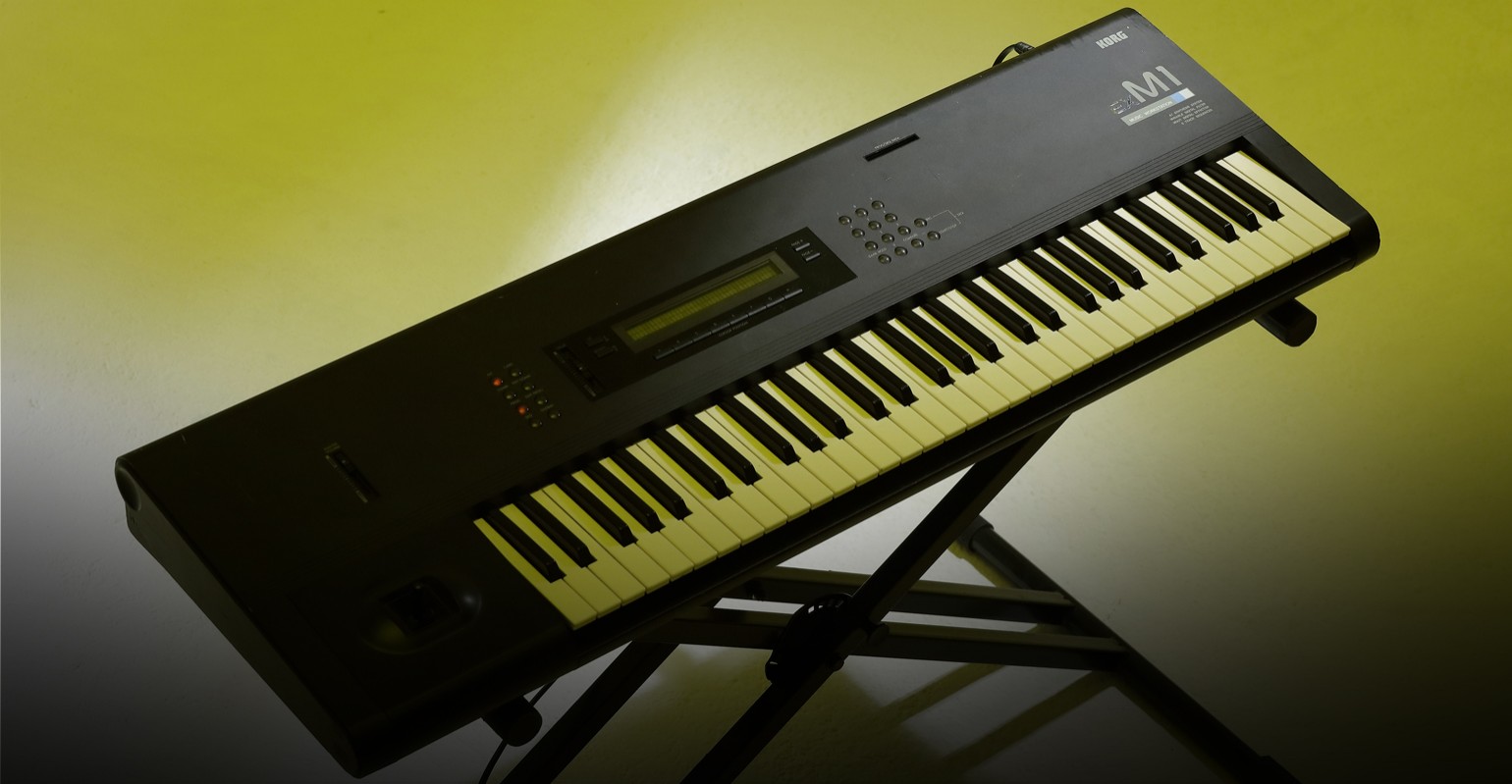 KORG M1
MUSIC WORKSTATION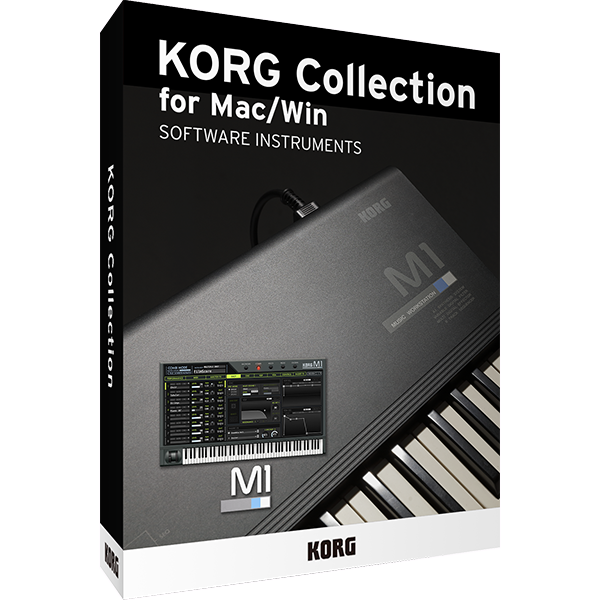 The first workstation synthesizer, released in 1988, which defined the sound of the late '80s and early '90s: M1.

Along with its innovative "workstation" concept, the M1's "AI" (Advanced Integrated) synthesis system used PCM waveforms and digital effects to deliver fully complete program and combination sounds. As a pioneer of PCM tone generation, it was notable not just for the reality of its sound, but also for the distinctive resonance and tonal character that demonstrated the high level of Korg's voicing technology. Numerous sounds available only from the M1, most notable the famous "M1 Piano" sound, were taken up by musicians and producers around the world, and are still in use today.
The software features filter resonance, VDA modulation, and master effects that have been powered up to a total of 18 systems. It provides all of the PCM, Program, and Combination data found in the original M1 and the M1EX internal PCM expansion, plus the PCM data and Program/Combination data from all nineteen optional ROM cards.What's more, in addition to all 19 types of the PCM ROM cards for the M1, the sound of the M1EX which was released as an expansion of the M1's built-in PCM, as well as the sounds of the T-series, which advanced the M1. It is equipped with extensive sounds, including 3,300 preset sounds and 34 cards.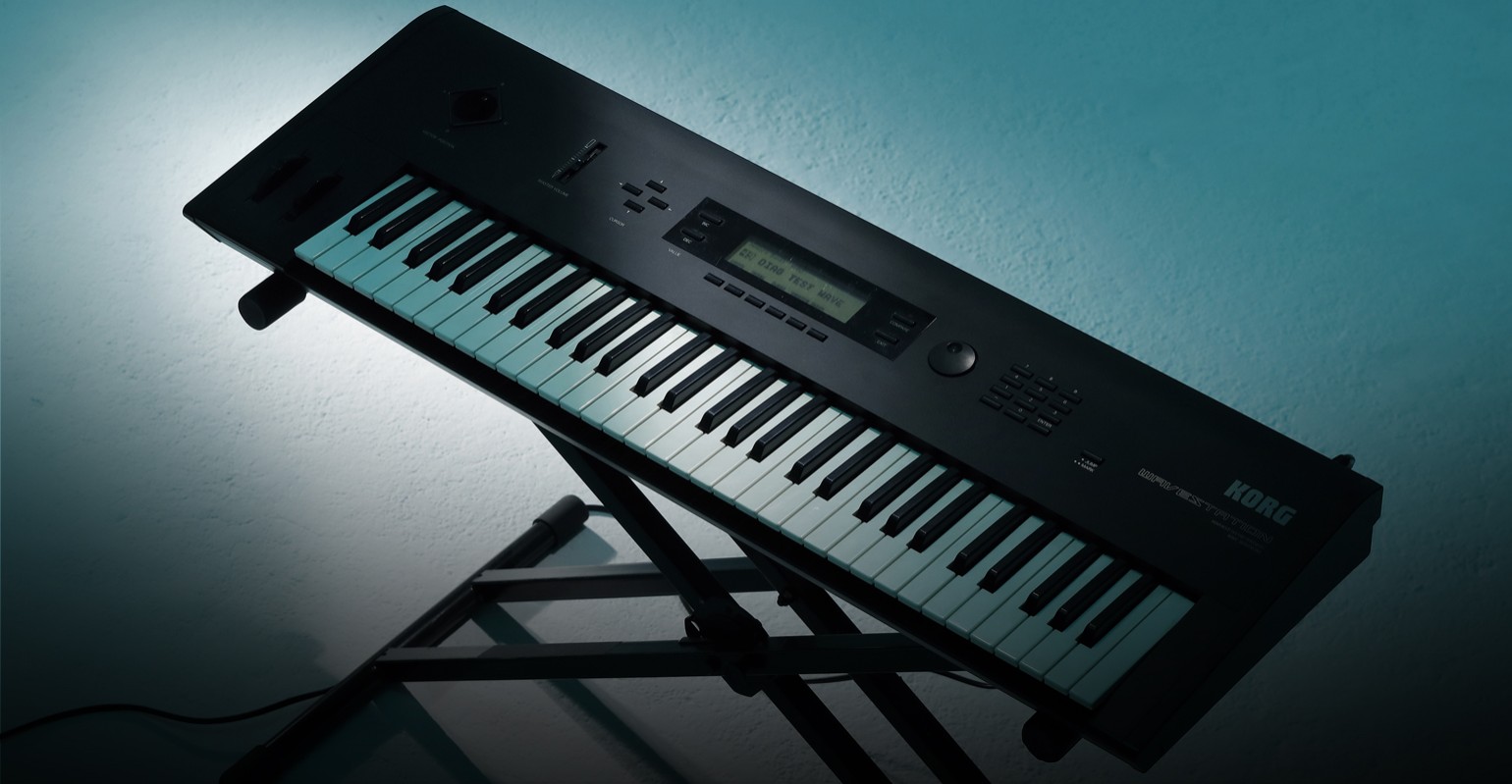 KORG WAVESTATION
WAVE SEQUENCE SYNTHESIZER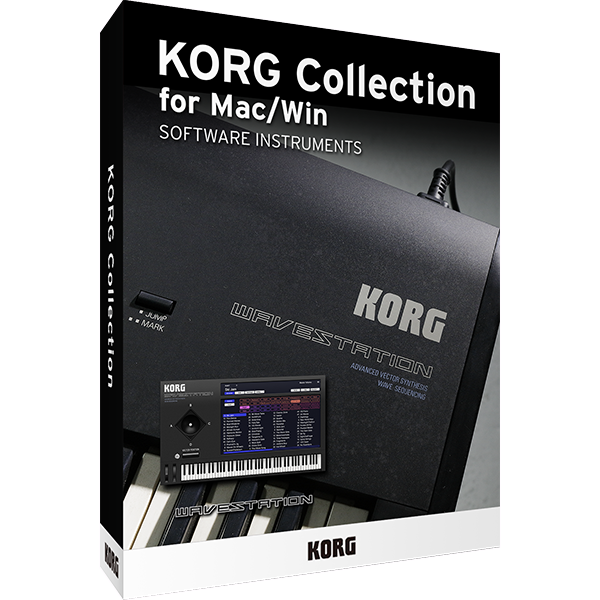 The WAVESTATION synthesizer appeared in 1990 with its new "advanced vector synthesis system" which produced a new sound by combining and shifting between multiple complex waveforms.

The user could operate a joystick to "mix" or "morph" between four oscillators, or create a wave sequence by placing waveforms in a specific order to create rhythmic or melodic sequence patterns. In addition to these and other unique revolutionary features, the sound section has equipped all of WAVESTATION's PCM, and the parameters of the delicate parts have been fully reproduced in the software by analyzing the circuit map of the original design.
The software provides extensive preset programs and waveforms found on all of the series' models: WAVESTATION, WAVESTATION EX, WAVESTATION A/D, and WAVESTATION SR. 7 types of PCM and program cards are equipped. In addition to a total of over 1,500 built-in preset sounds, an enormous amount of added PCM waveforms and wave sequences allows for even more variegated sound production.

In the further designed and refined WAVESTATION KORG Collection 2, tags have been added that allow you to filter the vast number of presets by category/sound character. A new random button has also been added to help you create evocative soundscapes with the simple press of a button.
KORG MDE-X
MULTI EFFECTS PROCESSOR
MDE-X is equipped with 19 different effect programs carefully selected from KORG digital effects, including Compressor, Limiter, Overdrive, Equalizer (EQ), Talking Modulator, Flanger, Phaser, Chorus, Delay, and Reverb.
The plug-in uses an effect algorithm derived from the high-quality TRITON family of synthesizers. Now you can use these effects that have defined the sound used in so many tracks in the software. Also, with its 128 effect programs, MDE-X can be used in a wide range of applications such as sound design, live performance, and mixdown sessions.

The further developed and refined MDE-X KORG Collection 2 sees two new high-end effect types included Distortion and Feedback Reverb.
First, try the demo version.
The KORG Collection is available as a free demo version* that offers all synthesis functions for free as a trial. Get a glimpse of the possibilities before buying.


*KORG ID account is required.
*There is no demo version of the ARP ODYSSEY and LegacyCell.
*The software can only be used for 20 minutes at a time.
*The ability to save edited programs is disabled.
For Current Users of KORG Legacy Collection: Announcement of
Server Migration Accompanying Partial Termination of Service
We will soon be migrating our server to KORG ID and KORG Shop along with the partial termination of service of KORG USER NET. We sincerely apologize for the inconvenience to KORG Legacy Collection users. We request that you follow the instructions on the page below to complete the migration procedures. Using the coupon code which will be issued, you will be able to switch from the KORG Legacy Collection series to KORG Collection free of charge.