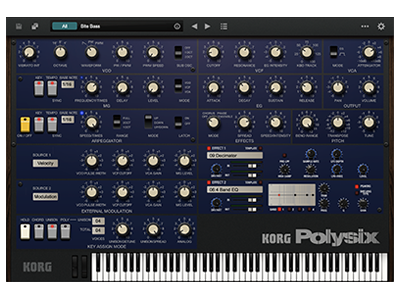 Polysix V2 for Mac/Win
POLYPHONIC SYNTHESIZER
Learn More
Reborn through software
Polyphonic Synthesizer Polysix
Brought to the market in 1981, the analog synthesizer Polysix is one of KORG's most famous synthesizers. At that time, popular synthesizers had a polyphony of five voices. This Polysix. with six polyphonic voices (one more voice), was named directly after the determination and pride of the engineers. Sound memory, built-in effects such as chorus, phaser, and ensemble are commonplace functionalities these days, but at the time, they were considered advanced specifications, and by combining them to deliver its unique fat sound the Polysix quickly became a worldwide bestseller.

While the Polysix V2 in this KORG Collection has been based on the software-emulated Polysix from 2004, it has been refined for modern production environments. In addition to the often-requested high-resolution and scalable interface, we have added two new multi-effects. All of the analog sounds and behaviors are realistically reproduced by CMT, KORG's proprietary electronic Circuit Modeling Technology, and you can now get these beautiful sounds, unique to the Polysix, as a state-of-the-art software plug-in.
KORG Collection 2: Refined
Faithful modeling of the Polysix circuitry.
Proudly digitized using KORG's Component Modeling Technology (CMT).
High-resolution interface for Retina and 4K.
Two newly added multi-effects.
300 new presets.
A free upgrade for owners of the previous KORG Collection Polysix.
A free demo version is also available.
A complete reproduction deep, fat polyphonic sound of the Polysix
With settings such as 1VCO / 1VCF / 1VCA / 1EG, Polysix has simple parameters. Due to its intuitive operation and chorus, phaser, and ensemble effects that spread the sound out evenly, the Polysix was highly acclaimed when first released in the 1980s, especially for its beautiful strings and pad sounds.

The Polysix of the KORG Collection is able to faithfully reproduces the sound and performance of the original Polysix because of KORG's proprietary electronic circuit modeling technology CMT (Component Modeling Technology). Instead of merely simulating the output sound as conventional modeling does, KORG's CMT is a method for using digital equivalents of the transistors, capacitors, resistors, and other components used in the hardware realm to reconstruct the same signal path digitally. This accurately reproduces the complex range of sounds and parameters that can only be created with the Polysix.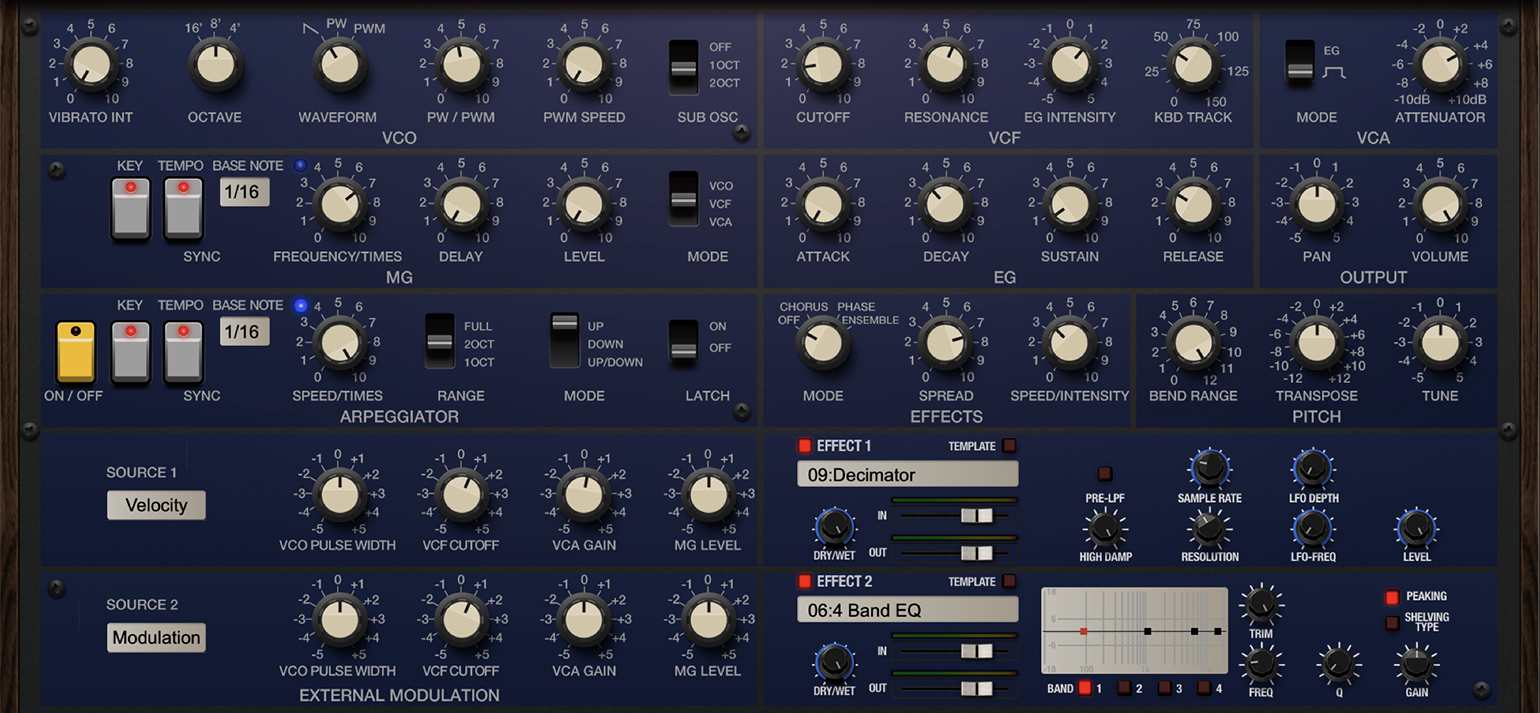 High-resolution interface for Retina and 4K
We have made major GUI refinements to the KORG Legacy Collection Polysix software (originally released in 2004) so that its high-resolution graphics allow it to work in modern Retina & 4K environments. By supporting six levels of scalability, usability has been drastically improved. Enjoy features that are easy to use and give a sense of satisfaction which are unique to the Polysix and control many parameters such as patching, at a high resolution.
Two newly added multi-effects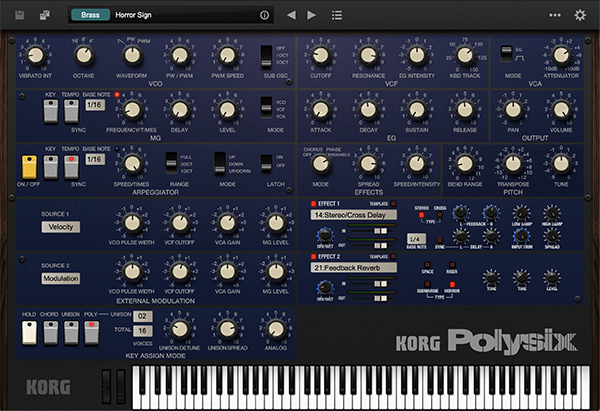 32 voices of polyphony and up to 16-voice unison (with detune/spread function) were added to the original (2004) Legacy Collection. Flexible external modulation settings and MIDI clock synchronization have also been introduced, allowing for sound production with a high level of flexibility and freedom.

Furthermore, the KORG Collection Polysix has two new multi-effects. The total of 21 effects such as compression, EQ, delay, reverb, and 127 kinds of ready-to-use effect programs expand the Polysix sonic range.
300 up to date presets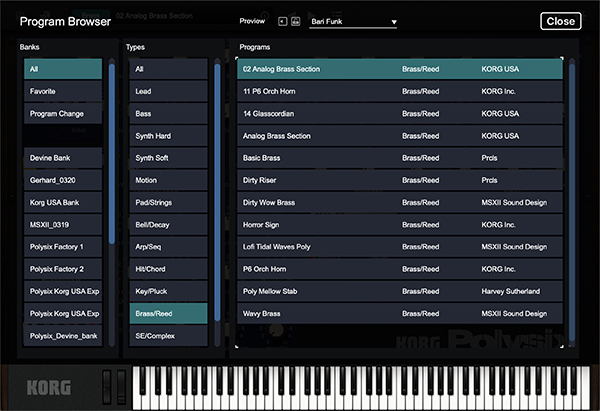 The original Polysix was a programmable 6 voice synth with memory patches, very unusual at the time. In addition to the presets of the previous KORG Legacy Collection Polysix, the latest, all new 300 presets have been added. We included sounds that the Polysix excels at and is well known for, such as strings and pads.

In addition to being able to register sounds that you like as favorites for immediate recall, there is a new convenient program browser so you can narrow sounds down by type, allowing you to quickly find the sound that you are looking for.
Update now!
Users who already have the plugins from the KORG Collection series can update to version 2 for free. Update now to try the evolved Polysix V2.
First, try the demo version
The KORG Collection Polysix V2 is available as a free demo version* that offers all synthesis functions for free as a trial. Get a glimpse of the possibilities before buying.

* KORG ID account is required.
* There is no demo version of the ARP ODYSSEY and LegacyCell.
* The software can only be used for 20 minutes at a time.
* The ability to save edited programs is disabled.
Included in the KORG Collection
Polysix V2 for Mac/Win is included in the KORG Collection 3. The Full Version of 11 pieces of KORG software. All at once you will be able to get the famous analog machines that laid the groundwork for the synthesizer as an instrument in the 1970s and early 80s, as well as the well-known digital machines that changed the history of music in the late 1980s and 2000s.
Please consult the KORG Collection 2 product page for the system requirements.


We use cookies to give you the best experience on this website.
Learn more
Got it