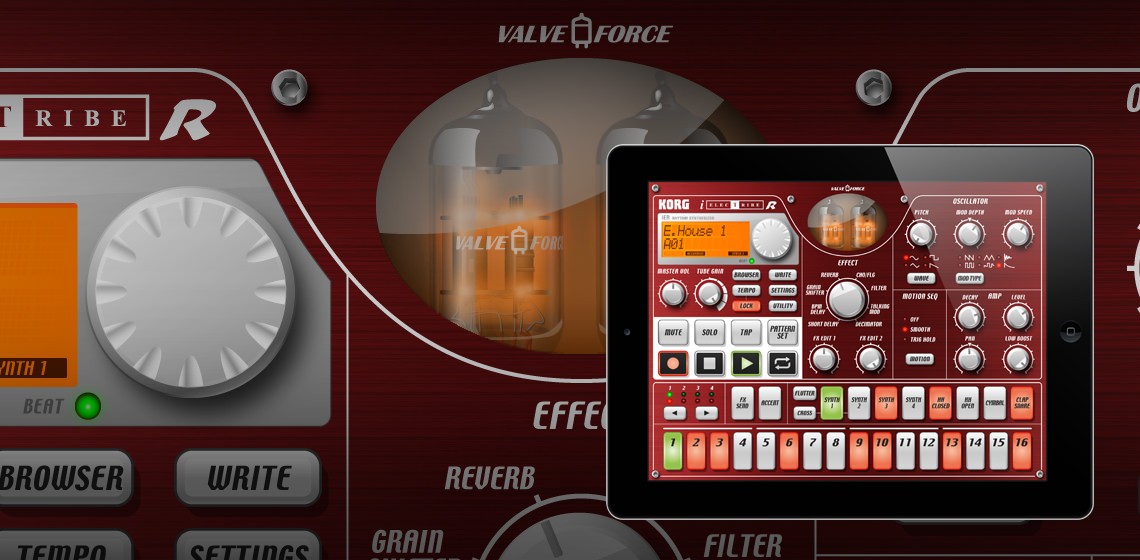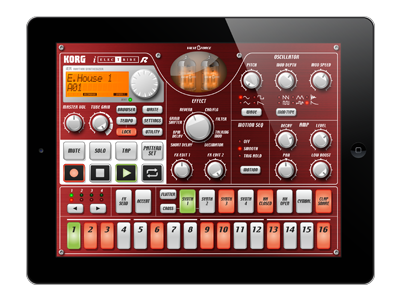 iELECTRIBE for iPad
Support for Your Purchase
Learn More
Related Products
Version 1.7.0 New Features
Ableton Link - A new technology that synchronizes beat, phase and tempo of Link-enabled iOS apps such as KORG Gadget, iELECTRIBE and iKaossilator, and Ableton Live 9.5 for Mac/PC over a wireless network
This version requires iOS 8 or later
Bug fixes and improvements
Version 1.6.2 New Features
Improves the stability of the Beat Flutter function
Fixes a compatibility issue when using KORG Native Mode in iOS 6
A few bugs have also been addressed, improving operational operational stability
Version 1.6 New Features
A new function "Beat Flutter" has been added to allow you to vary rhythm patterns real timely and randomly for live performance by stroking pad.
Background Audio support allows to play other music apps
iCloud data backup
"Audiobus" enables audio streaming between iOS Musical Instrument Apps* *Please visit here for more information about Audiobus.
Virtual MIDI enables MIDI communication between iOS Musical Instrument Apps
Retina Display support
iELECTRIBE v1.6 New Function "Beat Flutter"
Version 1.5.2 New Features
Version 1.5 New Features
WIST (Wireless Sync-Start Technology)
"AudioCopy" data sharing
External USB-MIDI control; plus Korg nanoPAD2/ nanoKONTORL2 Native Mode

iELECTRIBE / iMS-20 v1.5 - Introduction Movie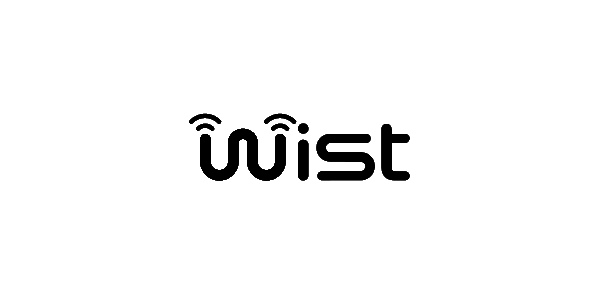 WIST (Wireless Sync-Start Technology)
This innovation allows a wireless signal to simultaneously start two iElectribe v1.5 and/or iMS20 v1.5 apps on two separate iPads! Now you can perform with a friend or expand your iPad ensemble by using two units at once, expanding the ways you can create and enjoy musical performances. Mix and match iMS20 v1.5 and iElectribe V1.5 apps in new dynamic ways.

AudioCopy function
AudioCopy allows the sharing audio data between apps. Now you can copy and paste audio data between apps using the AudioCopy function. Audio data exported from either app can be sent to other apps that support "AudioPaste."
External USB-MIDI control; plus Korg nanoPAD2/ nanoKONTORL2 Native Mode
The MIDI support implemented in the previous version is now much more advanced. Now, the iElectribe v1.5 supports "Korg Native Mode." Simply connecting a Korg nanoPAD2 or nanoKONTROL2 to your iPad will automatically complete all MIDI controller assignments.

SoundCloud online file sharing
iElectribe version 1.5 now features the same SoundCloud feature that has received rave reviews from iMS-20 users. Exported audio data can be easily uploaded and shared on-line at the SoundCloud site while using either app.
Version 1.2 New Features
External USB-MIDI control
An Auto Restore function has been added which enables the last edit status to be automatically restored
A Backup function has been added that enables you to make backups of pattern data
Compatibility with iOS 4.3
A few bugs have also been addressed, improving operational operational stability
Version 1.1.0 New Features
iELECTRIBE v1.1.0 - New Function "Audio Export"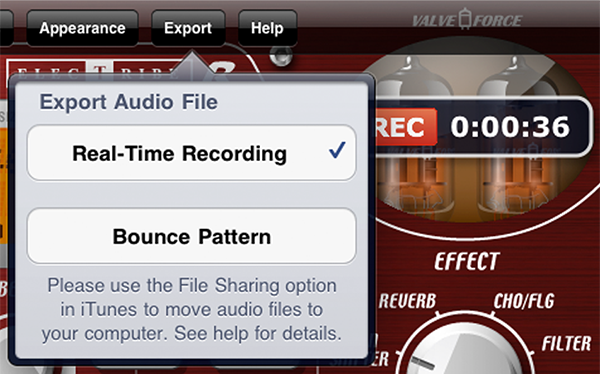 Version 1.1.0 New Features
iElectribe version 1.1.0 adds the user-requested ability to export audio; allowing users to transfer patterns and performances into their Mac/PC via iTunes at CD quality (.wav file format). This means users can now easily incorporate their grooves into their DAW or Video Editor software.

Additional refinements in v1.1.0 include improved knob response as well as some sonic improvements.

The latest version of the iELECTRIBE for iPad is available on the App Store. A free upgrade is available to users who have already purchased a previous version of the iELECTRIBE for iPad.
We use cookies to give you the best experience on this website.
Learn more
Got it