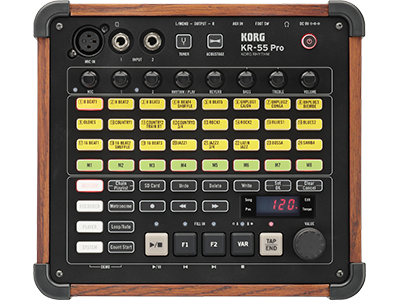 KR-55 Pro
KORG RHYTHM
Learn More
Related Products
KR-55 Pro Introduction Video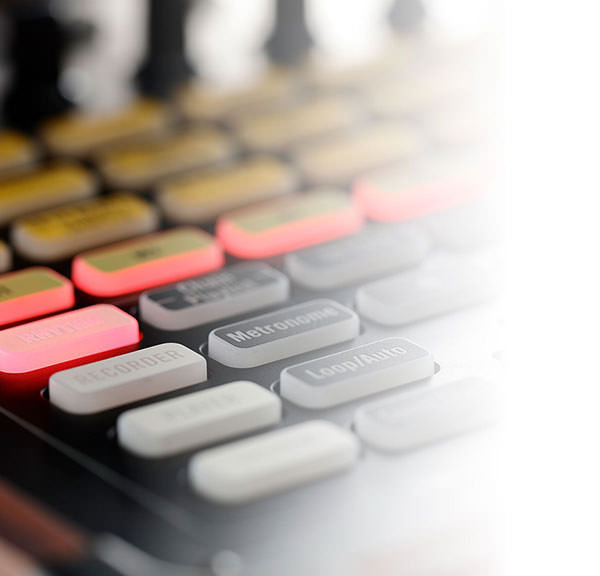 Experience the same musical support as if a pro drummer were sitting in on your session. The KR-55 Pro gives you an easy way to enjoy jam sessions with the backing of real drum/percussion sounds. It provides a rich variety of input jacks, mixer functionality, effects, and equalizer, as well as a versatile recorder that can record to an SD card. The intuitive interface means that there's no need for complex programming. Battery-powered operation allows complete mobility from desktop to street performances, or use in a variety of situations including live events in small spaces.
24 built-in drum/percussion styles that were recorded live using KORG's proprietary "Real Groove Technology."
Each rhythm style includes a rich variety of patterns: two variations, basic, fill-in 1, fill-in 2, and ending.
Use the chain function to create a rhythm structure for an entire song, and play it automatically.
A rich array of input jacks includes one XLR mic input, two guitar/bass inputs, and a stereo AUX input, allowing multi-channel mixing.
A high-quality reverb effect and equalizer are provided, giving you the freedom to shape your sound.
You can perform along with a rhythm style, and record the combined result as an audio file on an SD card.
Multi-track recording is supported, allowing you to produce more sophisticated tracks.
The tuner function features a large meter for good visibility. You can also tune while hearing a guide tone.
Acoustage technology delivers a spacious sound.
The unit can be powered on six AA batteries, allowing up to seven hours of use.
A separately sold foot switch lets you control the unit with your foot.
Drum/percussion sound that overturns your concept of a rhythm machine
The KR-55 Pro features "Real Groove Technology" which uses data recorded from actual professional musicians performing at various tempi, and is a completely different technology than conventional rhythm machines. There are a total of 24 high-quality rhythm styles, each fine tuned to provide the best possible feel, to accurately reproduce the experience of playing with a percussionist. The sounds, grooves, and phrases will play back at pristine quality even if you change the tempo, so you can enjoy playing serious jam sessions at your own pace.
Use the chain function to easily create sophisticated rhythm tracks
Each rhythm style includes a wide variety of patterns: two variations in addition to basic, fill-in 1, and fill-in 2. This means that the KR-55 Pro can provide the accompaniment for an entire song. By using the chain function, which lets you put together and memorize a different rhythm style for each measure, you can freely create even complex rhythm tracks. Up to 30 banks of chains can be stored, and each chain can be up to 999 measures long.
A rich array of input jacks and full-fledged mixer functionality
The KR-55 Pro provides a rich array of input jacks that accommodate a variety of instruments: a guitar or bass can be connected to INPUT 1/2, and the XLR jack accepts a mic input. You can let the KR-55 Pro take care of the rhythm, and enjoy a full-band performance with guitar, bass, and vocals. A reverb effect can be applied to each input source, and TREBLE and BASS equalizer are also provided so that you can shape your sound in detail. The AUX INPUT supports stereo, and can be connected to a digital audio player, a keyboard, or an effect unit that's equipped with stereo output. Together, they allow you to use up to four channels.
Versatile recording functionality that supports multi-track recording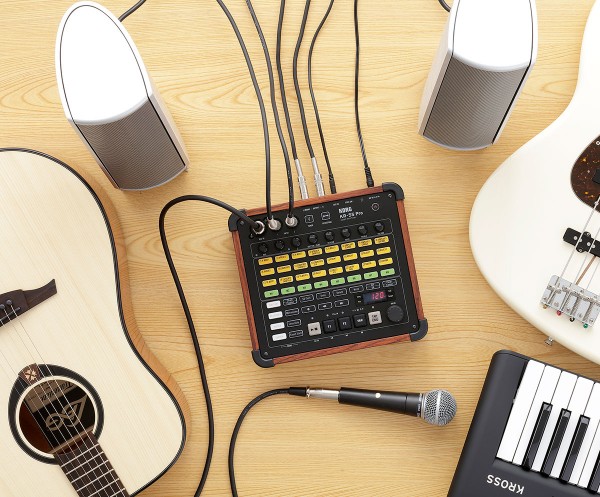 In addition to built-in rhythm styles, the KR-55 Pro is equipped with a versatile recorder function that can record a variety of input sources. You can record your own performances along with the built-in rhythm styles, a favorite song, or karaoke tracks that you created on your DAW. The recorded data can be exported as a WAV file to an SD card, so the KR-55 Pro is all you need to create widely-usable tracks. You can also multitrack-record your guitar and bass to produce more complex tracks. Also provided are editing functions such as undo/redo and punch-in, and you can also place markers at the desired location of the recorded data, and overdub while looping the playback.
Player function can play back audio files from an SD card
The KR-55 Pro is equipped with an audio player function that can play back audio files (wav) from an SD card. You can take advantage of Acoustage and use this unit as a high-quality listening system, or prepare backing tracks for you to play along with. There's also a playlist function (10 banks) that lets you manage the file playback order of up to 24 songs, so you can play back songs in a desired order for your live performance. In addition, the playback speed can be adjusted in the range of -25% to +25%, and you can also make files play repeatedly or automatically in succession. Whether you're practicing at home or performing in front of an audience, the KR-55 Pro is packed with functions that will be useful in various situations.
Tuner and metronome functions with a large and easily readable meter
A tuner with the high precision that you expect from KORG is built in. When you turn this function on, the rhythm style buttons become a tuning meter, allowing you to tune with a large and easily visible meter. You can also tune while listening to a guitar, bass, or piano guide tone, or sound a metronome for convenient practicing.
Acoustage function generates a wide stereo image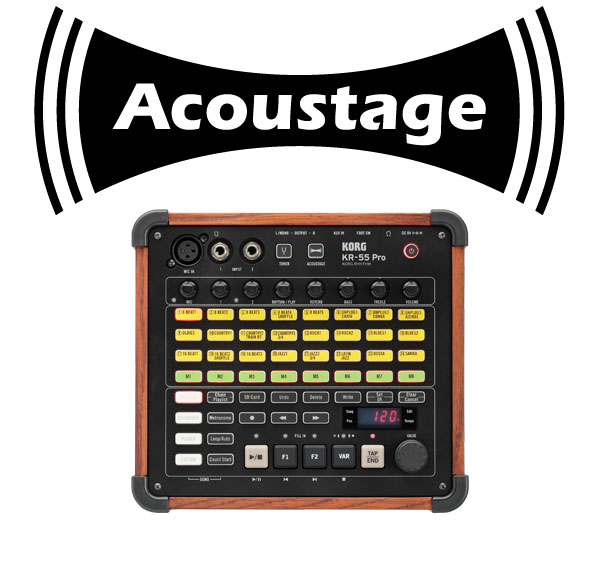 The KR-55 Pro features "Acoustage," proprietary virtual surround technology developed by Korg. This generates a wide stereo effect that appears to originate from locations that are broadly separated between left and right. (Note: Depending on the speakers, it might be difficult to notice this effect.)

* What is Acoustage (Virtual Surround Technology)?
This is KORG's original and revolutionary virtual surround technology that can create a unique personal acoustic space. Using only front stereo speakers, it can generate a three-dimensional acoustic experience that is unobtainable from previous systems.
Use a foot switch controller to upgrade your performance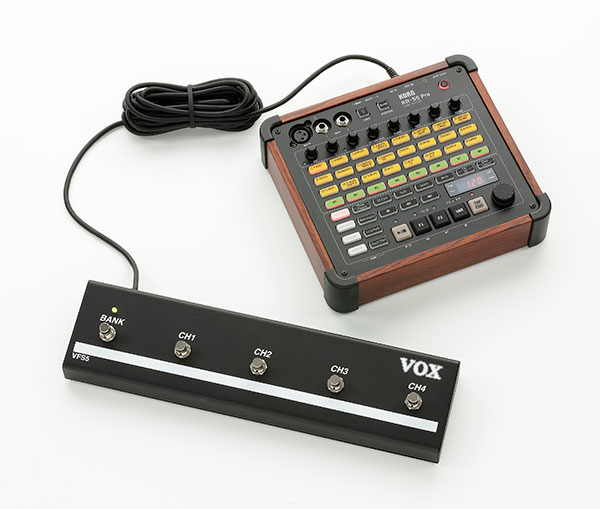 By using the separately sold foot switch accessory (VOX VFS5), you can use your foot to control the KR-55 Pro. While performing, you can insert a fill-in, switch rhythm variations, or start/stop the recorder or audio player. This allows effective realtime performances for the singer-instrumentalist performing live.
Battery operation for convenient portability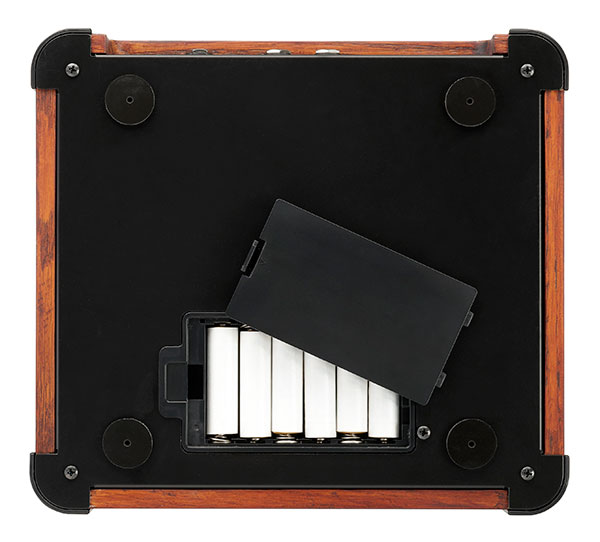 In addition to using the included adapter, the unit can also be powered by six AA batteries. Battery operation allows up to seven hours of continuous use, so the KR-55 Pro can be used even where an AC outlet is not available.
We use cookies to give you the best experience on this website.
Learn more
Got it