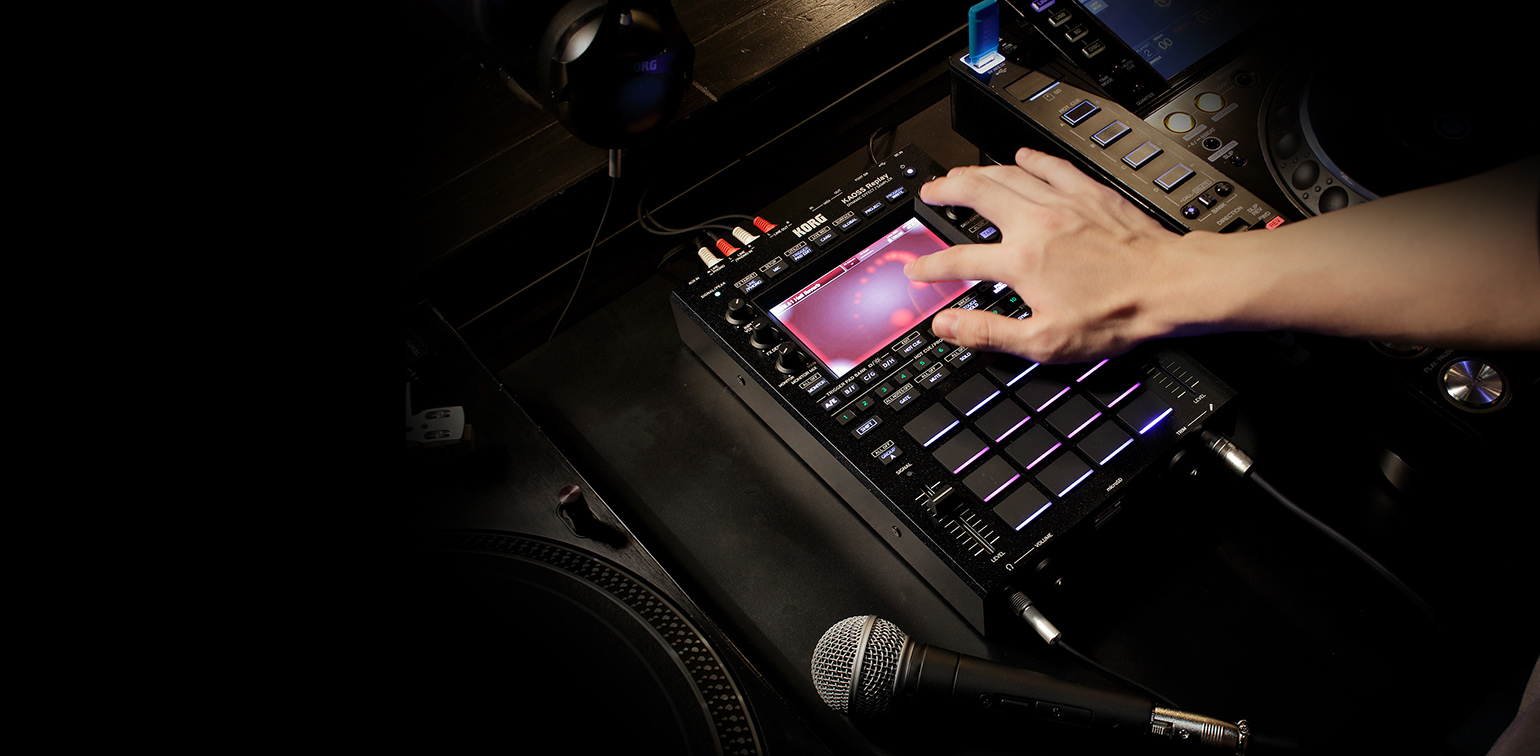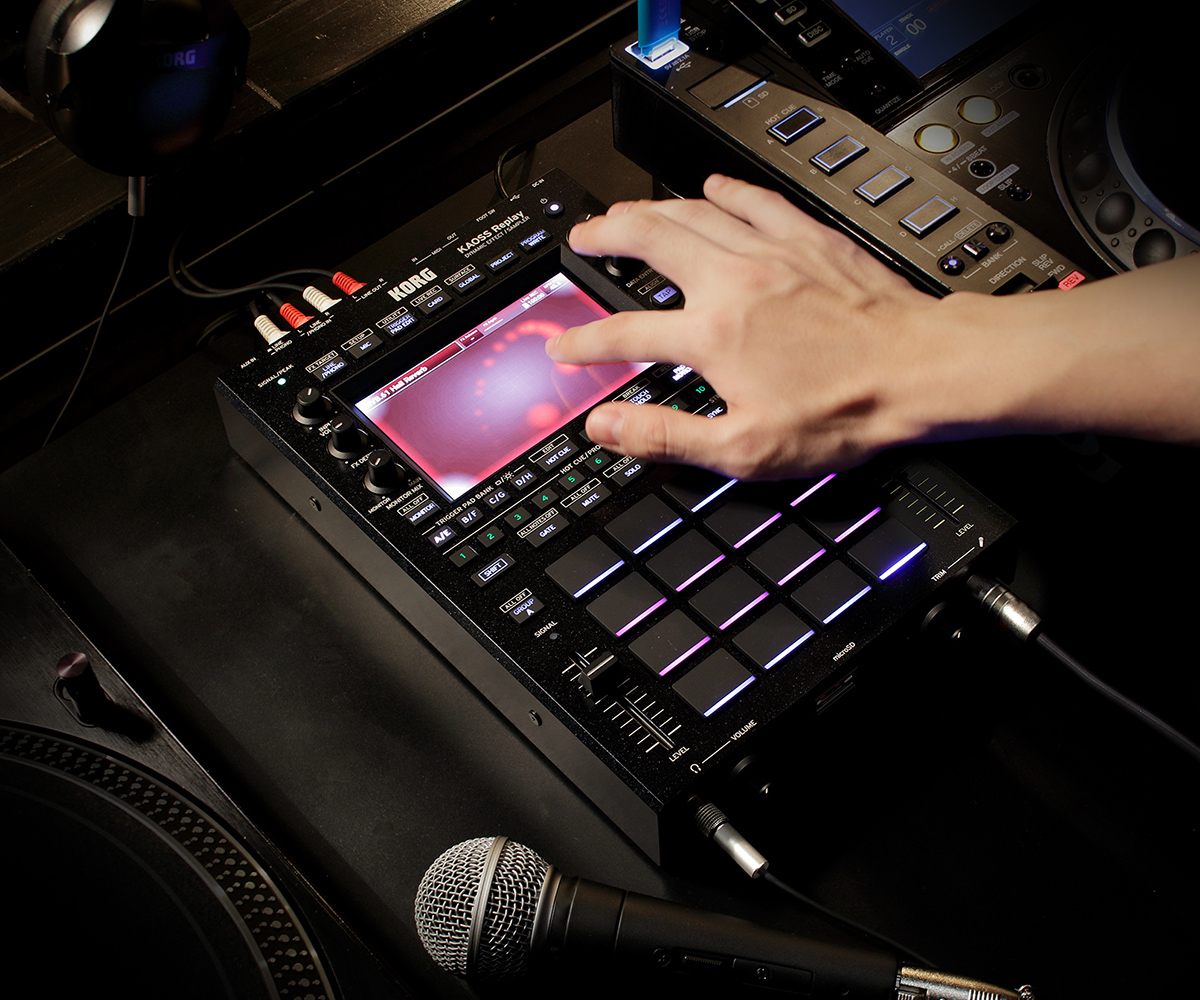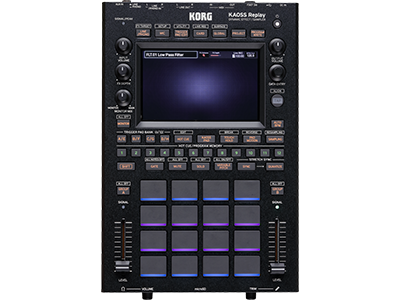 KAOSS Replay
DYNAMIC EFFECT / SAMPLER
Learn More
The flagship KAOSS is here
With its groundbreaking XY pad and innovative and distinctive FX, the critically acclaimed KAOSS series has reshaped the music landscape, rewriting the rules of live performances and musical innovation across its various iterations.

KAOSS Replay is a self-contained performance tool that reshapes the KAOSS legacy, serving as an all-in-one solution for musicians, performers, and producers. It features unparalleled KAOSS Pad and Effects, expanded sample playback and sampling capabilities, and intuitive and precise DJ controls. In a portable stand-alone unit, KAOSS Replay facilitates electrifying KAOSS-infused performances on the fly, eliminating the need for additional equipment.

KAOSS Replay unlocks a new realm of musical creativity and boundless performance possibilities.
Stand-alone KAOSS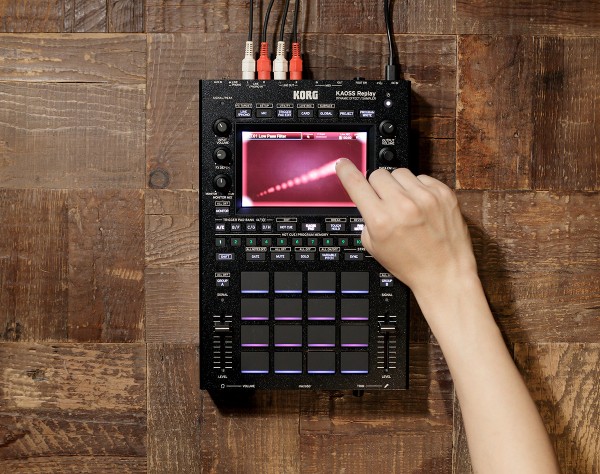 A dream come true for live musicians, KAOSS Replay allows you to immerse yourself in the creative essence of your performance without distractions.

Powered by USB-C and equipped with ample on-board connectivity, KAOSS Replay offers effortless and swift setup, granting you stress-free performances without the hassle of intricate and cluttered gear settings, regardless of your location.

Taking a leap beyond its predecessors, it introduces an advanced sample playback and sampling system, boasting 128 sample slots (16 pads x 8 banks) for each of up to 100 projects, ensuring uninterrupted hours of Kaoss-fueled live sets.

Encased in a robust aluminum body, its sleek and minimalist design strikes the perfect balance between performance-friendly size and backpack-friendly portability.
Unique KAOSS FX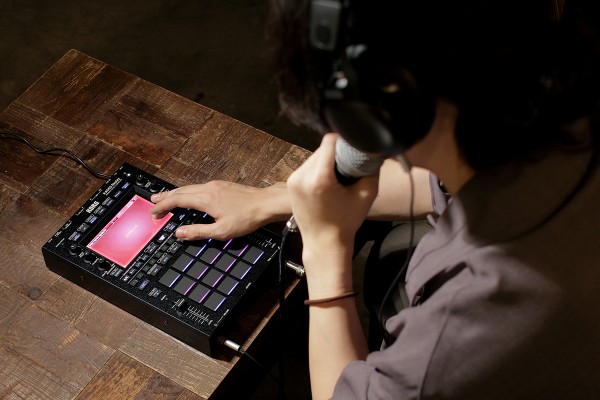 KAOSS Replay builds on the unique KAOSS Legacy, introducing a rich palette of 128 new KAOSS FX. These encompass a spectrum from practical filters, delays, and reverbs to imaginative and exhilarating modulation effects, Loopers, vocoders, and synth effects. Moreover, marking a groundbreaking first in the KAOSS series, KAOSS Replay offers top-tier vocal effects that effortlessly complement any genre and performance, ranging from subtle vocal correction to precise pitch tuning.

Automating your effects is effortless with the PAD MOTION function or by simply holding the desired position using TOUCH HOLD mode. Furthermore, the FX Release function ensures smooth transitions, seamlessly integrating your effects into your musical composition.

With a dedicated MIC Input, KAOSS Replay simplifies the process of playing, performing your tracks, and engaging in improvisation with creative sound effects like never before.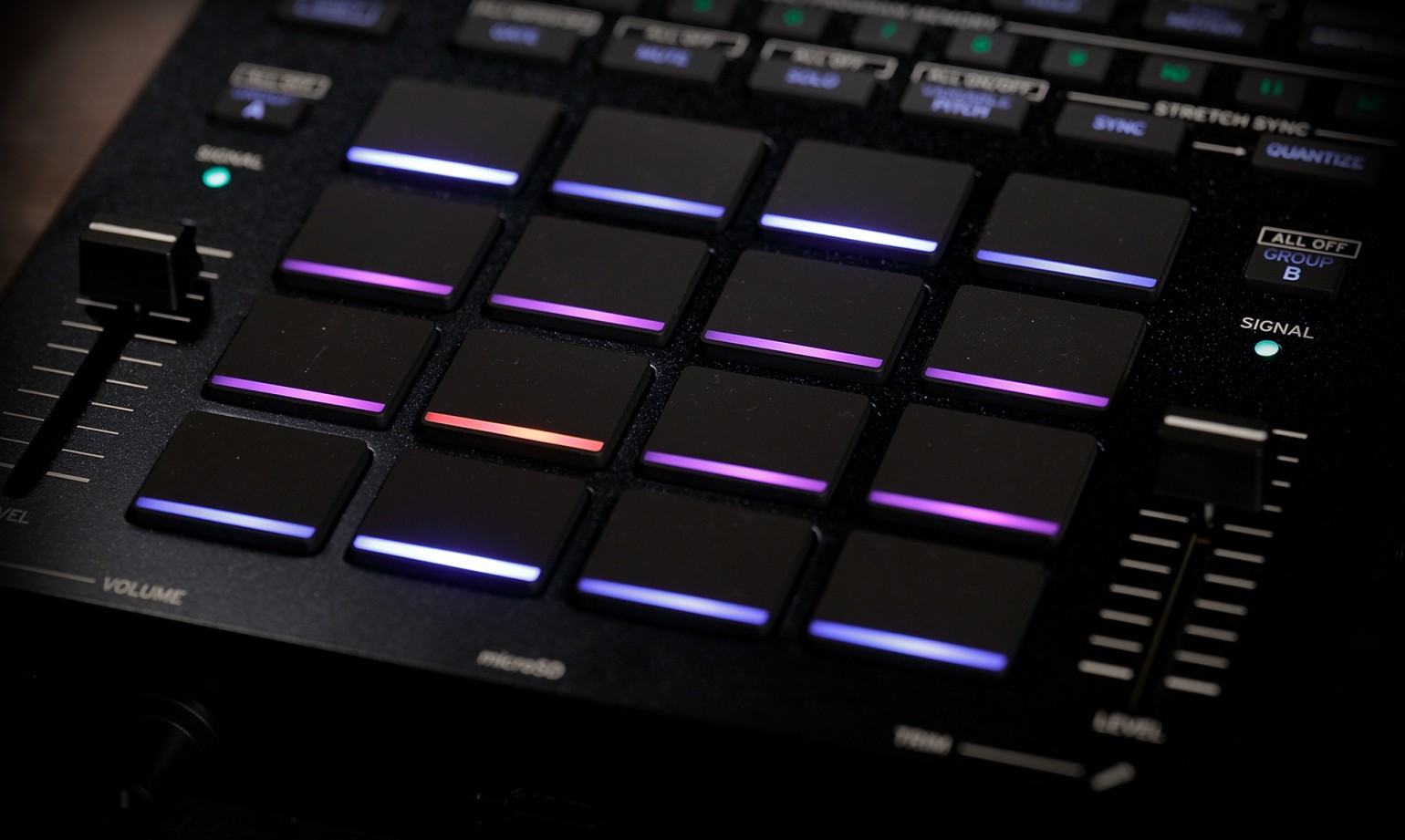 Beyond Effects
Featuring 16 high quality velocity-sensitive pads, KAOSS Replay simplifies and streamlines the process of playing, sampling, or re-sampling. It accommodates up to 128 slots divided across 8 banks per project, with support for up to 100 projects, conveniently storable on a microSD card for effortless storage and instant swapping.

Enhanced by a dual group assign system and dedicated faders, along with BPM detection, sync, and quantization capabilities, KAOSS Replay offers a comprehensive toolkit for a seamless performance experience.

What's more, the onboard sample trimming functionality, coupled with the 12-point Hot Cue triggering system, enables samples to be truly "played" musically and creatively during live performances, opening up a world of dynamic possibilities.
Creativity at your fingertips
KAOSS Replay boasts a stunning 5-inch full-color OLED touchscreen that makes operation fluid and intuitive.
Whether manipulating effects, editing samples, or navigating menus, its tactile display offers a seamless and satisfying experience. Combined with its function-dedicated buttons, knobs, faders, and sample pads, KAOSS Replay is an immersive and engaging performance tool for all musicians.
Creative live performances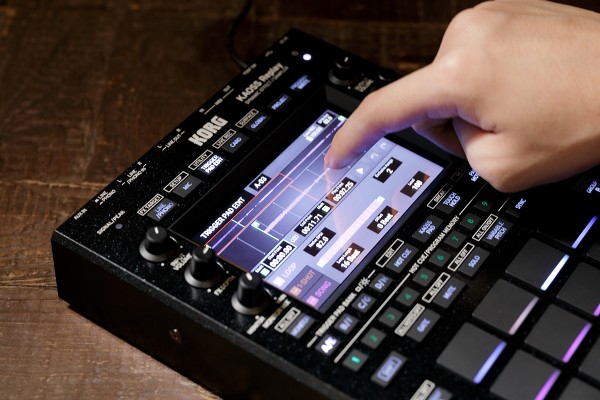 Sampling and resampling have always been core features of the KAOSS PAD series, and KAOSS Replay takes this capability to new heights. Simply choose a target pad, set the desired number of measures, and start capturing your samples effortlessly! Whether you're connecting external instruments via the AUDIO IN or recording your voice through the dedicated MIC Input, KAOSS Replay provides a versatile canvas for your creativity.

Edit your samples, apply effects, assign hot cues, resample… KAOSS Replay opens up a realm of boundless possibilities, limited only by your imagination.

Moreover, KAOSS Replay enables real-time recording of your performances, ensuring that those "happy accidents" are forever preserved.
The ultimate portable DJ rig
Elevating your live sets to new heights, KAOSS Replay simplifies the art of performance. Ultra-portable and ready to go within seconds, it equips you with all the essential DJ tools, eliminating the need for external gear. Precise beat-matching, playback quantization, hot cues, monitoring, and dual faders, all complemented by the formidable KAOSS FX, making KAOSS Replay a performance powerhouse.
Seamlessly enabling extended sets and DJ mixes encompassing diverse musical genres with ease, KAOSS Replay is the ultimate portable DJ rig.
Bring your tracks to life
KAOSS Replay is a versatile tool that excels both inside and outside the studio. Its remarkably flexible MIDI Surface mode allows for complete customization, transforming it into a highly adaptable MIDI controller. Alternatively, it can effortlessly serve as a USB plug-and-play audio interface, seamlessly integrating into your production studio setup.

Once your track is ready, simply load your stem tracks, one-shots, and loops onto your unit and let the KAOSS unfold!
Live Streaming made easy
KAOSS Replay' s integrated Audio Interface, dedicated MIC IN, powerful and creative vocal effects, and easy sample triggering via its pads offer a clever and compact all-in-one solution for live streamers seeking a simple, integrated solution with creative effects that can be intuitively used to create a unique live-streaming experience.
We use cookies to give you the best experience on this website.
Learn more
Got it