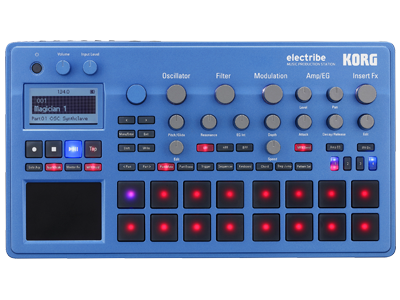 electribe
MUSIC PRODUCTION STATION
Support for Your Purchase
Learn More
Related Products
Related Accessories
From studio to stage,
total control over your patterns
Control your sequences in real time with absolute freedom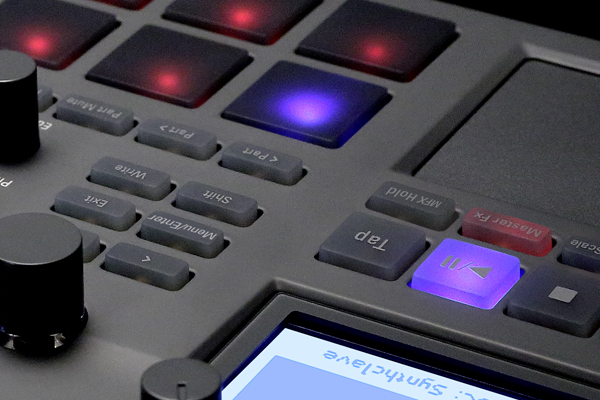 Sequences that you've created on the electribe will shine even more on stage when you use the various functions provided for this purpose.

For example by using, the step jump function that lets you jump instantly to the step you press, you can create dynamic performances as though you were performing the sequence itself.

The electribe also lets you freely use the trigger pads and touch pad to add sounds during your live performance. Thanks to the scale/key settings, you'll never play a wrong note.

The sequences that you create can be played not only on stage, but are also fun to tweak in real time. The dynamic character of such changes makes this one of the electribe's great pleasures.
Use Pattern Set and Pattern Chain to build and organize full arrangements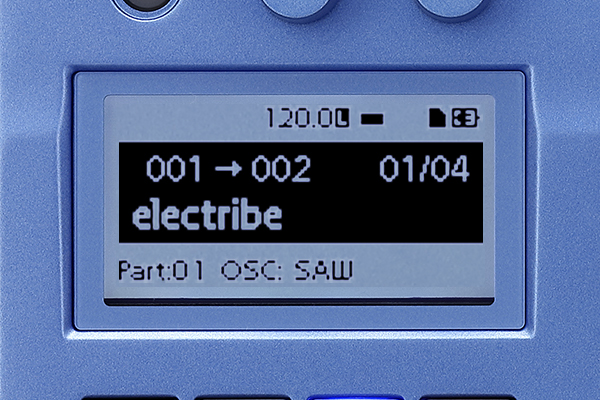 The pattern set function lets you register your favorite sequence patterns to the trigger pads and instantly switch between them. While you play, you can switch successively between patterns to vary the beat.

In system version 2, a pattern chain function has been newly added. Using this, multiple sequence patterns can be connected for successive playback, allowing you to construct large-scale development in your song.
X/Y pad offers real-time effects performance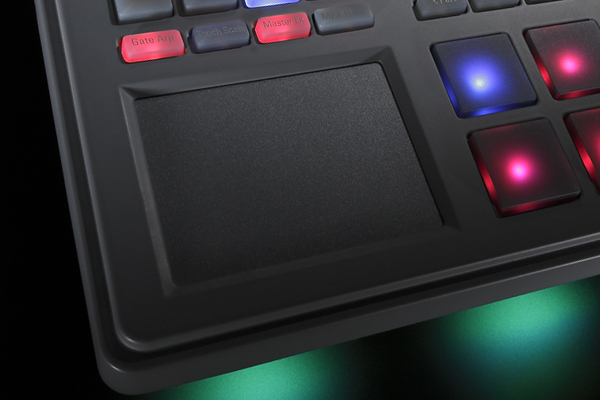 You can use the touch pad to freely control the master effect just as on the Kaoss Pad. You can use spatial-type effects to add overall resonance, or use "Looper" to easily create the texture of your sequence, or even use effects such as "Seq Reverse" or "Odd Stepper" to aggressively transform the music. This is also enormously effective in a live performance.
Sync, MIDI, and Audio In jacks for integration into any setup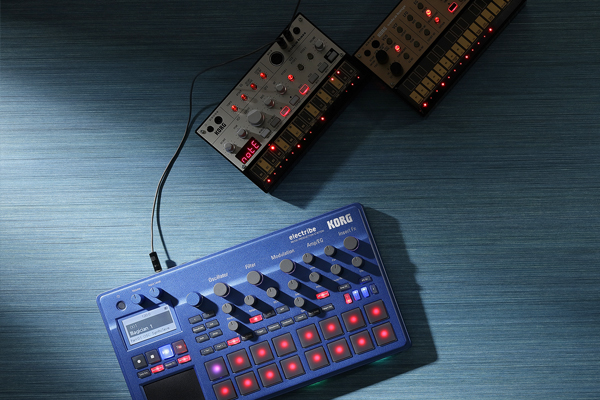 Since there's a sync jack for easy connection to KORG's groove machines, you can connect the electribe to your electribe sampler, volca series unit, or SQ-1 for playback sessions that are synchronized with your sequencer.

MIDI connectors are also provided for inter-operation with your DAW. By adding the electribe's performance to your laptop-based stage setup, you can take advantage of even greater performance possibilities.

The electribe is also equipped with an audio in jack. By connecting an external device and selecting the "Audio In" oscillator, you can use the filter or effect to process the external audio input, or energize your performance by using the step sequencer to turn the output on/off.

In the past, machine-centric live setups required numerous synthesizers, samplers, and sequencers. Today, the electribe can function in a variety of roles, either as the master device at the center of such a setup, or as a slave device that adds sparkle to the performance. Experiment with connecting different instruments to create your very own live setup.
Add the finishing touches to the sequences you've entered
Inter-operation with Ableton Live for a new production workflow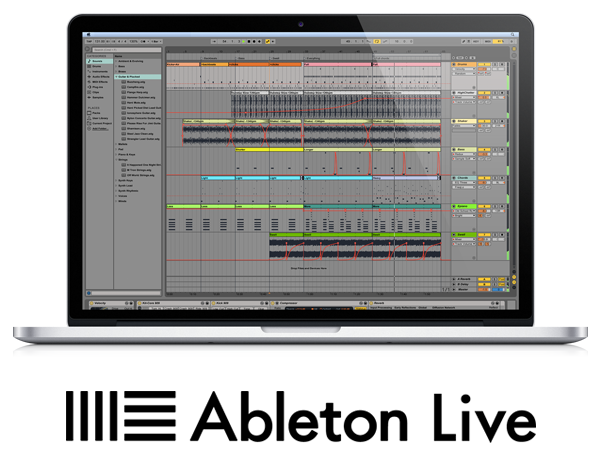 Using your software, you can take the numerous beats that you've come up with and assemble them into a finished product. KORG has partnered with the German company Ableton to provide a new music production workflow that uses both hardware and software.

In addition to the conventional audio export, the electribe has a function for exporting to "Ableton Live" DAW software. When the dedicated project file that's exported is loaded into Ableton Live, an independent audio file for each part is placed in each track of Live, allowing you to edit each phrase using loop, mute, or chop, and then mix the result. After the music you envision has taken shape as a sequence with the rapidity that's possible only with hardware, you can then use your software to edit the material in detail. This is the new workflow with the electribe.

Since the electribe comes with a license card that lets you download "Ableton Live Lite" at no charge, you can experience this new workflow right away.
Event recorder captures your performances as you play them
All playing gestures on the electribe, including trigger pads and touch pad operations, can be recorded by the event recorder function. The recorded performance is saved in the electribe's own format, and can be played back immediately on the electribe, reproducing the realtime operations of your live performance.
If you get stuck
In addition to the owner's manual included with the electribe, we've prepared a parameter guide that explains each function in detail (you'll need to download this). There's also a FAQ page that lists frequently-asked questions and provides answers, so check it out if you run into problems.
We use cookies to give you the best experience on this website.
Learn more
Got it