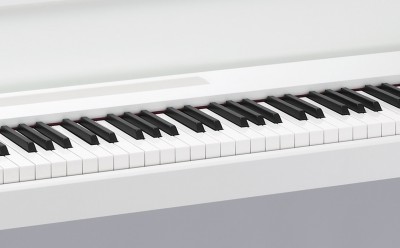 Real Weighted Hammer Action 3 Keyboard
The Real Weighted Hammer Action 3 (RH3) keyboard reproduces the same playing experience as on a grand piano, with heavier response in the lower register that becomes lighter as you play upward. With improved response to repeated keystrokes, even rapid passages can be reproduced without impairing the expression of the performer.

There's also a Key Touch Control function that lets you choose one of three levels to specify how your playing dynamics will affect the sound, allowing you to personalize the instrument to your own keyboard touch. With a view toward the environment, no lead is used in the hammers of the keyboard.
Reduced Chassis Size and Weight
In consideration of the user's possible need to move or relocate the instrument, the LP-380 has been lightened by approximately 5.0 kg in comparison to the previous model (LP-350), making it easier to move or transport, as well as making assembly safer.
LINE OUT Jack
You can use the LINE OUT jack (stereo mini-jack) to connect the instrument to your amplified speaker system or recording device.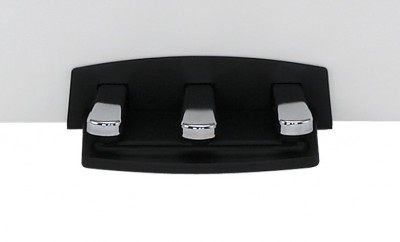 Premium Pedal Performance
The LP-380 includes all three pedals that are normally found on a concert grand piano, including support for realistic half-pedaling on both the damper and soft pedals. These pedals are affixed to the LP-380 in the perfect position for an authentic piano playing experience.
MIDI Capability
The LP-380 supports MIDI, the unified standard for transferring performance data between electronic musical instruments and computers. MIDI allows connected devices to control each other, and lets you use the LP-380 as a 16-part multi-timbral sound module.
Metronome
The built-in metronome lets you adjust the time signature, tempo, and volume. It also lets you use a bell sound as the accent.
We use cookies to give you the best experience on this website.
Learn more
Got it