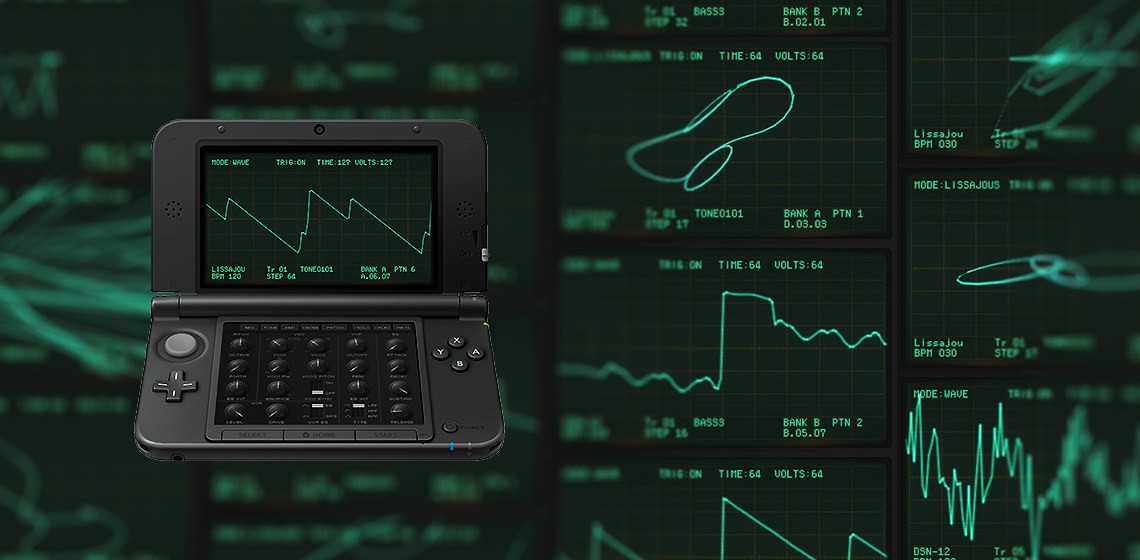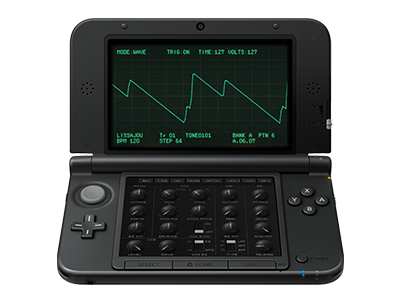 KORG DSN-12
Learn More
Related Products
See your sound - KORG DSN-12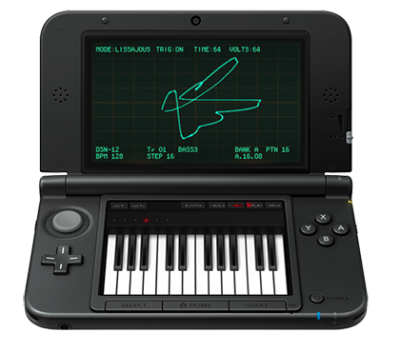 KORG DSN-12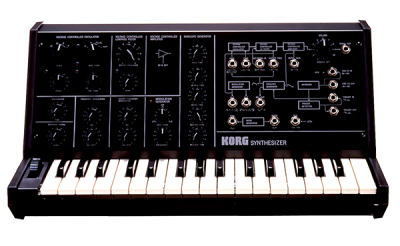 MS-10 (1978)
Analog synthesizers have been growing in popularity in recent years. Featuring simple operation that utilizes the Nintendo 3DS stylus, the "KORG DSN-12" software makes it easy for anyone to enjoy serious sound-creation and song production with analog synthesizers.
The software provides twelve monophonic synthesizers inspired by
Korg's legendary MS-10 analog synthesizer. Each one lets you add three effects, allowing a broad range of powerful sounds that you would not expect from a game machine.
You have seamless access to all of these synthesizers and their sequences. Since you can make your ideas take shape very quickly, you can enjoy constructing songs in real time while performing in a DJ-like manner.
You can assemble sequences into patterns, and memorize up to 64 patterns for use. Even more complex and interesting songs can be created by freely connecting these patterns together.
Don't miss the world's first* 3D display oscilloscope screen. A visual indication of the audio can heighten your interest and deepen your understanding of how sound is created.
* For Nintendo 3DS software as of June 2014
You can also use the communication functionality to exchange songs and sounds, encouraging collaboration between users.
KORG DSN-12 Analog-Style Creation Tool for Nintendo 3DS
PAINTVOX "Oscillodriver (Play the KORG DSN-12) " Performs live in Japan!
PAINTVOX is the winner of the 2014 KORG DSN-12 commercial contest for best music. Watch as this talented new artist uses his KORG DSN-12 to perform in real time, using a stylus pen.
KORG DSN-12 for Nintendo 3DS downloads
Main

Synth

Patch

Mixer

Oscilloscope (Wave mode)

Oscilloscope (Lissajou mode)
Contains 12 virtual analog monophonic synthesizers
Up to 64 sequence steps
Freely place sequences in up to 64 patterns
Pattern Program mode lets you chain patterns in up to 99 scenes; muting can also be programmed for each track
Three effects are provided; choose from delay, chorus, flanger, compressor, kick, and reverb
Local communication allows users to exchange song data and sound data
The world's first* 3D display oscilloscope screen; Wave and Lissajous modes are provided
* For Nintendo 3DS software as of June 2014
Register here to get Korg App News Letter!
This software is a registered trademark of DETUNE Ltd.
| | |
| --- | --- |
| * | This software is only for download. |
| * | All product, company, and standard names are trademarks or registered trademarks of their respective holders. |
| * | Appearance and specifications of products are subject to change without notice. |
| * | The photograph is an image insetting screen. |
We use cookies to give you the best experience on this website.
Learn more
Got it