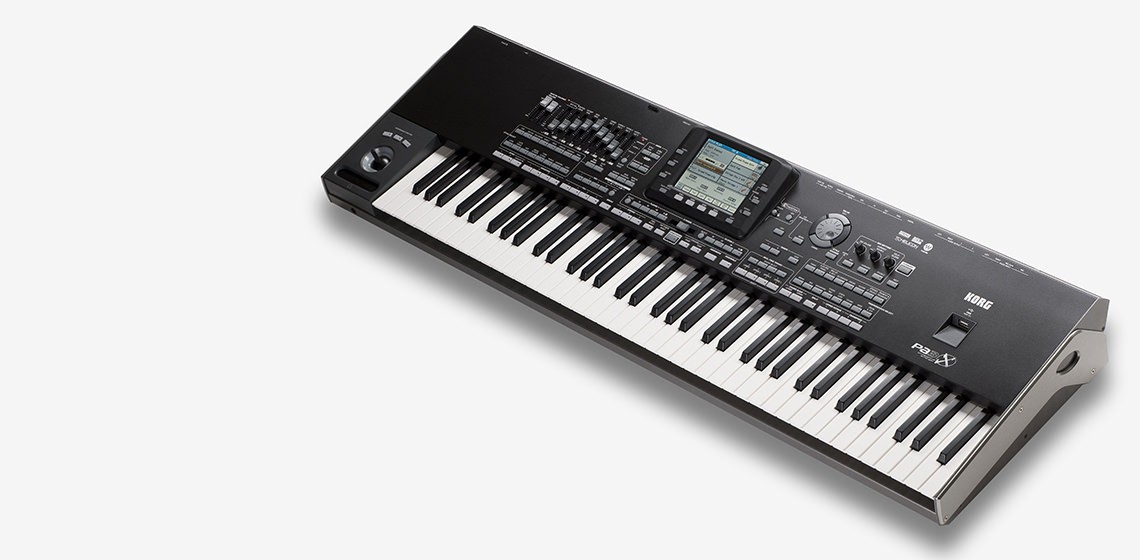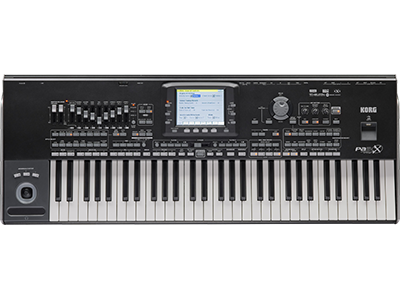 Pa3X
PROFESSIONAL ARRANGER
Learn More
Related Sites
Related Products
Related Accessories

TC-Helicon® Voice Processor
Korg's long term cooperation with the world leader in vocal harmonies, TC-Helicon®, continues in the Pa3X with the new Voice Processor, recognized as the state of the art in vocal and harmony processing. With new features and new algorithms, including even better pitch correction, the TC-Helicon® Voice Processor ensures your vocals have the highest possible sound quality. Up to 4 realistic voices plus 2 doubled harmonies are available and can be controlled by the keyboard, MIDI and even MP3 input. Thanks to the new Audio Chord Detection function, chords can be automatically extracted from an audio file and sent to the Vocal Processor! Other 5 effect blocks are available, including Reverb, Delay , µMod and special FX such as Megaphone and Hardtune.

Adaptive Mic Setting is a special feature that puts RX technology to work immediately after connecting the microphone to the XLR/Combo balanced input. This amazing new feature monitors the input signal and auto adjusts parameters such as the Adaptive Gate, EQ, Compression and the De-Esser to make the vocals sound smooth and "studio produced." Adaptive Mic Setting is unique to Korg in the world of Arrangers!
To ensure professional vocal performance, 3 knobs and 3 buttons controlling the most important vocal functions have been added to the top panel within easy reach.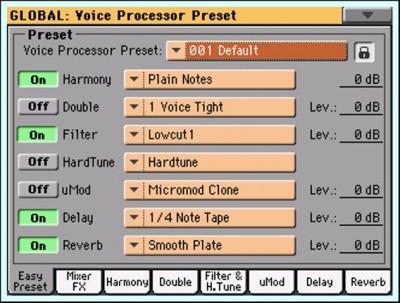 Do it with Style!
The Pa3X delivers over 400 Styles, straight out of the box. Each one is a fully-realized musical environment dedicated to creating a particular musical style. With so many to choose from the Pa3X can provide instant access to a vast and robust range of musical genres. Each Style features 4 Fill In + Break patterns, one for each variation. Using the new Auto Fill function they can be automatically recalled as you move between the four variations. Our international sound team had created many new Styles; and many of our revered and well-known Styles have been improved with new sounds and new effects. The Pa3X holds 1,200 locations for you to save your new Styles and your own settings.
Several new sophisticated parameters which ensure professional and realistic guitar tracks have been added with Guitar Mode 2, making the guitar tracks of every Style rich and authentic.
A new function called Chord Sequencer records your chord progressions on-the-fly allowing the user to immediately play along with their own chord sequence.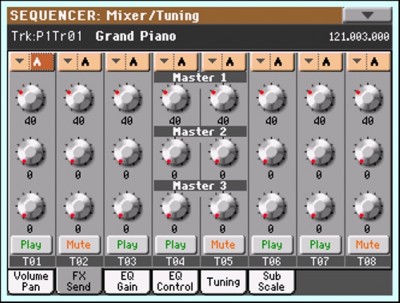 Player/Sequencer
The famous Korg XDS Crossfade Dual Sequencer Player now supports, in addition to the main music formats, the "+G" format for both MP3 and MIDI files which can be played together. This new feature allows backing sequences to play with enriched lyrics and graphics which can be displayed simultaneously on the on-board TFT display and on an external monitor (with the VIF4 option installed). There is also a Marker Function, allowing direct jumps to a given position in the song. A sophisticated Score Viewer is also available.
Two different MP3 or MIDI files can be played simultaneously and both MIDI and MP3 files can be transposed, accelerated or slowed down. Powerful new technology drives the all new Advanced Vocal Remover, allowing vocals to be removed from MP3 files with unparalleled accuracy. More advanced than a simple center-channel cancellation tool, the Advanced Vocal Remover keeps the original stereo image of the song while removing just the main vocals.
The enhanced 16 track sequencer allows the most sophisticated levels of sequencing, but also provides quick and easy song creation using the Backing Sequence function. And because the Pa3X is very clever, it can record your entire performance! You can run a song, play the keyboard, sing along and everything will be recorded in MP3 format and stored on an external USB device or in the internal Hard Disk (76 version only – optional for the 61 key version).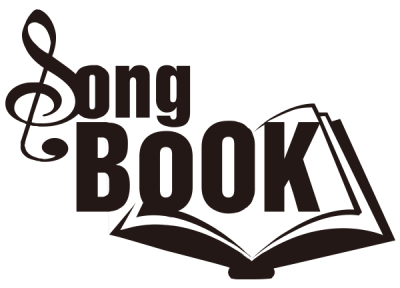 The SongBook
Particularly useful for live use, the SongBook is a fully programmable and easily searchable Music Database. Each entry contains all the settings required to play a particular song. A single entry can recall a Style, a MIDI file or an MP3, along with all the other performance parameters needed for perfect song playback.
Even more!
There is more, much more, but to know more, you need to explore the Pa3X in depth. The Pa3X is the most evocative, powerful, easy-to-use complete Arranger ever produced.