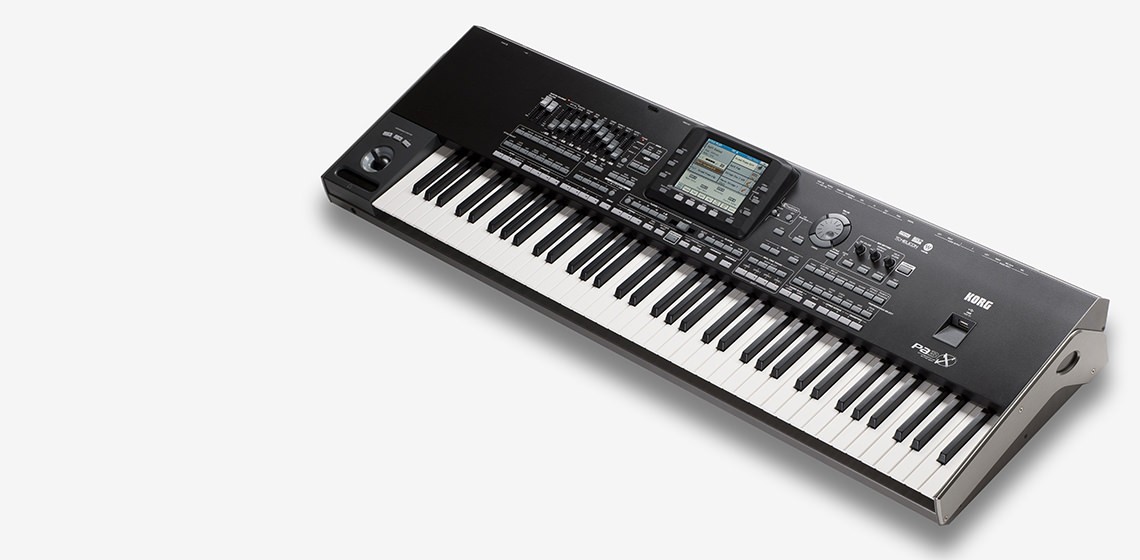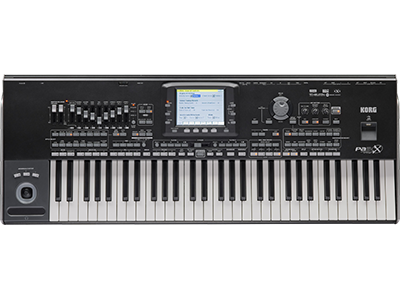 Pa3X
PROFESSIONAL ARRANGER
Learn More
Related Sites
Related Products
Related Accessories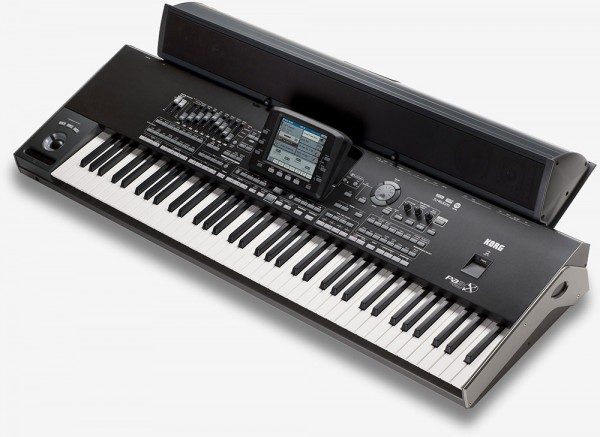 76 keys with PaAS
Two to choose from
The Pa3X comes in two different configurations. First is the compact and lightweight 61-key model. Also available is the 76-key version, offering a semi-weighted action and a motorized tilting display. Both keyboards feel great, and both models feature naturally responsive key-on / key-off velocity sensitivity and aftertouch, and both were designed for beginners through to demanding professional keyboard players.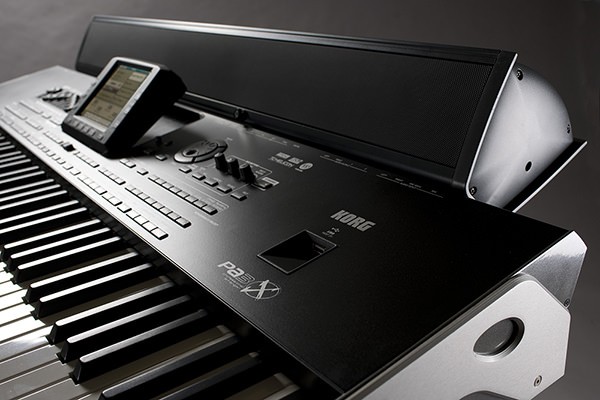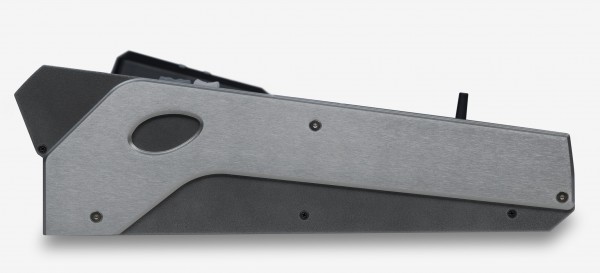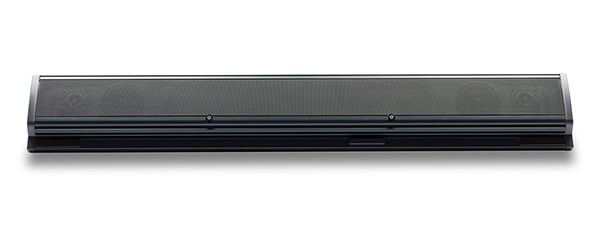 PaAS Amplification System (Option)
First appearances!
The elegant aluminum cabinet and inspiring user interface was conceived to make a strong visual statement by a renowned team of talented industrial designers from Europe. The main panel has been redesigned and optimized to ensure that sliders and knobs are ergonomically and intuitively well positioned to enhance any performance.
Our graphical user interface is now even easier to read and has been renewed with more detailed icons and objects thanks to the new TFT Graphical Color Touch Screen. The screen has been enriched with new side tabs for quick access to the most important functions. The new Search feature quickly locates anything needed during live performance. The 76-key model of the Pa3X also features a motorized tilting display!
An optional super high-fidelity speaker/amplification bar has been specifically designed to connect directly to the keyboard. Useful for both home use and on-stage monitoring, the PaAS uses Korg's "Easy Connect" system: no additional support, no cables, no power supply needed to deliver crisp, clean full range sound.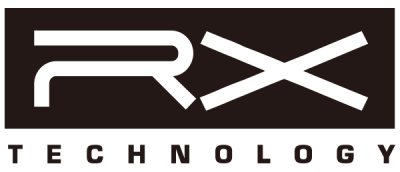 Sound quality at its best!
Based on Korg's sophisticated EDS (Extended Definition Synthesis) Engine, the Pa3X provides truly outstanding new sounds. Our RX (Real eXperience) Technology and the DNC (Defined Nuance Control) system refine an already powerful sound engine, allowing the performer to accurately and expressively introduce the most subtle nuances and sound articulation. Assignable switches and a ribbon strip have been added to the joystick control; the result is deeper control and even richer expression.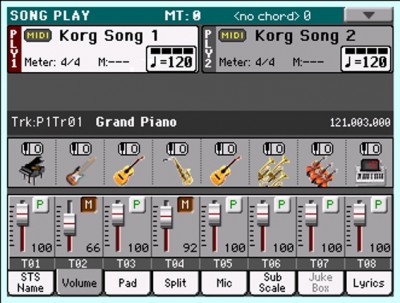 Many demanding professional sampling sessions with some of the finest musicians in the music industry have resulted in more detailed natural sounds than ever before. More than 1,100 sounds, including a new stereo grand piano (with string resonance and damper realism) and new electric pianos from the acclaimed KORG SV-1 stage piano; new wind instruments, basses and stunning guitars; plus new digital drawbars with leakage and key on/off noises provide the perfect sound foundation for any harmonic and melodic need.
More than 100 drumkits, including new Real Ambience Drumkits, give life to any rhythmic texture and sound truly authentic due to the Drums Family Easy Editing, which gives total control over volume, pitch, EQ, ambience, and more.
The vast 256 MB memory (PCM User memory) can be expanded to a massive 512 MB (when calculated as 16-bit linear data), with the optional EXB-M256 memory expansion board, so custom sounds can easily be added. Another first is the Self-Refresh Memory Backup battery for all factory and user PCM data, making start-up of the Pa3X much, much faster. An intelligent re-charging system ensures the battery is always charged.
The internal Sampler is now equipped with a new Sound Compression tool (no loss, 1:2 ratio). The Pa3X can also Load/Import Korg, WAV, AIFF, and Akai samples and export in WAV or AIFF. Sounds can be fully edited, and can now use up to 24 oscillators for each note!
The General MIDI (GM) sound bank has been improved for better compatibility with GM files.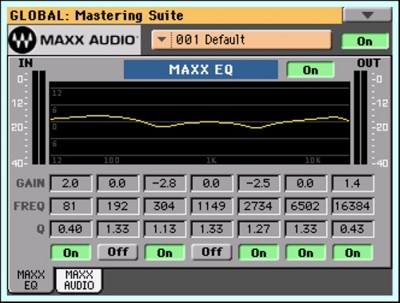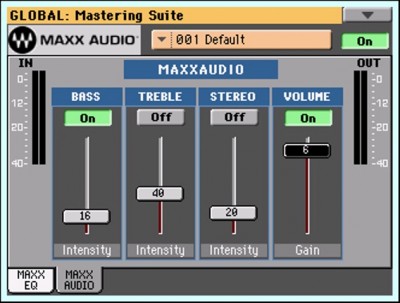 Studio quality-effects
The use of premium effects can not only add polish and class to your overall sound; they can also make your music tracks sound more interesting! Korg is famous for its outstanding studio quality effects, and the Pa3X includes the best of the Korg effects library. Up to 8 Stereo Digital Multi Effect processors can be used at once. Over 140 effect types are available, running from the standard reverbs and delays through to the more unusual effects such as vocoding, as well as the new vintage effects from the acclaimed SV-1 Stage Vintage Piano
Some effects are suitable for single instruments while others add the final coloring, space and texture to the overall piece. For the latter, the Pa3X includes effects from an industry leader: Waves Audio. The Pa3X includes the powerful MaxxAudio™ suite, which has been described as "the next generation of audio processing tools". These onboard effects, which include MaxxBass™, MaxxVolume™, MaxxEQ™, MaxxTreble™ and MaxxStereo™, provide unparalleled performance, delivering sound that is louder, clearer, fuller, and more polished.