News macOS 64-bit compatibility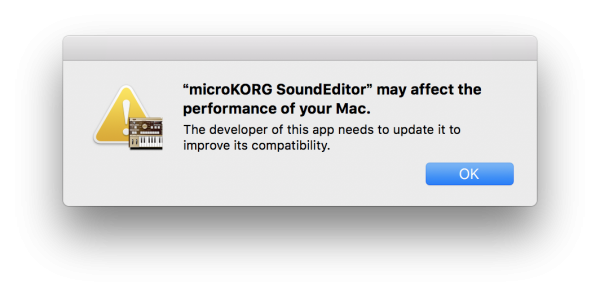 Warning pop-up
Thank you for your ongoing support of KORG.

Apple Inc. announced recently that macOS 10.13 High Sierra will be last macOS release to fully support 32-bit apps. Because of this, when using a 32-bit app on a macOS 10.13.4 (or a later version) a warning pop-up may appear. In the case of KORG's 32-bit apps, if the warning appears, please just push the "OK" button and use the app as you normally would.

The current plans for implementing 64-bit versions of our software are as follows:

- We are currently considering 64-bit compatibility implementation for the software which we have already released (*)
- We are planning on implementing 64-bit compatibility for the software that will be released from now on

(*) We will inform you as soon as we reach a decision concerning this matter.

Thank you for your understanding and support.

KORG Inc.
We use cookies to give you the best experience on this website.
Learn more
Got it