News Happy Thanksgiving: 50% OFF on All Korg iOS music apps and plugins!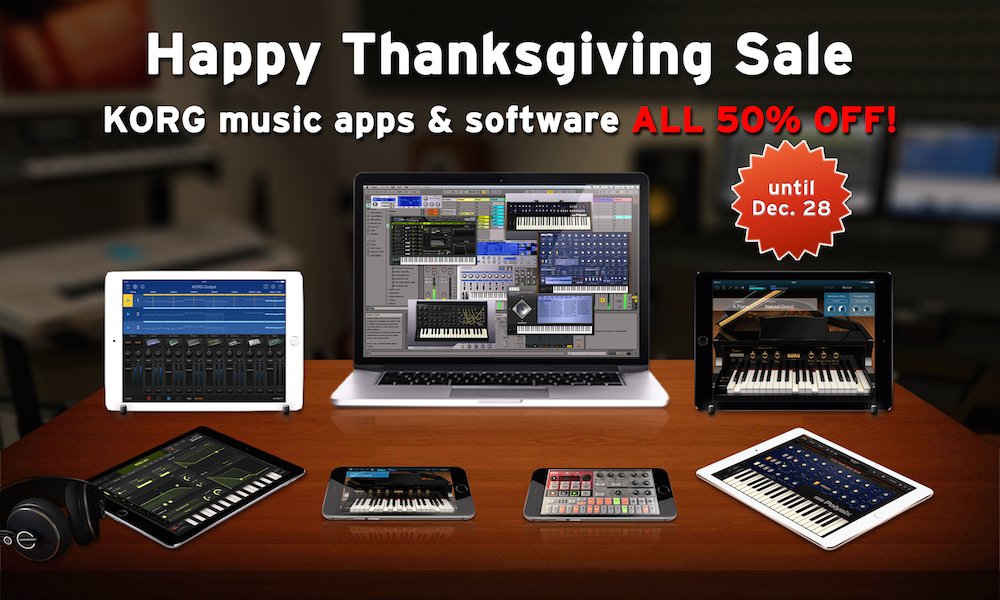 Save 50% apps and software to help celebrate Thanksgiving, Black Friday, Christmas, the end of the year and Holiday Season!. One month only.
You can take advantage of
50% discount
on all of Korg's iOS music apps and Legacy Collection plugins for Mac/PC until December 28, 2015. Addtional items for in-app purchase are also offered at 50% discounted prices.
Don't miss out this great chance to fatten up your productions and benefit from some of the best and most powerful music software around!
But remember - these deals end on Dec 28, 2015.


Sale Period
Nov 27 2:00 (EST) - Dec 28, 2015

Targeted Products
For iPad
・
KORG Gadget for iPad
・
KORG
Module for iPad
・
iM1 for iPad
・
iMS-20 for iPad
・
iPolysix for iPad
・
iELECTRIBE for iPad
・
iELECTRIBE Gorillaz Edition for iPad
For iPhone
・
KORG
Module for iPhone
・
iKaossilator for iPhone
・
iELECTRIBE for iPhone
・iAudioGate for iPhone - High Resolution Music Player
・cortosia for iPhone - Good Sound Tuner
For Mac/PC
・
KORG Legacy Collection - Special Bundle
・
KORG Legacy Collection - Special Bundle for M1 Le owners
・
KORG Legacy Collection - M1
・
KORG Legacy Collection - WAVESTATION
・
KORG Legacy Collection - MS-20
・
KORG Legacy Collection - Polysix
・
KORG Legacy Collection - Mono/Poly
・
KORG Legacy Collection - MDE-X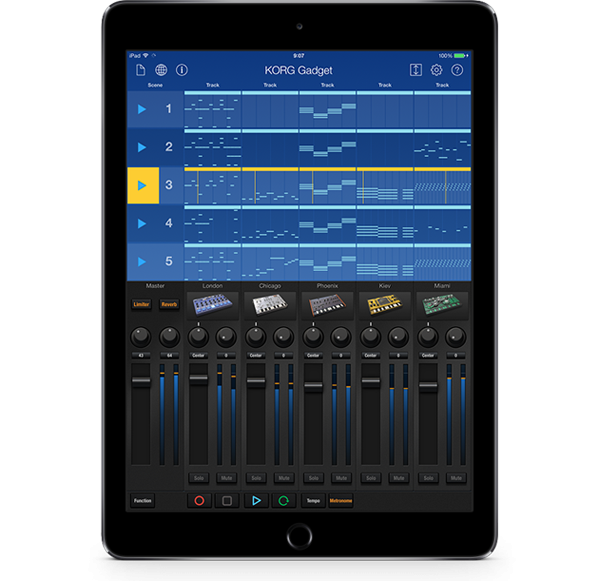 KORG Gadget for iPad
Sale Price US$19.99 (50% OFF)
Regular Price US$39.99
Product Information




Additional gadgets are also on sale, via in-app purchase!
- Bilbao gadget
Sale Price US$4.99 (50% OFF)
Regular Price US$9.99
- Abu Dhabi gadget
Sale Price US$4.99 (50% OFF)
Regular Price US$9.99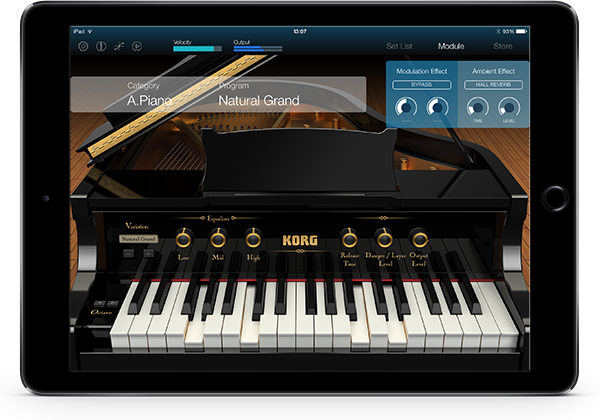 KORG Module for iPad
Sale Price US$19.99 (50% OFF)
Regular Price US$39.99
Product Information




Expansion Sound Libraries are also on sale, via in-app purchase!
- Ivory Mobile Grand
Sale Price US$14.99 (50% OFF)
Regular Price US$29.99
- PREMIER Vintage Organ
Sale Price US$9.99 (50% OFF)
Regular Price US$19.99
- Wurley Electric Piano
Sale Price US$4.99 (50% OFF)
Regular Price US$9.99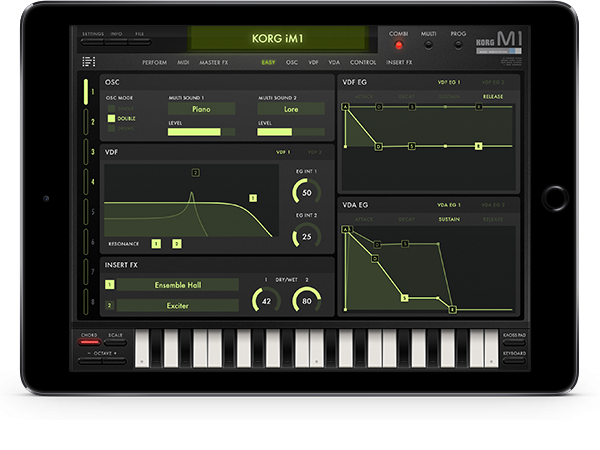 iM1 for iPad
Sale Price US$14.99 (50% OFF)
Reg. Price US$29.99
Product Information




Additional sound cards are also on sale, via in-app purchase!
- M1 Card Bundle
Sale Price US$1.99 (60% OFF)
Regular Price US$4.99
- T1 Card Bundle
Sale Price US$1.99 (60% OFF)
Regular Price US$4.99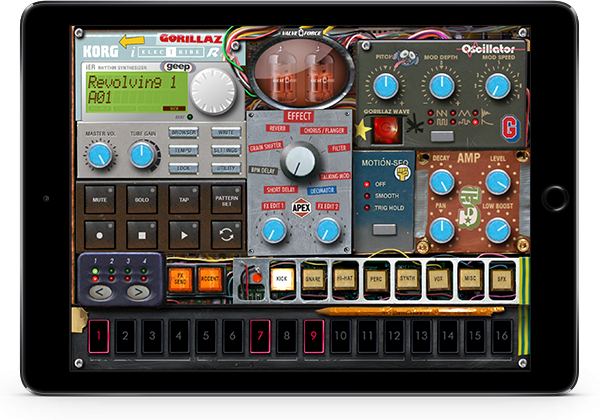 iELECTRIBE Gorillaz Edition for iPad
Sale Price US$9.99 (50% OFF)
Regular Price US$19.99
Product Information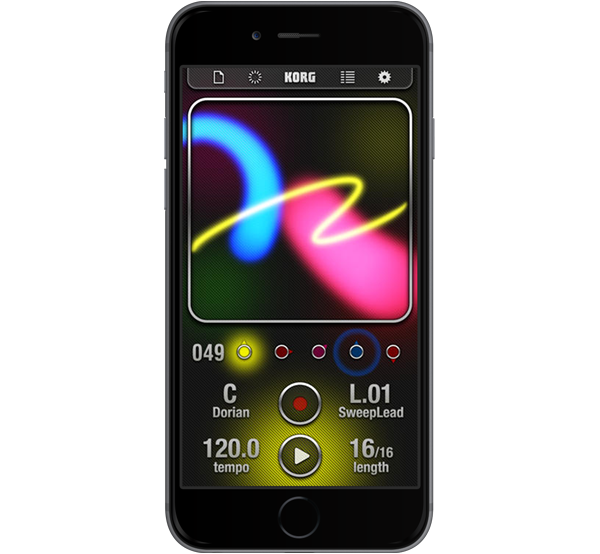 iKaossilator for iPhone
Sale Price US$9.99 (50% OFF)
Regular Price US$19.99
Product Information




An opitional sound set is also on sale, via in-app purchase!
- EDM Sound Set
Sale Price US$0.99 (67% OFF)
Regular Price US$2.99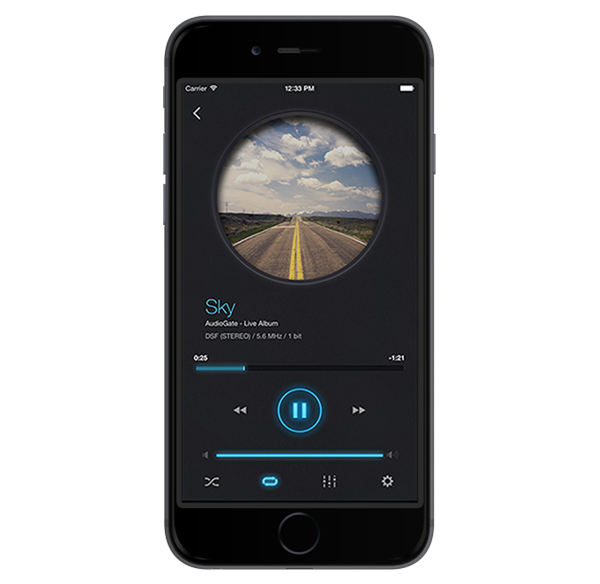 iAudioGate for iPhone


High Resolution Music Player
Sale Price US$9.99 (50% OFF)
Regular Price US$19.99
Product Information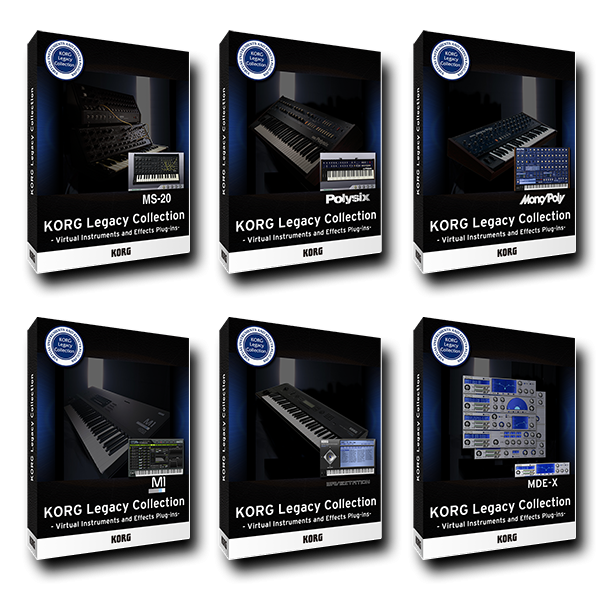 KORG Legacy Collection Series
- Special Bundle
Sale Price US$99.99 (50% OFF)
Regular Price US$199.99

- Special Bundle Upgrade for M1 Le owners
Sale Price US$49.99 (50% OFF)
Regular Price US$99.00

- M1, WAVESTATION
- MS-20, Polysix, Mono/Poly
Sale Price US$24.99 (50% OFF)
Regular Price US$49.99

- MDE-X
Sale Price US$9.99 (50% OFF)
Regular Price US$19.99

Product Information

We use cookies to give you the best experience on this website.
Learn more
Got it