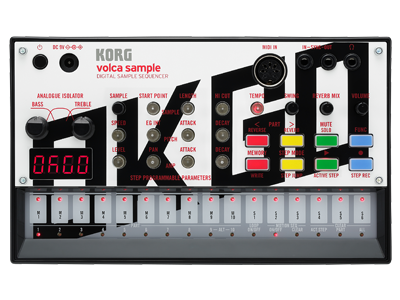 volca sample OK GO edition
DIGITAL SAMPLE SEQUENCER
Saber mas
Sitios relacionados
Productos relacionados
Accesorios
volca sample OK GO edition Preguntas y Respuestas
P. ¿Y si quiero obtener las muestras OK GO después de reemplazarlas?
R. Puedes restaurar tus muestras de OK GO originales realizando la restauración de fábrica.
Nota: esta restauración puede realizarse sólo en la edición OK GO de volca sample. No funcionará con las unidades normales de volca sample.
→
Visita aquí para descargar la inicialización de muestras de fábrica.
Q. I have saved my own sequences over the factory sequences. Can the factory sequences be restored?

A. You can restore the factory sequences with the following operation:

1. While holding down the FUNC and MEMORY buttons, turn on the power. REC and PLAY buttons will blink.
2. Press the REC button to return the sequences to the factory defaults. Press the PLAY button to cancel the restore operation.