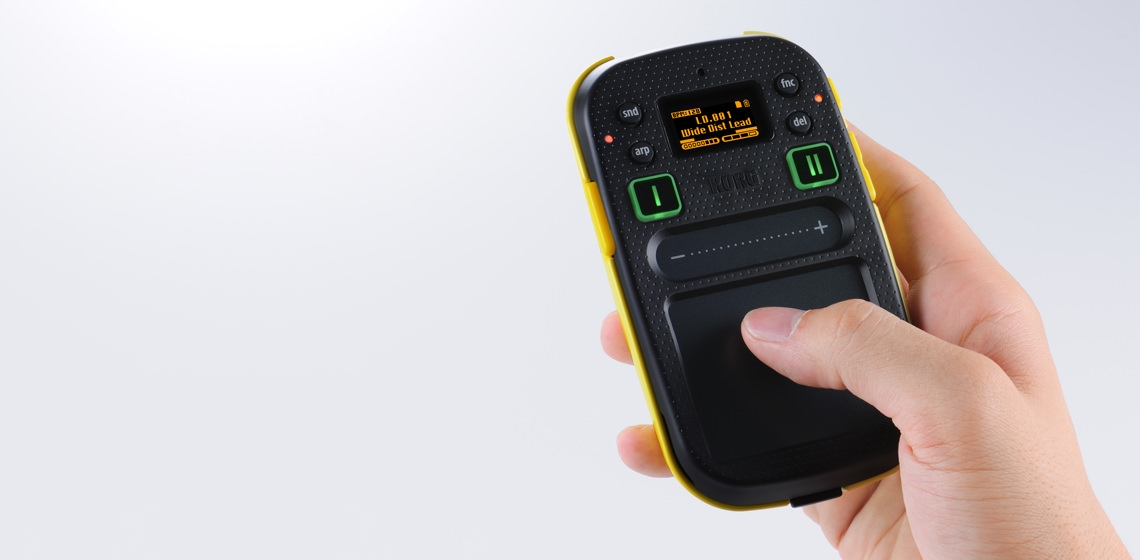 microSD card slot for data storage
A microSD card can be used to save loop recorder data. In addition, performances played on the KAOSSILATOR 2 can be recorded using the master recorder, and stored on a card. Whenever an important musical idea begins to take shape, it can easily be saved, and can even be used later as part of a studio production. This is also a convenient way to share KAOSSILATOR 2 performances on the Internet. The KAOSSILATOR 2 also acts as an audio player, and can play back performances created using the master recorder. Listen to your best performances for comparison, or share them with your friends. * SDXC cards cannot be used.
* Supported file formats: WAV files (16-bit, 44.1 kHz/48 kHz, stereo) Click here to see Compatibility chart of microSD/SDHC >
Operation linked with KORG iKaossilator for iPhone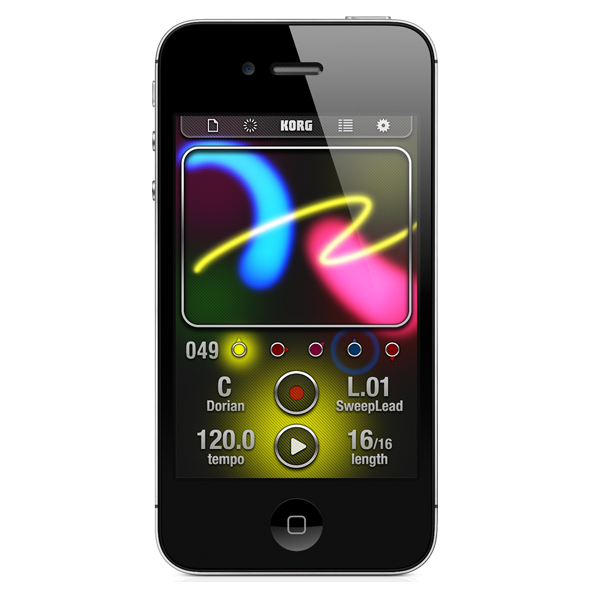 You can use the kaossilator 2 together with Korg's iKaossilator for the iPhone/iPad. This allows audio data to be transferred between the kaossilator 2 and iKaossilator, and lets you use the two devices in a BPM-synchronized performance.
Although iKaossilator and the kaossilator 2 share the KAOSSILATOR name, their sound generator and recording style are completely different. While the iKaossilator uses a PCM sound source, the kaossilator 2 uses a modeling synth. And while the iKaossilator provides a five part sequencer that lets you freely insert or remove notes as you perform, the kaossilator 2 allows unlimited overdubbing as well as recording of external audio input. By combining these two with audio data that utilizes the advantages of each, you can vastly expand your performance possibilities.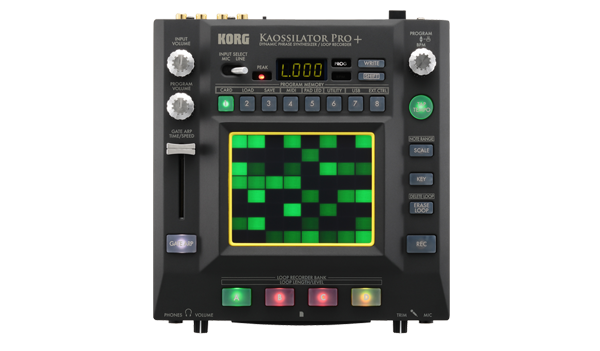 Plays nicely together with Kaossilator PRO+, Ver.1.10 later
Data you that's been recorded on the KAOSSILATOR PRO+ can be exported for use with the Kaossilator 2, and data recorded on the Kaossilator 2 can be loaded by the KAOSSILATOR PRO+, sharing the BPM and other settings. The possibilities are endless; sophisticated performance data from the KAOSSILATOR PRO+ can be loaded into the Kaossilator 2 and taken with you, or Kaossilator 2 performance data you recorded elsewhere can be brought back for use on the KAOSSILATOR PRO+.
Ergonomic design
The KAOSSILATOR 2 features a comfortably curved body that makes it both stylish and extremely easy to play. The high-contrast OEL (Organic Electroluminescent) display clearly shows the names of the sounds, features, and parameters, and also ensures excellent visibility, even in a dimly lit DJ booth or stage.
As with the touchpad, the VALUE slider is also touch-sensitive. By sliding or tapping your finger (as appropriate for each function), parameters and functions may be controlled smoothly.
Energy-efficient design and built-in speaker allow it to operate everywhere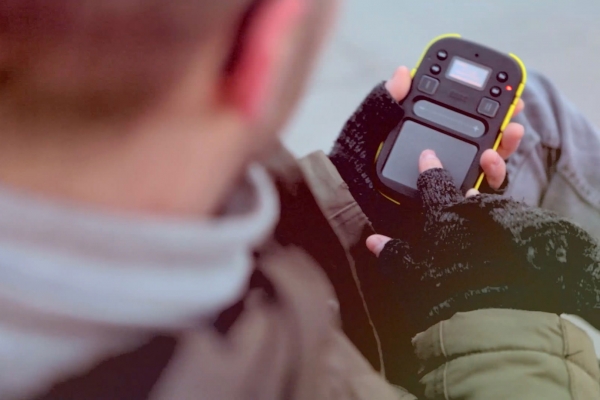 Lightweight and compact, the KAOSSILATOR 2 is slim enough to fit easily in your hand or pocket. The energy-efficient design allows it to operate everywhere on just two AA batteries. Equipped with a built-in speaker, the KAOSSILATOR 2 is ready to share your exciting sonic creations wherever your music takes you. The headphone output provides privacy for playing and experimenting alone, and can also be used to connect the KAOSSILATOR 2 to another audio device.