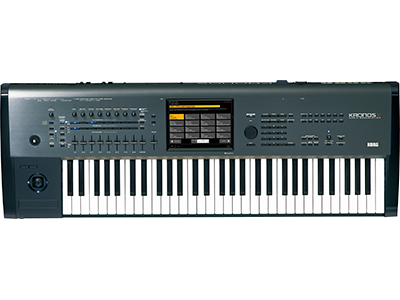 KRONOS X
MUSIC WORKSTATION
Learn More
Related Sites
Related Products
RH3 real weighted hammer action keyboard for both 88-key and 73-key.
The 88-key model of the KRONOS X features the same RH3 real weighted hammer action keyboard that's used on KORG's upper-end piano models and on the SV-1. The hammer weighting is graded, providing a heavier feel in the lower register and a lighter feel in the upper register, just as on a grand piano, offering superb playability.
Boldly, the 73-key model also features this same RH3 keyboard, creating a more compact and transportable instrument that still provides superior piano and electric piano sounds teamed with an authentic piano touch. KRONOS X is notable for its slim design, showing an integration of function and design.
Enhanced, color TouchView display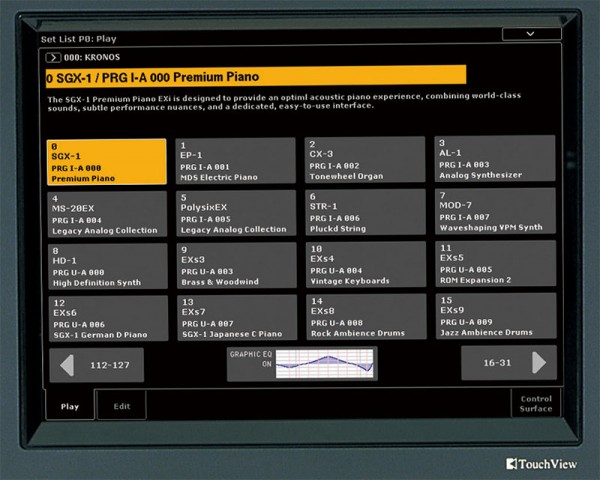 KORG's TouchView graphical user interface is based on a large, color 8-inch (800 x 600 pixel) touch screen. The TouchView display is the centerpiece of KORG's intuitive design, providing easy-to-view information and simple touch control.
In developing KRONOS X, we also incorporated numerous images of actual instruments and their respective controls into the display, to ensure that the musician enjoys the feeling of playing an instrument – rather than controlling a machine.
Support for USB MIDI and Korg USB pad controllers

microKEY 25

nanoPAD2
KRONOS X provides support for connecting USB MIDI class-compliant controllers directly to the KRONOS X.
For instance, you can use a Korg microKEY as an auxiliary synth-action keyboard for a KRONOS X-73 or 88. Even better, KORG USB MIDI controllers with pads–including the nanoPAD, nanoPAD2, and padKONTROL–are automatically mapped to the KRONOS chord pads, for playing and programming drums, triggering chords, and selecting and assigning chords for Chord Mode.
KRONOS Editor and Plug-In Editor*
KRONOS X is supported by the KRONOS Editor and Plug-In Editor*, which let you edit and organize sounds from a Mac OS X or Windows computer. Plug-in operation allows you to save settings as part of your project with any VST-compatible Windows software, or any VST- or AU-compatible software on Mac OS X. The KRONOS Editor and Plug-In Editor are available for free download at here.
*Please use Version 2.0 or later
KRONOS Editor/Plug-in Editor download
High Speed Data Communication
This USB Ethernet functionality lets you use a commercially available USB Ethernet adaptor to transmit files and data easily and at high speed between the KRONOS X and your computer.

You can create backup files on your computer, send sample data at high speed from your computer to the KRONOS X, and use your computer to manage data that's on the KRONOS X's internal disk. By enhancing the integration with your computer it's now even easier to get your musical projects completed.

*By attaching a commercially available USB Ethernet adapter to the KRONOS X, you'll be able to exchange data with your computer via a LAN cable. Standard FTP software for each operating system can be used.

Operation has been verified with the following USB Ethernet adapters:

Apple MC704ZM/A
CISCO Linksys USB300M
TRENDnet TU-ET100C
BUFFALO LUA3-U2-ATX
BUFFALO LUA-U2-KTX
BUFFALO LUA3-U2-AGT
Planex UE-100TX-G3
Logitec LAN-TX/U2B Logitec LAN-TX/U2H3
I-O DATA ETX3-US2
Logitec LAN-TX/U2H3
I-O DATA ETX3-US2
Versatile Array of Audio Inputs and Outputs
The KRONOS X provides a total of six channels of audio input: 2 analog channels, 2 digital channels (S/P DIF optical, 48 kHz/24-bit), and 2 USB channels. As audio outputs, you have the 2 main channels (L/MONO, R) as well as four independent audio outputs, 2 digital channels (S/P DIF optical, 48 kHz/24-bit), and 2 USB channels (note: the 2 digital channels and 2 USB channels output the same signal as the main L/R output). All analog inputs and outputs support TRS balanced connections. The analog inputs provide a MIC/LINE select switch and an independent level control for each channel, offering the flexibility to meet any situation.

In addition to the type-B USB connector used for communicating with your computer, there are two type-A USB 2.0 ports for use with external storage media such as flash memory, hard drives, or CD-R/RW and DVD drives. The output of the KRONOS X can be resampled to a USB storage device such as a hard drive, or connected to USB CD-R/RW drive to create audio CDs.

We use cookies to give you the best experience on this website.
Learn more
Got it