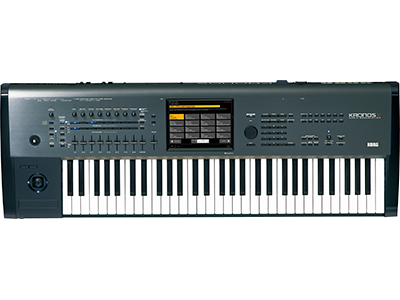 KRONOS X
MUSIC WORKSTATION
Learn More
Related Sites
Related Products
The KRONOS X doubles both the PCM RAM capacity to approximately 2GB and the SSD capacity to 62GB
---The KRONOS Sound Library and KARO Sound Library expansions enhance the value of the KRONOS X
Since the KRONOS appeared, KRONOS Sound Library expansions have continued to be released. In order to let you take full advantage of these libraries, which offer selections with a different flavor than the preload programs in the KRONOS, the KRONOS X doubles both the PCM RAM capacity to approximately 2GB and the SSD capacity to 62GB. Starting in March 2012, the KARO Sound Libraries from the German company KARO Sound Development have joined the list with twenty titles already available, further enhancing the value of the KRONOS X. The KRONOS X also contains the EXs 10 - 13 expansion sample series of KRONOS Sound Libraries pre-installed in demo mode. After you've tried them out, you can obtain these rich sounds for yourself by simply purchasing a license key.
User Sample Banks let you create your own high-capacity sample libraries.
User Sample Banks bring the benefits of KORG's EXs to your own custom sample libraries. You can load and play many gigabytes of your custom or converted samples at once, using the internal SSD. Disk and memory management is also improved: you can create subsets of User Sample Banks, and mix and match parts of different banks, without duplicating samples on disk. It's also easy to share sounds with friends and collaborators, since Programs, Wave Sequences, and Drum Kits maintain links to User Sample Banks even when samples are moved on disk or loaded onto a different KRONOS instrument. Create your own samples, or import Akai and SoundFont 2.0 libraries using new, improved conversion features.
Premier Artist Contributions
In order to take full advantage of these nine sound engines, KORG called on respected musicians to guide our sound design team towards their individual ideals. Responding positively, numerous world-class players contributed their time, energy, and critical listening to help us zero in on making the sound respond the way they hear it! Certain artist signature sounds were tested, judged and tweaked by the likes of Herbie Hancock, Jordan Rudess, Frank McComb, George Duke, Lyle Mays, Russ Ferrante, Tom Coster, John Novello, Ricky Lawson and several other artists known for their serious love of sound and for their critical, demanding ears.
Herbie Hancock

Jordan Rudess

Frank McComb

George Duke

Lyle Mays

Russ Ferrante

Tom Coster

John Novello

Ricky Lawson
KORG's Rock-Solid Workstation Integration Puts it all Together
KARMA, Drum Track, Sampling, Ring, Audio Recording, MIDI Sequencer...
Packed with unlimited sound potential, KRONOS X is much more than a synthesizer. KRONOS X comes complete with all of the extras required of a modern workstation, plus so much more. From music production to live performance, the KRONOS X Music Workstation integrates a world-class list of tools into a single, reliable instrument. Under the hood, all nine engines share the same hardware, with no separate cards to manage or polyphony barriers between them—and no "CPU overs" to worry about. KRONOS X dynamically allocates power between the engines as you play, automatically and in real time, providing an integrated experience that no PC can match. In addition, KRONOS X smoothly functions as a plug-in with many popular DAWs, providing your studio with native, unprecedented sonic power.

KARMA
First appearing on KORG's Karma Music Workstation in 2001, this revolutionary algorithmic music technology instantly produces sophisticated phrases, drum grooves and full-blown backing tracks. Based on the notes and chords you play and the intuitive operations you perform with the knobs, sliders, and switches, you'll easily produce musical effects that exceed anything you imagined.
Now in its greatly-enhanced second generation, offering features like KARMA Wave-Sequencing, Note Mapping and 8 scenes per layer, KARMA is standard equipment on your new KRONOS X. It will expand your conception of a song, and will be an enormous asset to your live performances.

*KARMA®(Kay Algorithmic Real-time Music Architecture) and the KARMA Logo are registered trademarks representing patented technology licensed from Stephen Kay, Karma Lab LLC,
Drum Tracks
KRONOS X also borrows the Drum Track feature from the M3 and M50 Music Workstations. Drum Tracks can create everything from a simple reference beat to an outline rhythm track all the way up to a full-blown drum track for your music productions. KRONOS X now includes professional drum performances from artists such as Ricky Lawson, which are able to generate grooves reproducing the distinctive feel of a pro drummer. Applications and extras have been generously poured into this single feature. The Drum Track can go well beyond rhythm machines, and is fully capable of standing on its own.
Open Sampling System
No matter whether you're in Program, Combination, or Sequencer mode, you can always use KRONOS X to sample an external audio source, or to resample the performance of the KRONOS X itself. User samples can be edited using operations such as truncate, normalize, time stretch, or time slice. Edited samples can also be exported in AIFF or WAVE format.

You can also load external samples in AIFF, WAVE, SoundFont 2.0, and AKAI S1000/3000 formats via USB memory. By loading samples that you've previously created on other instruments or on a PC, you can set up your music production system on the KRONOS X –with no additional equipment required.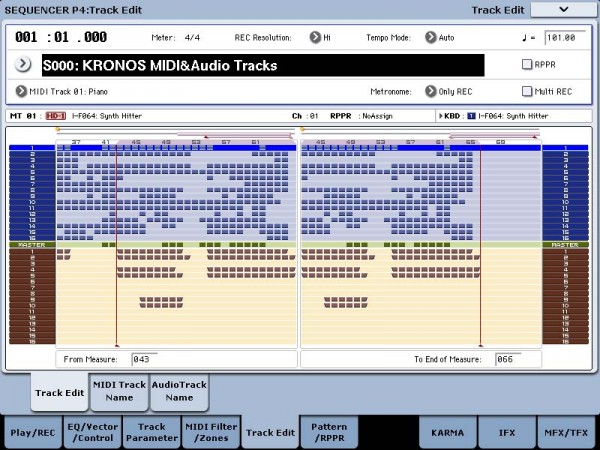 16-track MIDI sequencer / 16-track audio recorder
KRONOS X features a sequencer/recording section that offers both 16 MIDI tracks plus 16 audio tracks; a great resource for putting together a dazzling performance or a brilliant production. MIDI sequencing makes it easy to capture ideas, inspiration, and pro-quality phrases using the KARMA, Drum Track, or RPPR (Realtime Pattern Play/Recording) functions. The 16-track audio recorder simultaneously captures up to four tracks of 16-bit/24-bit uncompressed data at a sampling rate of 48 kHz. Play along with recorded tracks, add effects, and then resample the KRONOS X itself and place the resampled WAVE files directly in a track.

When polishing your tracks, feel free to use mixer automation and editing functions like copy, paste, and normalize to get the results you want. Plug in a USB CD-burner and assemble your album right from the TouchView display!
We use cookies to give you the best experience on this website.
Learn more
Got it