Noticias KORG Shop - Started sales of NAUTILUS and KRONOS Sound Libraries.
Sound Libraries are now available at KORG Shop.
KORG Shop, which sells software products such as Gadget, Module and KORG collection, is now started selling Sound Libraries for KORG products such as KRONOS and NAUTILUS.

As a result, sales of KRONOS Sound Libraries will be transferred to the KORG Shop. The user information registered in My Kronos will be transferred to a KORG ID which manages KORG Shop user information, allowing users to purchase Sound Libraries from KORG Shop using the same user ID and password as before. If you are already a KORG Shop user, your My Kronos information will be added to your account, so you can log in with your KORG Shop user ID and password.
KORG ID: https://id.korg.com/

We have also started selling NAUTILUS Sound Libraries, which require a system update.
"NAUTILUS OS Version 1.2 is now available."

For more information about KORG Shop, please visit the following link.
KORG Shop: https://korg.shop/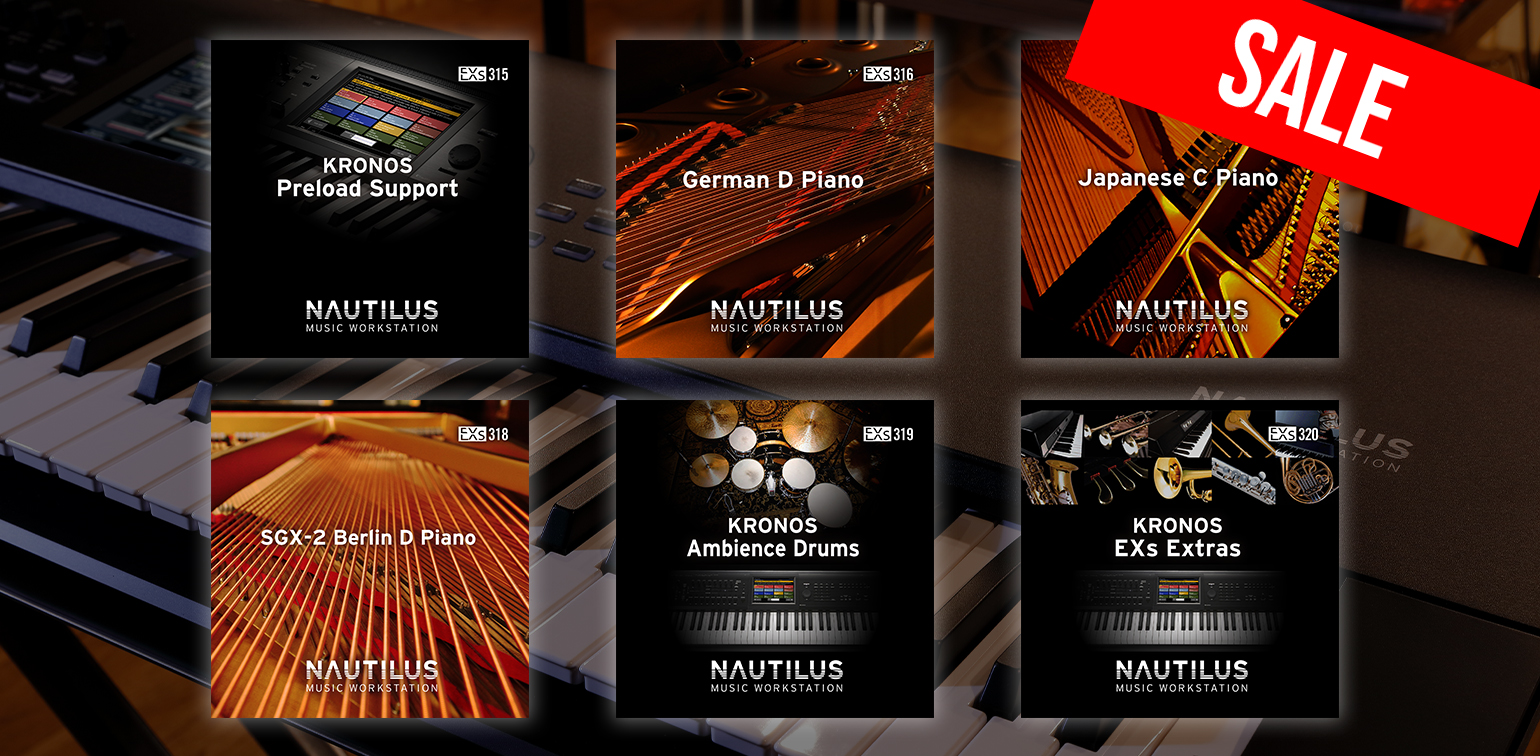 Opening Sale at KORG Shop. (Sale period has ended.)
To celebrate the launch of Sound Libraries at KORG Shop, we are having a limited time New Shop Opening Sale. All EXs titles, KRS titles, and bundle packages are available at a 33% discount off the regular or special price.

We are also releasing 6 new titles for NAUTILUS. If you load all 6 titles, NAUTILUS will reproduce all the preset sounds of KRONOS.
*Excludes items that some titles are difficult to reproduce due to differences in specifications such as the presence of KARMA.

The following new titles will be discounted by 50%.
- EXs315 KRONOS Preload Support
- EXs316 German D Piano
- EXs317 Japanese C Piano
- EXs318 SGX-2 Berlin D Piano
- EXs319 KRONOS Ambience Drums
- EXs320 KRONOS EXs Extras
- KRONOS Sound Pack for NAUTILUS (bundle set of the above EXs315-320 and 6 titles)

Please take this opportunity to purchase these titles at a discounted price and ensure all the KRONOS preset sounds can play on your Nautilus. And with all the other EXs titles, KRS titles, and bundle packages available at a 33% discount this is a great time to expand your sonic range on both KRONOS and NAUTILUS. (Sale period: until 0:00 EST on December 27)
KORG Shop: https://korg.shop/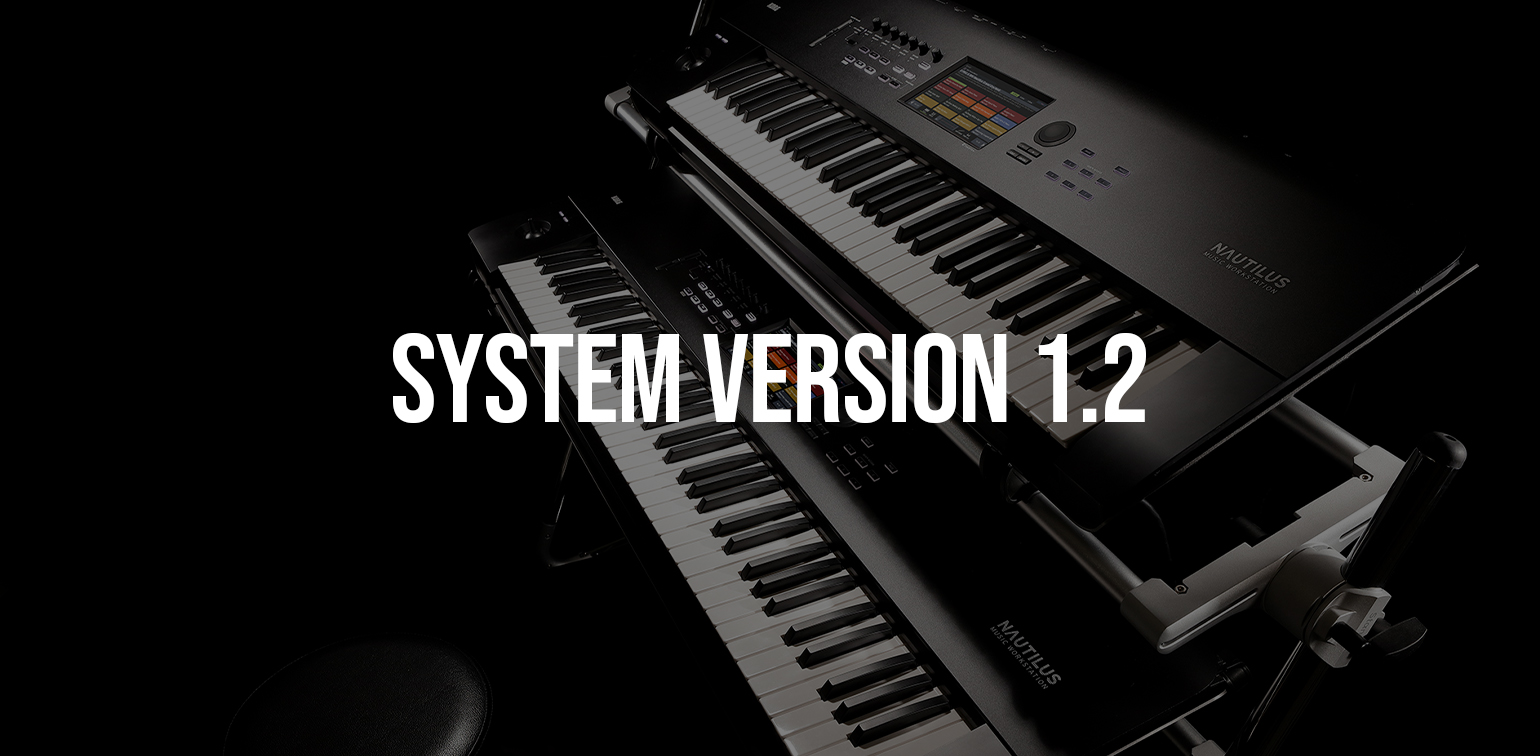 NAUTILUS OS Version 1.2 is now available.
The following functions have been added.

- Voice compatibility with KRONOS, loading of KRONOS PCG
- Support for NAUTILUS Sound Libraries.
- Expanded number of program/wave sequence banks.
- Enhancements to Change all bank references
- Minor updates and improvements.

Version 1.2 or later is required to support NAUTILUS Sound Libraries.
Click here to download

For NAUTILUS Editor users
Please note that NAUTILUS System v1.2.0 is NOT compatible with NAUTILUS Editor Ver1.0.0.
Please wait until NAUTILUS Editor ver1.2.0 is released to use the NAUTILUS Editor with NAUTILUS System v1.2.0.

(Added on Feb. 25, 2022)
NAUTILUS Editor/Plug-in Editor v1.2.0 is now available! Click here to download.
How to use NAUTILUS Sound Libraries with NAUTILUS
New licensing terms for KRONOS / NAUTILUS Sound Libraries.
With the launch of KRONOS / NAUTILUS Sound Libraries at the KORG Shop, each EXs title purchased can be used on up to three KRONOS or NAUTILUS series units owned by the purchaser. This license agreement also applies to all licenses purchased in the past, allowing you to extend the use of the software to multiple KRONOS/NAUTILUS units you own. Please note, however, that once you authorize the software, you cannot cancel it.


Compatibility of KRONOS and NAUTILUS sounds.
NAUTILUS OS Version 1.2 supports loading KRONOS voices, but if you load a voice using KRONOS data that is not included in NAUTILUS, it will not sound correctly. For full compatibility, please purchase the new title EXs315 ~ 320.

Please note that NAUTILUS voices cannot be loaded on KRONOS even when using NAUTILUS ROM + EXs301 - 314.

NAUTILUS ROM + EXs301 - 314: NAUTILUS PRELOAD state
NAUTILUS ROM + EXs315 - 320 (now on sale): KRONOS 2 equivalent state


NAUTILUS support of the KRONOS Sound Libraries.
Currently KORG provides 140 titles for NAUTILUS, and KORG is planning to convert all the titles of KRONOS Sound Libraries for NAUTILUS by the end of March 2022 (some titles may be excluded). Please check the NAUTILUS Sound Library List for updates on the status of support.
We use cookies to give you the best experience on this website.
Learn more
Got it