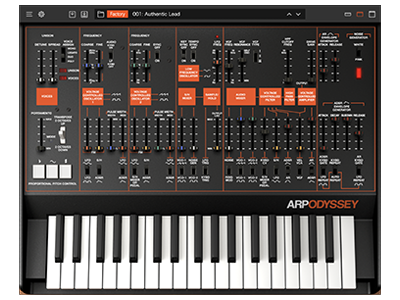 ARP ODYSSEY for Mac/Win
DUOPHONIC SYNTHESIZER
Learn More
Combining the know-how of analog reproduction and elaborate modeling technology.
The ARP ODYSSEY synthesizer, perfectly reproduced in software.
Since the birth of the ARP Odyssey in 1972, it has been a renowned analog synthesizer used on many artists' records. However, for a number of years it was quite difficult to come by. In 2015, KORG welcomed ARP Instruments' co-founder David Friend as an advisor and began production of the hardware once again.

The KORG Collection ARP ODYSSEY is the software version of the 2015 ARP ODYSSEY reproduction. We used KORG's proprietary CMT (Component Modeling Technology) to emulate the analog feeling and sound of the original as closely as possible. We've also given it numerous enhancements that are possible only with software, like high polyphony and built-in effects. It's the most vintage and most modern ARP ODYSSEY that only KORG, with analog know-how and digital technology, could create. Be sure to get it.
ARP ODYSSEY | KORG Collection for Mac/Win
Faithfully models the circuits of the ARP ODYSSEY.
- Completely reproduced ARP ODYSSEY with ARP Instruments' co-founder as the adviser
- Proudly digitized using KORG's Component Modeling Technology (CMT)

New functions to create ARP sounds that have never been heard before.
- All three generations of filters with different characteristics>br?
- DRIVE switch that generates extreme and wild sounds
- Various voice assign modes including polyphonic
- An arpeggiator with detailed parameter programming capacity
- Six powerful effects, essential to the modern music scene
- Expanded to include VCF/VCA modulation via velocity
- Arpeggiator and LFO can sync the tempo via external MIDI
- Every parameter is controllable via MIDI CC

200 presets to make any sound you can imagine.
Skins for the designs of all three generations.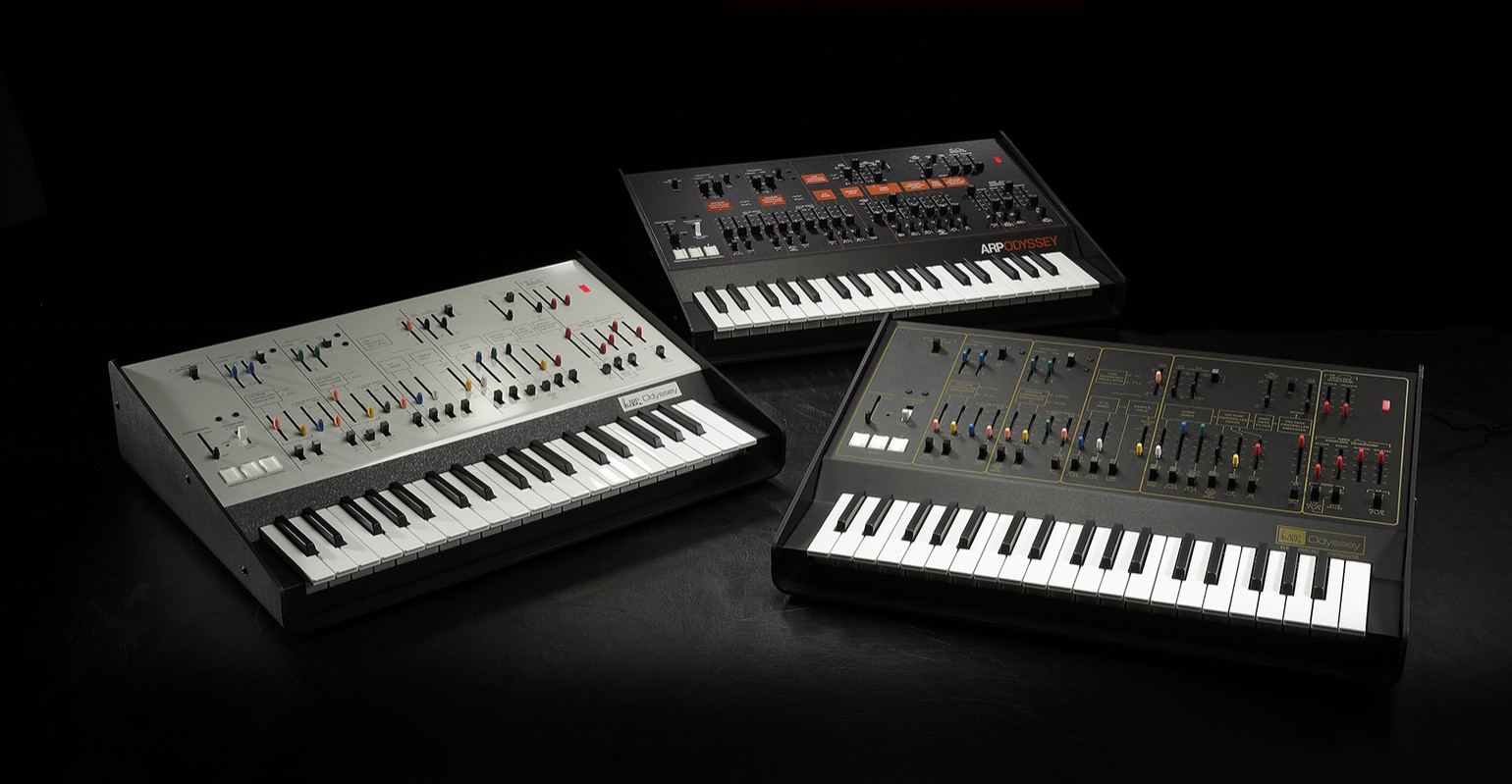 Faithfully modeled ARP ODYSSEY circuit
In 2015, KORG reproduced the ARP ODYSSEY. This unit was designed with ARP Instruments' co-founder David Friend as the advisor. It has received accolades for accurately recreating the much sought-after sound of the original ARP Odyssey. Based on this reproduction model, we completely recreated the ARP ODYSSEY in​ software.

The circuitry has been reproduced using KORG's proprietary CMT (Component Modeling Technology), developed over the years for the KORG Legacy Collection. Instead of merely simulating the output sound as conventional modeling does, KORG's CMT is a method for using digital equivalents of the transistors, capacitors, resistors, and other components used in the hardware realm to reconstruct the same signal path digitally. This perfectly reproduces the complex range of sounds and parameters that can only be created with the ARP ODYSSEY.
New functions to create ARP sounds that have never been heard before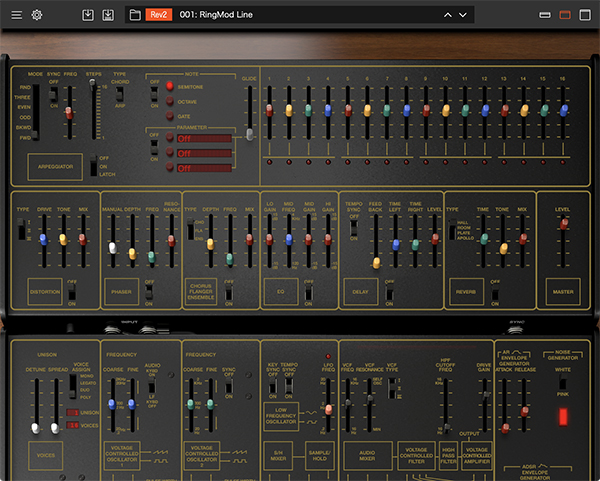 Not content with merely reproducing the hardware, the KORG Collection ARP ODYSSEY adds numerous improvements that are possible only in software. In addition to the three filter revisions and the DRIVE function that were added in KORG's hardware ARP ODYSSEY reproduction, we have added a new polyphonic voice mode that allows you to play up to 16 notes at once, an arpeggiator that can be programmed like a step sequencer, and effects that can transform the sound in diverse ways.
200 presets that make all kinds of things possible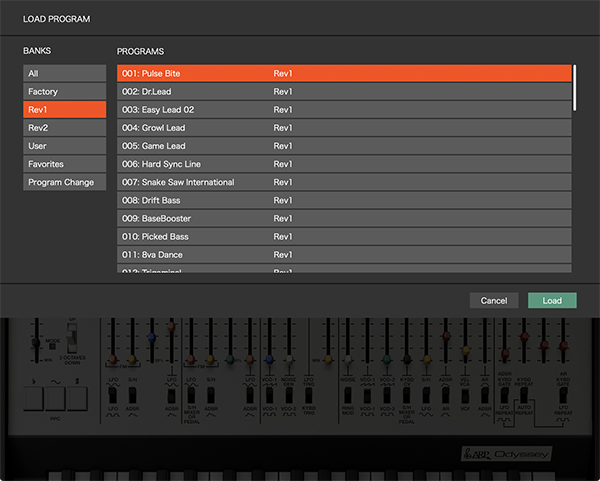 The KORG Collection ARP ODYSSEY comes with 200 presets installed. It's a practical and inspirational treasure box of sounds that includes ARP ODYSSEY's biggest selling points: sharp leads, fat basses, freely roaming sequences, and patches from famous songs. Sounds you like can be saved in Favorite for quick access later.
All three of generation designs available as skins
The software allowed sound variation expansions, but visual as well. The KORG Collection ARP ODYSSEY can instantly switch between three ARP Odyssey designs that were different depending on the production period. In addition to the standard Rev3 design with orange writing on a black panel, there is also the Rev1 with a white panel and the Rev2 with golden writing on a black panel as well. They are lined up with preset sounds that make use of the different characteristics of each generation's filter. It's the dream ARP ODYSSEY that you could never exist as a hardware synthesizer.
Included in the KORG Collection
ARP ODYSSEY for Mac/Win is included in the KORG Collection 3. The Full Version of 11 pieces of KORG software. All at once you will be able to get the famous analog machines that laid the groundwork for the synthesizer as an instrument in the 1970s and early 80s, as well as the well-known digital machines that changed the history of music in the late 1980s and 2000s.
Please consult the KORG Collection 2 product page for the system requirements


We use cookies to give you the best experience on this website.
Learn more
Got it