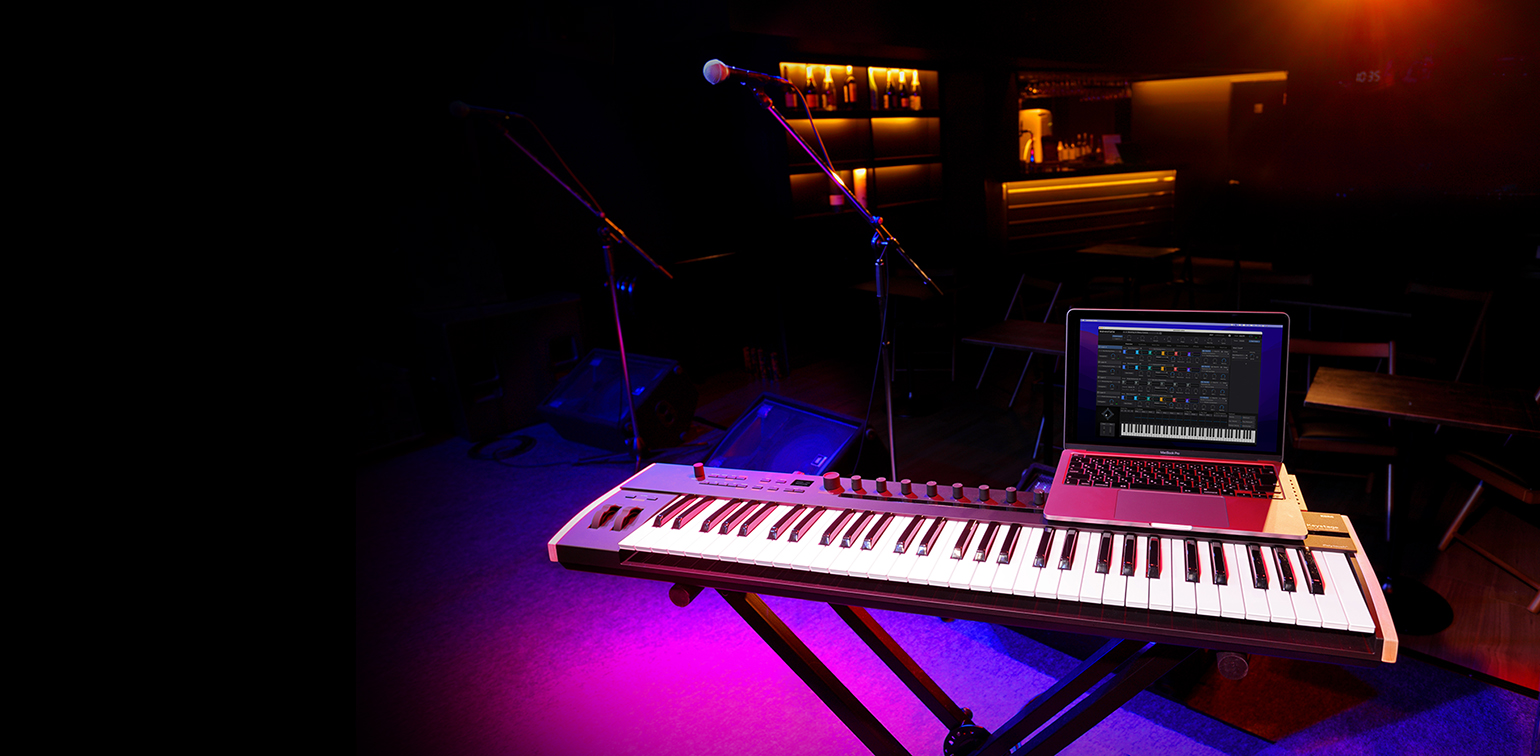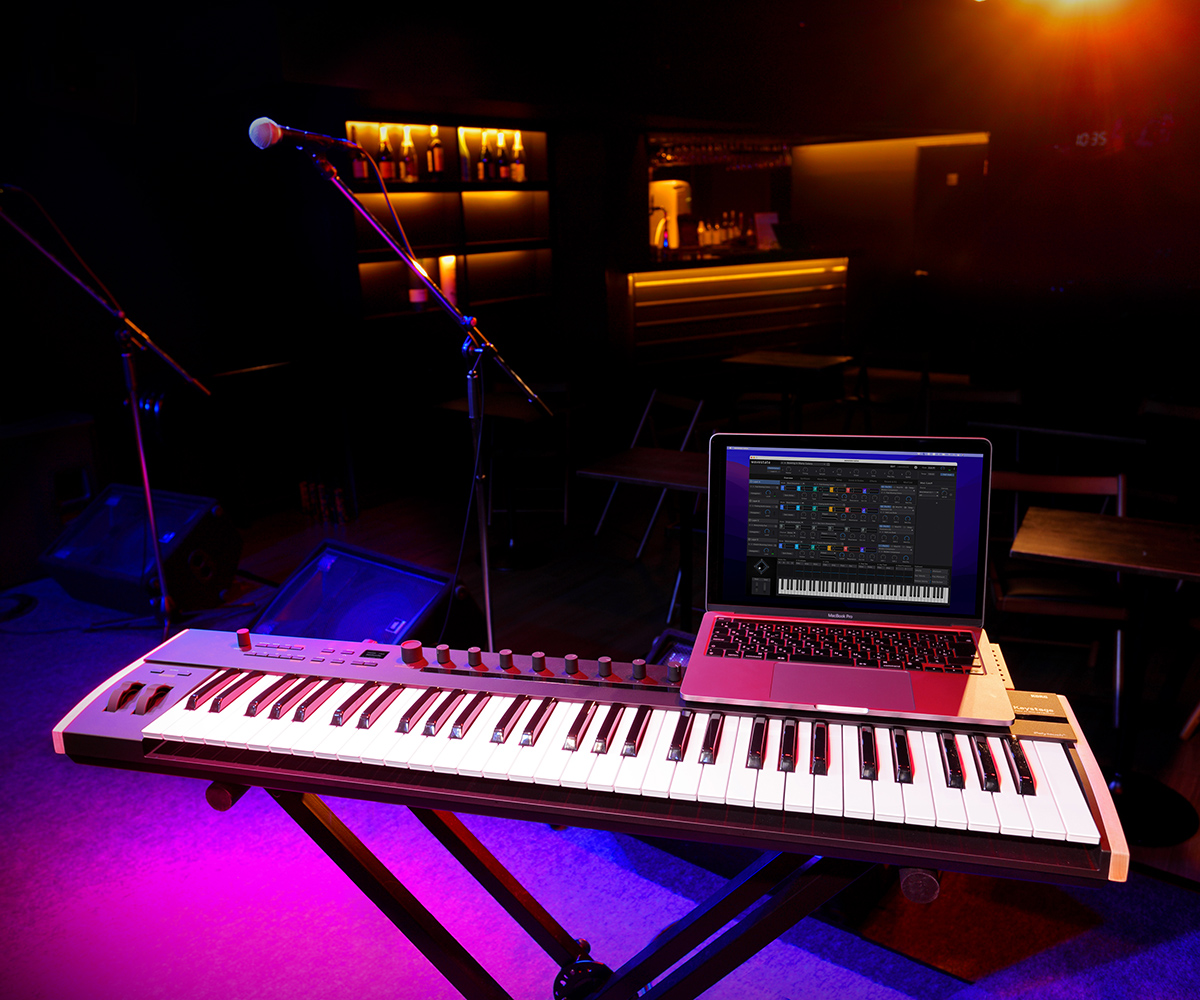 49 Keys / 61 Keys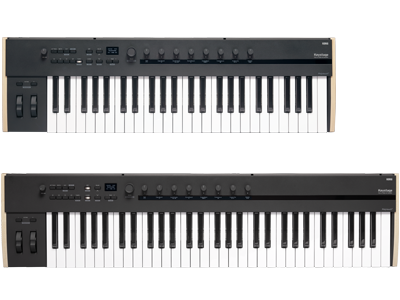 Keystage
POLY AT MIDI KEYBOARD
Learn More
Related Sites
Related Products
Keyboard

Keystage-49: Polytouch keyboard*, 49 keys
Keystage-61: Polytouch keyboard*, 61 keys
Features velocity sensitivity, aftertouch and polyphonic aftertouch
Velocity curves: 21 (—10–0–+10)
Octave range: 7 (—3–0–+3)
Controllers

Pitch bend wheel, modulation wheel, parameter control knobs × 8
VOLUME knob, SETTINGS button, WRITE button, EXIT button, SHIFT button, ARP button, CHORD button, VALUE ^/ buttons, VALUE dial, PAGE —/+ buttons, transport buttons, TEMPO button, OCTAVE —/+ buttons
Display

Main display: organic EL (electro-luminescence) display
Sub display: organic EL displays × 8
Scenes

No. of scenes: 16
Arpeggiator

Arpeggio rhythm patterns: 20
Chord mode

Preset chord sets: 32
User chord sets: 32
Input/output jacks and ports

USB port, MIDI (IN, OUT connectors), EXPRESSION jack, DAMPER jack, AUDIO OUT (L/MONO, R jacks), headphone jack
Audio output

AUDIO OUT (L/MONO, R): 6.3 mm TS phone jack (unbalanced)
Headphones: 6.3 mm stereo phone jack
Control inputs

DAMPER (half-damper supported)
EXPRESSION
MIDI

IN, OUT
USB

Type B
MIDI/audio interface
MIDI: 1 in/1 out
Audio: 2 ch out
Audio format: 44.1 kHz, 16-bit
Power supply

USB bus power or AC adapter (9 V DC, : Korg KA350, sold separately)
Power consumption
5 V/500 mA or less (when powered via USB)
Power consumption

4 W (when using an AC adapter)
Dimensions (W × D × H)

Keystage-49: 814 × 234 × 82 mm/32.05 ̋ × 9.21 ̋ × 3.23 ̋
Keystage-61: 979 × 234 × 82 mm/38.54 ̋ × 9.21 ̋ × 3.23 ̋
Weight

Keystage-49: 4.2 kg/9.26 lb.
Keystage-61: 5.0 kg/11.02 lb.
Included items

USB cable (Type A-Type B), expansion plate, Quick Start Guide, Precautions
Accessories (sold separately)

Volume/expression pedal (XVP-20)
Foot controller (EXP-2)
Damper pedal (DS-1H)
Pedal switch (PS-1, PS-3)
AC adapter (KA350)
* Specifications and appearance are subject to change without notice for improvement.
* is a registered trademark of Medeli, developed with Ashun Sound Machines.
* All product names and company names are the trademarks or registered trademarks of their respective owners.
We use cookies to give you the best experience on this website.
Learn more
Got it