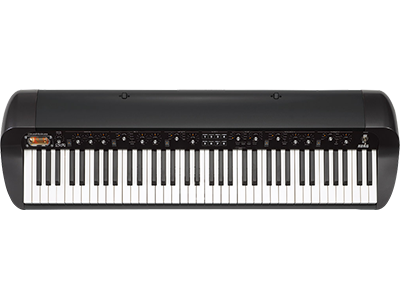 SV-1 Black
STAGE VINTAGE PIANO
Learn More
Related Sites
Related Artists
2015.05.06

2015.04.24

2015.04.23
Show All
Retro styling

Favorites

Rotary Slow/Fast, Tap Tempo
Housed in a bold, curvaceous body, the SV-1 BK really stands out from the crowd. Coupled with retro-style controls and stunning metallic red (73-key) or carbon grey (88-key) finishes, the SV-1 BK oozes desirability – and playability! An optional adjustable and collapsible chrome stand is available, along with a gig-ready rolling soft case.
Connectivity
A pro keyboard would be incomplete without all the right connections. The SV-1 BK is equipped with balanced XLR and ¼" outputs; Left and Right audio inputs; MIDI In and MIDI out jacks, USB MIDI Port, and 3 pedal connections: Damper, Pedal 1, and Pedal 2. The Damper pedal is included, and responds to half-pedaling for authentic piano response. Pedal 1 is designed for a switch type of pedal, and can operate as a piano Sostenuto pedal, or as a Fast/Slow switch when the Rotary Speaker effect is on. Pedal 2 can accept either a sweep-type pedal – great for authentic Wah effects – or an additional switch pedal, providing the piano purist with access to all three piano pedal functions by adding the Una Corda (soft) function.

Editor/Librarian Software
While setting out to create an incredibly friendly and easy-to-use instrument, we knew that there were more tech- savvy players out there that would love nothing more than to dig in a little deeper. The SV-1 Editor/Librarian software provides cool graphic-based programming, including access to certain parameters not available on the SV-1's panel. In addition, the Editor/Librarian software allows each of the 36 sounds and the eight Favorites to be programmed and saved individually. This points the way to users sharing and swapping their favorite settings, and for Korg to supply more sounds in the future. The SV-1 Editor/Librarian runs on Mac or PC, and is included free with every SV-1.
We use cookies to give you the best experience on this website.
Learn more
Got it