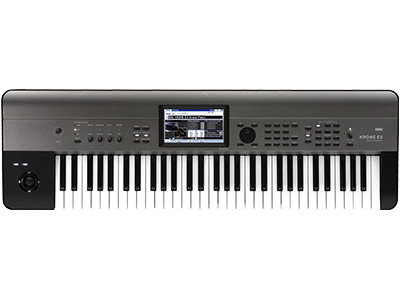 KROME EX
MUSIC WORKSTATION
Află mai multe
Website-uri Relationate
Produse Similare
Accesorii Relationate
Claviatura
KROME EX-61

Claviatura Semi Grea. Suporta velocitate, nu suporta after touch.
Standard C2 - C7 (transpozabil intre [C1...C6]-[C3...C8])
KROME EX-73

Claviatura Semi Grea. Suporta velocitate, nu suporta after touch.
Standard C1 - C7 (transpozabil intre [C0...C6]-[C2...C8])
KROME EX-88

Claviatura NH (Natural Weighted Hammer Action). Suporta velocitate, nu suporta after touch.
Standard A0 - C8 (transpozabil intre [A-1...C7]-[A1...C9])
*Claviatura NH reproce tuseul unui pian acustic, cu o greutate mai mare in registrul grav si mai mica in registrul acut.
Sistem
EDS-X(Enhanced Definition Synthesis - eXpanded)
Sunete
Polifonie Maxima

120 voci (120 Oscilatoare) / Single Mode, 60 voci (120 Oscilatoare) / Double Mode
*Numarul maxim de voci simultane poate varia in functie de setarile oscilatorului, crossfading-ului velocitatii si daca folositi multisample-uri mono sau stereo.
Memorie PCM

4 GB (In cazul a 48 kHz, 16-bit PCM Liniar convertit)
728 multisample-uri (inclusiv 44 multisample-uri Stereo)
2,502 sample-uri toba (inclusiv 574 Drumsamples Stereo)
Program

Oscilator

OSC1 (Single); OSC1 + 2 (Double): Stereo multisamples care suporta 8 zone de velocitate per oscilator cu switching, crossfade si layers

Filtre

Patru tipuri de routing pentru filtre (single, serial, paralel, 24 dB). Doua filtre multi-mod per oscilator (low pass, high pass, band pass, band reject)

Driver

Driver nonliniar per-voce si low boost

EQ

Trei benzi, medii sweepable

Modulatie

Pentru fiecare oscilator, doua generatoare envelope (Filtru & Amp), doua LFO, doua generatoare key tracking (Filter & Amp), doua mixere AMS, Pitch EG, Common LFO, doua generatoare common key tracking
Combination

Numar Timbre

Max 16. Pentru fiecare split/layer/crossfade Timbre, keyboard si velocity.
Modificari ale setarilor programului prin functia Tone Adjust.
Kit Tobe

Sample-uri stereo si mono tobe. 8 zone de velocity switch (crossfade si layer)
The number of Combination / Program / Drum Kit

User Combination

768 Combination (512 Preload)

User Program

1536 Program (896 Preload)

User Drum Kit

80 Drum Kit (48 Preload)

Preset Program

256 GM2 Program + 9 GM2 Drums Program
Effects
Insert Effects

5 Insert Effects (stereo in/out)
Master Effects

2 Master Effects (stereo in/out)
Total Effect

1 Total Effect (stereo in/out)
Timbre / Track EQ

3-band EQ per in 1 Timbre / in 1 Track
Effect Types

193 types (Usable as insert, master, or total effects. However, double-size effects cannot be used as a total effect.)
Modulation

Dynamic Modulation, 2 Common LFO
Effects Control Busses

Stereo side chain (Limiter, Gate, Vocoder etc.)
Effect Preset

32 preset per effect
Polyphonic Arpeggiator
Program Mode

1 unit
Combination, Sequencer Mode

2 units are available
Number of pattern

5 preset Arpeggio pattern, 1,088 User Arpeggio pattern (960 Preload)
Drum Track
Preset Patterns

710 patterns (Common with the preset pattern of the Sequencer mode)
User Patterns

1,000 patterns (Pattern created in Sequencer mode can be converted to drum track user pattern)
Others

Configurable "Trigger Mode / Sync / Zone"
Sequencer
Tracks

16-track + 1 master track
Number of Songs

128 Songs
Resolution

♩=1/480
Tempo

40.00 - 300.00 (1/100 BPM resolution)
Maximum memory

210,000 MIDI events
Template Songs

16 preset / 16 user template songs
Cue List function

20 Cue List
Songs can be arranged consecutively or repeatedly in up to 99 steps, a cue list can be converted back into a song.
Pattern / RPPR (Realtime Pattern Play and Recording)

710 Preset / 100 User pattern (Per song). 1 pattern set per song
Format

KORG (KROME) format, SMF format 0 and 1
Media
Load, Save, Utility, Data filer functionality (Save and Load MIDI System Exclusive Data)
Controllers
Controllers

Joystick, SW [1], SW [2]
Realtime Control

[SELECT] Switch: TONE, USER, ARP
4 Knobs: Modulation, User, Arpeggio control
Drum Track

[DRUM TRACK] Switch: On/Off
Arpeggiator

[ARP] Switch: On/Off
User Interface
Display

Touch view graphical User Interface, 7 -inch Color TFT LCD, 800 x 480 pixel, Onboard LCD brightness control
Mode Switches

[COMBI], [PROG], [SEQ], [GLOBAL], [MEDIA] Switch
VALUE controllers

[VALUE] Dial, [INC], [DEC] Switches, 10 key block ([0] - [9], [-], [.], [ENTER], [COMPARE])
BANK Switches

[A], [B], [C], [D], [E], [F] switches (in Combination mode, [A], [B], [C], [D] switches are available)
SEQUENCER switches

[PAUSE]、[REW]、[FF]、[LOCATE]、[REC]、[START/STOP]
TEMPO

TEMPO
Others

[PAGE] switch, [WRITE] switch, [EXIT] switch, [VOLUME] knob, Contrast knob
Outputs
AUDIO OUTPUT, L/MONO, R

6.3mm (Mono) Phone jack, Unbalanced.
Output Impedance: 1.1[kΩ] (L / Mono terminal: in case of Mono output, = 550[Ω]).
Maximum level: +16.0 [dBu], Load Impedance: more than 10 [kΩ].
Headphone Output

3.5mmStereo phone jack.
Output Impedance: 33[Ω].
Maximum level: 60 + 60 [mW] (In case of 33[Ω] Loaded)
Control Input
DAMPER (Half Damper supported), ASSIGNABLE SWITCH, ASSIGNABLE PEDAL
Others
MIDI

IN, OUT
USB

USB-MIDI Interface (TYPE B) x 1
SD Card Slot

Max 2 GB / SD Memory Card is supported
Max: 32 GB/ SDHC Memory Card is supported (SDXC Memory Card is not supported)
Principle Specifications
Power

Power supply (DC12V 3.5A), POWER switch
Power Consumption

13W
Dimensions (W x D x H):

KROME EX-61: 1,027 mm × 313 mm × 93 mm / 40.43 x 12.32 x 3.66 inches
KROME EX-73: 1,191 mm × 313 mm × 93 mm / 46.89 x 12.32 x 3.66 inches
KROME EX-88: 1,448 mm × 383 mm × 131 mm / 57.01 x 15.08 x 5.16 inches
Weight

KROME EX-61: 7.2 kg / 15.87 lbs.
KROME EX-73: 8.2kg / 18.08 lbs.
KROME EX-88: 14.7kg / 32.41 lbs.
Included Items

AC Adapter,
Accessories (sold separately)
Keyboard stand

Standard-S-ABK (for 61 key model)
Standard-M-SV (for 73 key model)
Standard-L-SV、L-ABK (for 88 key model)
Soft shell cases

SC-KINGKORG/KROME (for 61 key model)
SC-KROME 73 (for 73 key model)
SC-KROSS2 88/KROME 88 (for 88 key model)
Expression/volume pedal

XVP-20
Foot controller

EXP-2
Damper pedal

DS-1H
Pedal switch

PS-1
PS-3
| | |
| --- | --- |
| * | All product, company, and standard names are trademarks or registered trademarks of their respective holders. |
| * | Appearance and specifications of products are subject to change without notice. |