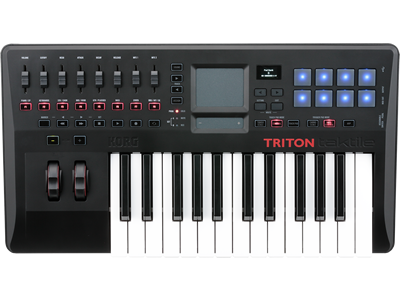 TRITON taktile
USB CONTROLLER KEYBOARD
/SYNTHESIZER
Support
Learn More
Related Sites
Related Products
The taktile series is now compatible with iPad.
Announcing the new system version 2.0.
( 2014.9.4 Update )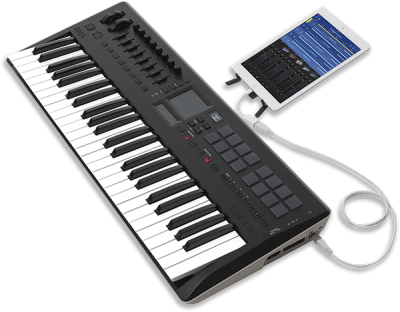 ( Photo: taktile-49 )
Low-power mode for connecting to iPad.
KORG's latest MIDI controllers, taktile and TRITON taktile, have been updated to system version 2.0. This update provides a low-power mode that works with an iPad, covering all music production setups from mobile to desktop. We've also provided template data that supports the KORG Gadget for iPad Mobile Music Production App (via download). The taktile series has evolved into an even better MIDI controller, ready to accelerate your music production.
*For connection to the iPad, use the Apple iPad Camera Connection Kit or Lightning - USB camera adapter.
New functions in system version 2.0
・iPad-friendly low-power mode has been added*. Start up while holding down [<] [>]
・Improved sensitivity of the keyboard and trigger pads
・Operability with Ableton Live has been enhanced.
・TRACK PAD mode now provides a center-click function and horizontal scrolling
・Template data to support KORG Gadget for iPad
・Additional features have been fine tuned for improved usability and stability.
*This mode has the following restrictions.
* The LEDs on Trigger Pads will not light up.
* The LEDs on F1 - F8 buttons will not light up.
* The LEDs on Transport buttons will not light up.
* The Display becomes darker.
* The Sound mode is disabled (i.e. no sounds).
taktile system version 2.0 download
KORG Collection Legacy Bundle now provided
We are now providing taktile and TRITON taktile users with a full license to the complete KORG Collection Legacy Bundle, the software incarnation of classic KORG synthesizers. Users who have already purchased the taktile or TRITON taktile can also download this software from the KORG License Center.* This collection includes numerous legendary synthesizers that are an integral part of KORG's history: The MS-20, Polysix, Mono/Poly, M1, and WAVESTATION. This powerful lineup is added to your music production studio when you purchase any taktile series controller.
To advance your music to the next level, get your hands on the newly-evolved taktile or TRITON taktile together with this amazing software bundle.

*To download, please use the PIN code which can be found in the original product package.
We use cookies to give you the best experience on this website.
Learn more
Got it