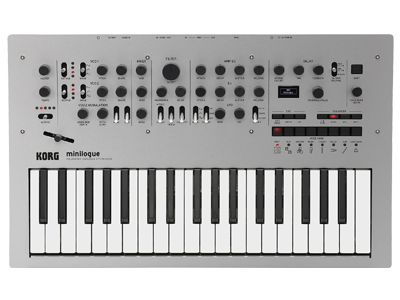 minilogue
POLYPHONIC ANALOGUE SYNTHESIZER
Supporto per il suo acquisto
Per saperne di più
Siti correlati
Prodotti correlati
Accessori
Related Artists
2017.03.27
Show All
Sound Librarian per minilogue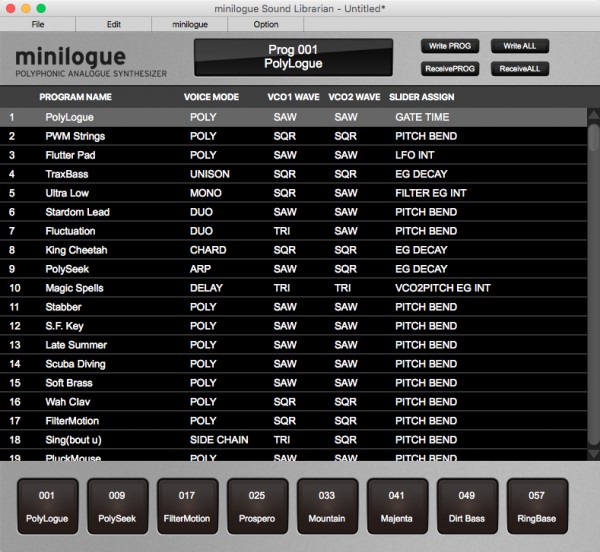 Il Sound Librarian per minilogue consente di riordinare e organizzare facilmente i Program all'interno del vostro minilogue, e permette di salvare la vostra libreria personale su computer. Oltre a questo, il programma può essere usato per caricare i dati Factory o librerie sonore aggiuntive distribuite da KORG.

Scarica la Versione per Windows >
Sound Packs vol.1
"UK Producer Set"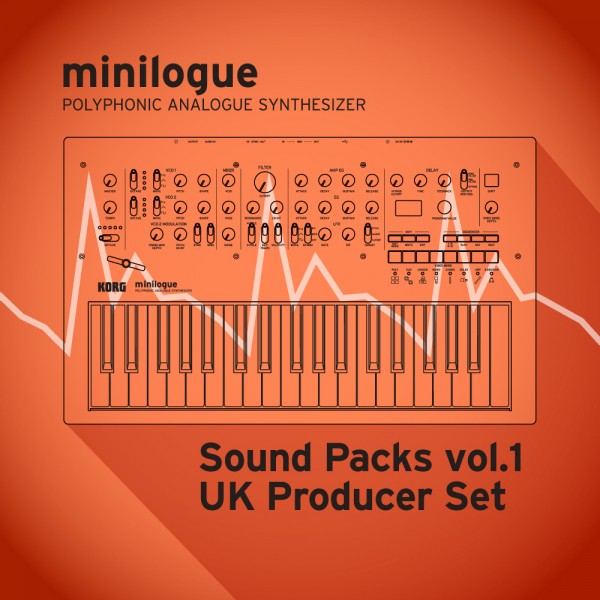 Una collezione di suoni incredibili che tutti i possessori di minilogue devono avere! Con Bassi analogici e bassi Synt grassi e spessi, Pads avvolgenti e morbidi, emulazione di suoni Vintage, Effetti e suoni Lead di grande efficacia timbrica.
I nuovi suoni sono stati creati da due fra i più importanti Sound Designer e Producer inglesi: Dan Goldman (aka JD73) e Tim Mantle (Psalm 37).
I 75 Program sono stati sapientemente realizzati per poter essere utilizzati efficacemente in tutti i principali generi musicali nello spazio di tempo degli ultimi 4 decenni.
Ogni Program inoltre, include una Step Sequence opportuna, in grado di fornire ispirazione istantanea alle vostre produzioni personali.
A second collection of "must have programs" for all minilogue owners. Featuring wobbling basses, spheric sounds, jazzy chords, retro leads, percussive sounds and vintage emulations.

Created by synth programmer Matthias Sauer (aka App Sound) from Germany.
The 64 programs have been expertly crafted to fit perfectly with a broad range of popular electronic music.
In addition, each program includes a step sequence providing instant inspiration for your music productions.

Matthias' web pages:
APP SOUND / APP SOUND YouTube
APP SOUND SoundCloud / APP SOUND Facebook

Sound Packs vol. 3 "Spanish Pro Set"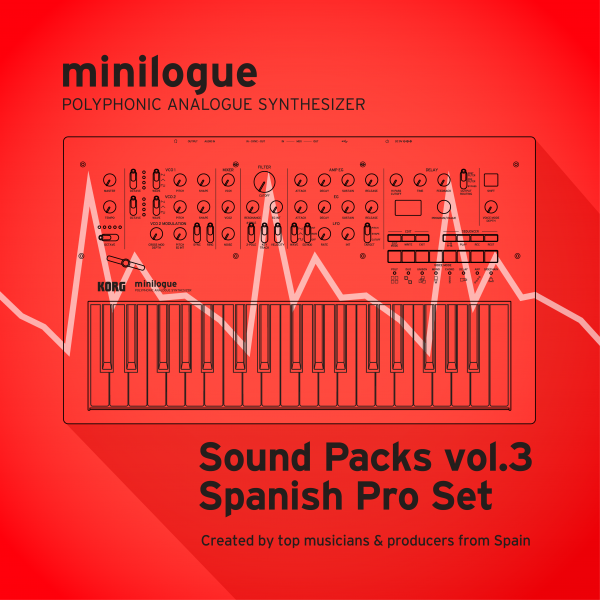 Crunchy basses, smooth pads, nostalgic vintage emulations and many other programs in this must-have collection for minilogue users.

Created by Alex Martin, Dani Ferrer, Edu Martinez, Santi Comet and Marc Pitarch, five of the most accomplished musicians in Spain's music scene.

These 50 programs have been carefully tailored to provide you with instant inspiration and make your tracks stand out!
Additionally, most programs include a step sequence providing instant inspiration for your music productions.