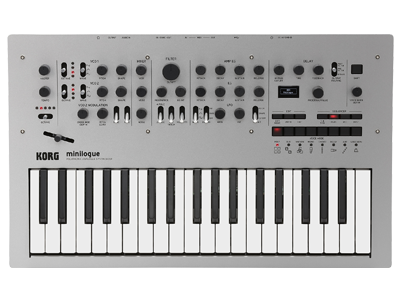 minilogue
POLYPHONIC ANALOGUE SYNTHESIZER
Saber mas
Sitios relacionados
Productos relacionados
Accesorios
Artistas relacionados
2017.03.27
Show All
minilogue Sound Librarian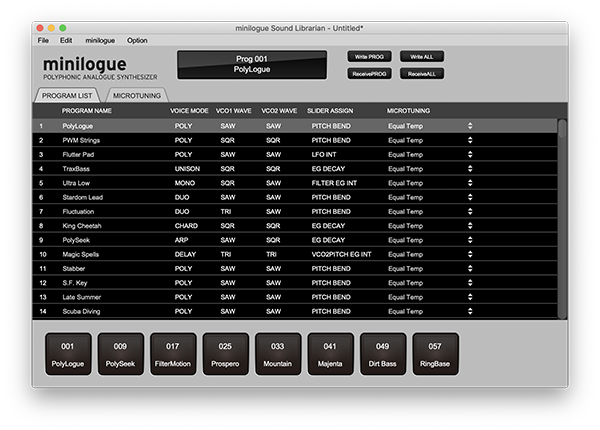 minilogue Conjunto de Sonidos vol.1
"UK Producer Set"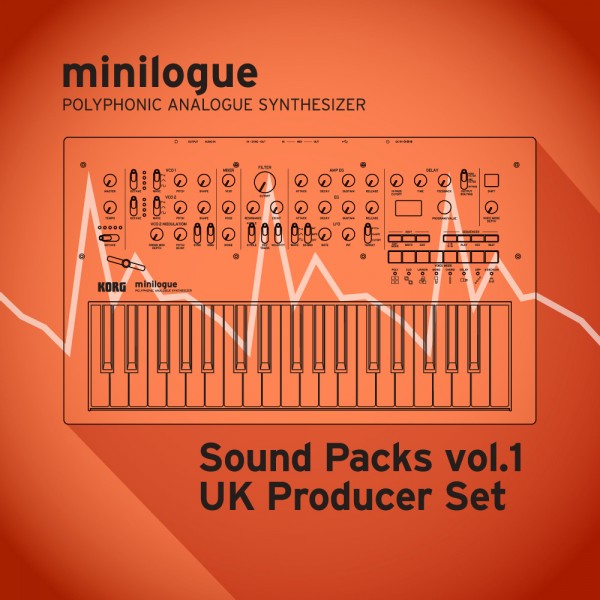 Una colección boutique de "programas imprescindibles" para todos los propietarios de minilogue. Incluye gruesos bajos de sintetizadores analógicos, cálidos pads, emulaciones vintage, FX y brillantes sonidos solistas.
Creados por dos de los más influyentes programadores de sintes de Reino Unido, Dan Goldman (aka JD73) y Tim Mantle de Psalm 37.
Los 75 programas han sido cuidadosamente diseñados para adaptarse perfectamente a una amplia gama de géneros musicales de las cuatro últimas décadas.
Además, cada programa incluye una secuencia por pasos, proporcionando inspiración instantánea para tus producciones musicales.
Páginas web de Dan':
JD73
/
JD73 Facebook
Páginas web de Tim:
Psalm 37
/
Psalm 37 Facebook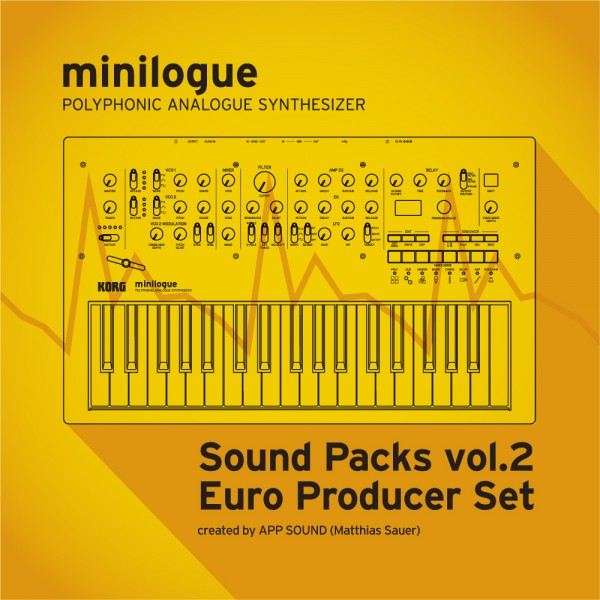 Una segunda colección de programas "indispensables" para todos los propietarios de minilogue. Con bajos impactantes, sonidos atmosféricos, acordes jazzísticos, solos retro, sonidos percusivos y emulaciones vintage.
Creados por el programador de sintetizador Matthias Sauer (también conocido como App Sound) de Alemania.
Los 64 programas han sido expertamente diseñados para satisfacer perfectamente una amplia gama de música electrónica.
Además, cada programa incluye una secuencia por pasos que proporciona inspiración instantánea para tus producciones musicales.
Páginas Web de Matthias:
APP SOUND
/
APP SOUND YouTube
APP SOUND SoundCloud
/
APP SOUND Facebook
Sound Packs vol. 3
"Spanish Pro Set"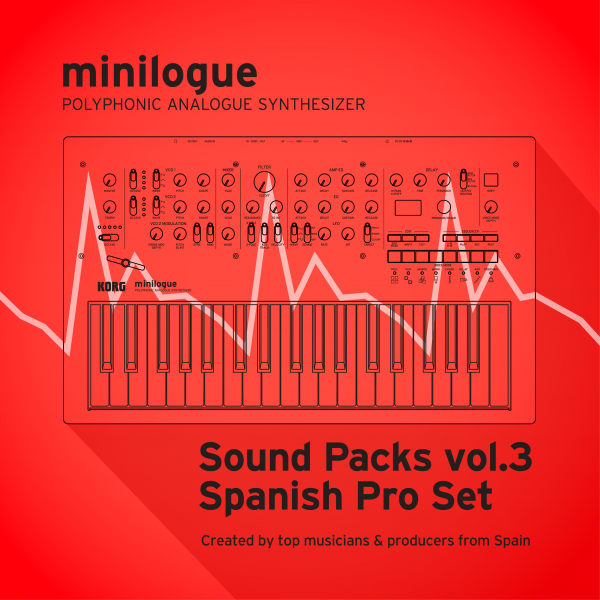 Poderosos bajos, pads y muchos otros programas y sonidos modernos y vintage incluídos en esta colección, imprescindible para cualquier usuario de minilogue!

Este nuevo Sound Pack está disponible gracias al trabajo de cinco grandes músicos y productores usuarios habituales del minilogue que se han prestado a crear una colección de programas para nosotros:Alex Martin, Dani Ferrer, Edu Martinez, Santi Comet y Marc Pitarch.

Estos 50 programas han sido creados para ser una fuente de inspiración y darles ese toque especial que hará destacar a tus canciones!
Adicionalmente, la mayoría de los programas incluyen datos para el secuenciador automático para inspirarte de forma instantanea!
Sound Packs vol. 4
The Deep Dive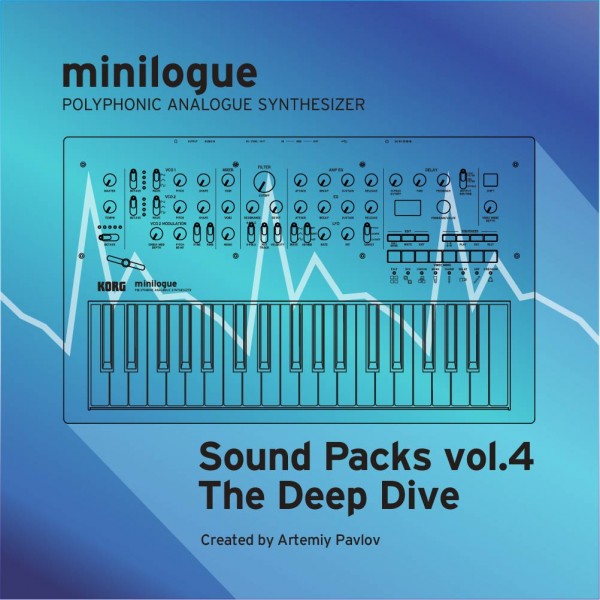 Con esta inmensa colección de 110 programas, Artemiy Pavlov nos invita a las profundidades más recónditas del minilogue y a desvelar todos sus superpoderes y potencial. Los programas han sido diseñados con el máximo cuidado al detalle y podrás encontrar sonidos como synths, leads, basses, pads, drones, y acordes – no podrás creer que el minilogue puede producir semejantes sonidos! La librería también incluye algunos sonidos tipicos de los 80 y los 90 para los más nostálgicos, asi como varios efectos y sonidos percusivos. Todos los programas incluyen además una secuencia única!

"Analogue Vintage" by Toby Baker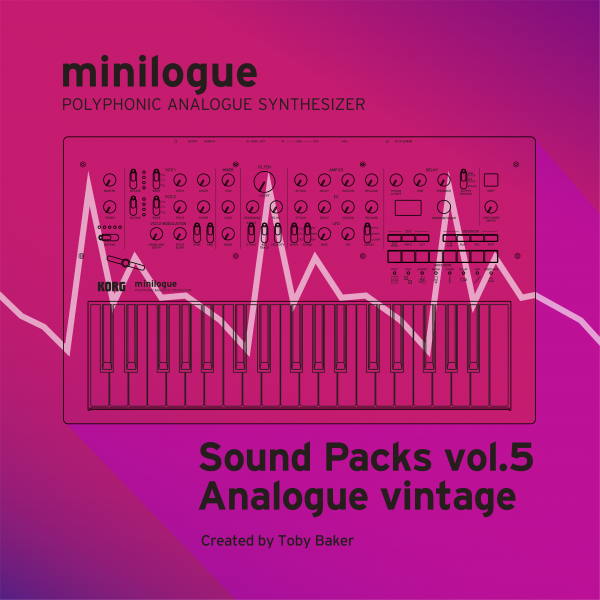 Created by session player and music producer Toby Baker, "Analogue Vintage" consists of a collection of analogue pads, bass, lead, and brass sounds for minilogue. Toby has recreated some of the most distinctive synth sounds heard on Funk, Soul and Pop music from the 70's and 80's, many of which are still hugely popular today.
Sound packs vol.6
"Lo-Fi Textures" by OscillatorSink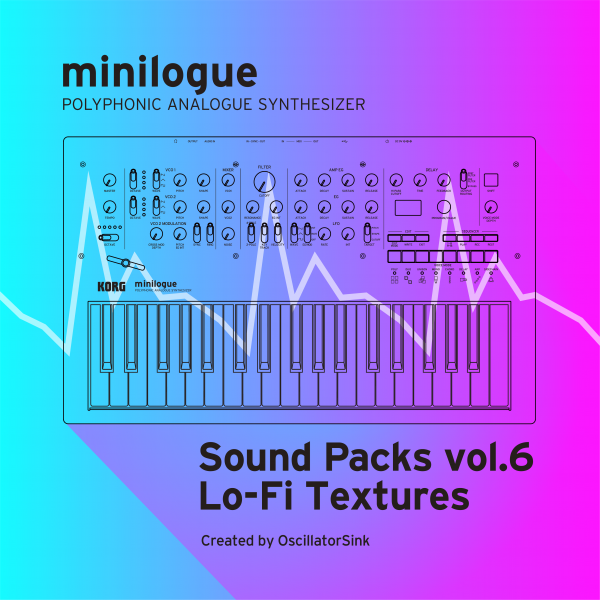 The Minilogue can be a lot of things, but when OscillatorSink first laid hands on it he was immediately drawn to the sounds he was finding were a little less than pristine. Sounds that were a little dirty, a little dark, sometimes crunchy, noisy or wobbly - but the character of the synth always shone through and made him feel warm and fuzzy as he explored them. He decided to lean into this idea and seek out sounds where it was the imperfections that gave them their appeal; that's where the Lo-Fi Textures Patch Pack comes from. These 50 new patches draw inspiration from the wow and flutter of an old reel-to-reel, worn-out VHSes, the spaces between radio stations and circuits operating beyond their original purposes: unstable, fragile, nostalgic and warm.
Sound Packs vol. 7
"Twopointohone" by OscillatorSink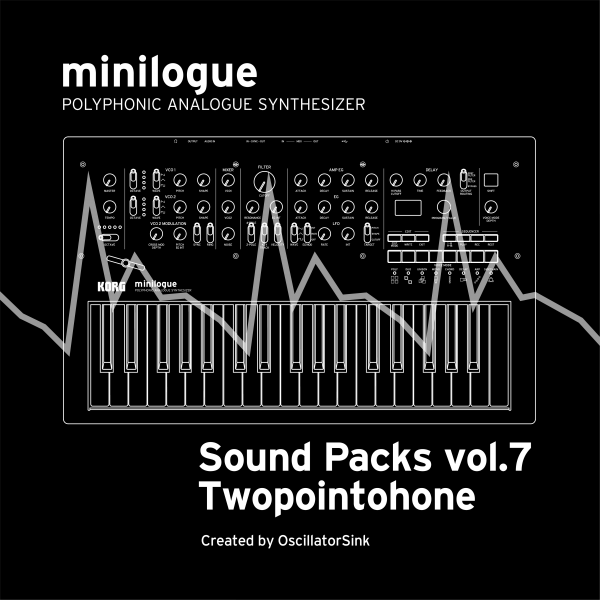 The TwoPointOhOne Patch Pack brings together a collection of patches inspired by, and taking advantage of, 2.0.1 update for the Korg minilogue. Every patch takes advantage of the new "Slider Range" feature which makes the minilogue's mod lever hugely more flexible when it comes to controlling a whole wealth of the minilogue's parameters. The range of the mod lever has been tweaked in each case to make for a fun performance element that maintains usability across the whole range. Each patch has also been treated to a dose of microtuning - in some cases to sweeten, in others to enhance the wonkiness of the patch and then there are those treated to some of the more… "esoteric" tunings to help you find melodies that you never knew existed!