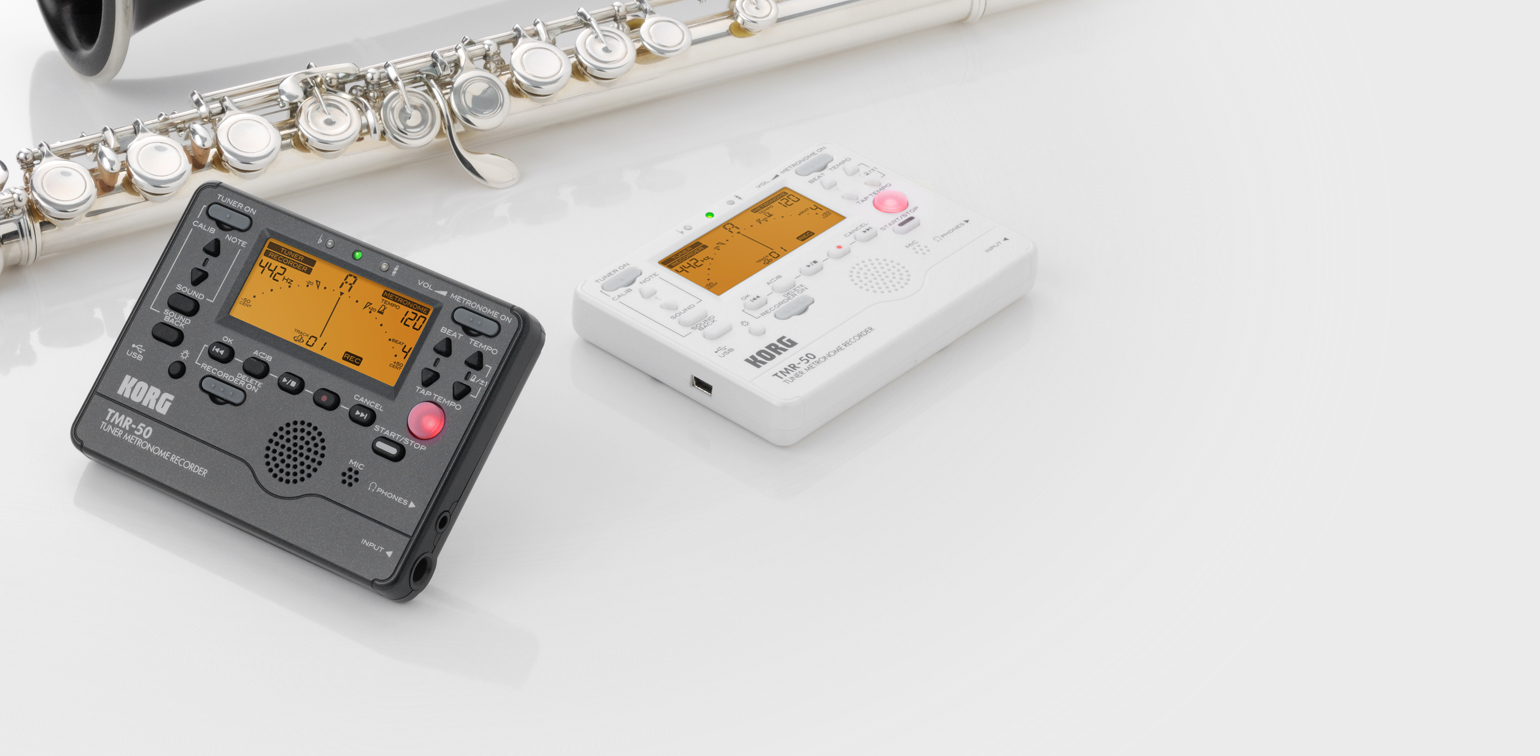 Tuner + Metronome + Recorder -
All in One Unit! The TMR-50 - Your Ideal Practice Partner
Korg's popular TM series of tuner/metronome units is loved by players who practice to perfect their musical skills. Now joining the lineup is the TMR-50, which adds recorder functionality to the already impressive list of features. An extremely valuable way to improve your playing ability is to identify the problem areas that need work, and then practice to improve those areas. With its built-in mic and speaker, the TMR-50 makes it easy to practice this way. It provides high-quality linear PCM recording and a USB port for convenient usage with your computer. The TMR-50 features equally robust capabilities for its tuner and metronome functionality that will help you improve your sense of pitch and rhythm. Two choices of color are available: black and pearl white. Whether you're in a brass band or an orchestra, the TMR-50 is the ideal partner for anyone who wants to improve their playing.
Tuner, metronome, and recorder can be used simultaneously or independently.
Internal mic and speaker make it easy to record and play back your performance.
Loop Play function lets you repeat a desired region of a recorded track.
High-quality linear PCM recording/playback.
Record up to 100 tracks (approximately total 20 minutes).
USB port lets you transfer recorded data and song files between the TMR-50 and your computer.
Newly designed highly responsive LCD needle-type meter.
Wide detection range from C1 to C8.
The Sound Out function produces a reference tone in a three-octave range from the built-in speaker.
The Sound Back function generates the reference tone that's closest to the input sound, while the meter indicates the pitch discrepancy between the reference and the input sound - a great function for ear training!
Calibration supports a range of concert pitches.
Marks indicate pure major and minor third intervals.
Wide tempo range of 30-252 beats per minute.
15 rhythm variations let you practice with a broad range of musical styles.
Easy tempo settings with two types of tempo step patterns plus a tap tempo function.
Large LCD with backlight brightness that's adjustable over two levels for enhanced visibility.
Your choice of body color: black or pearl white.
Convenient key layout, and newly designed stand and battery cover.
Memory Backup and Auto Power Off.
We use cookies to give you the best experience on this website.
Learn more
Got it