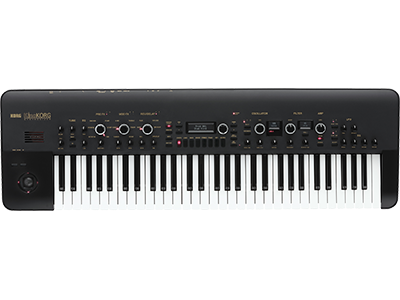 KingKORG
SYNTHESIZER
Learn More
Related Products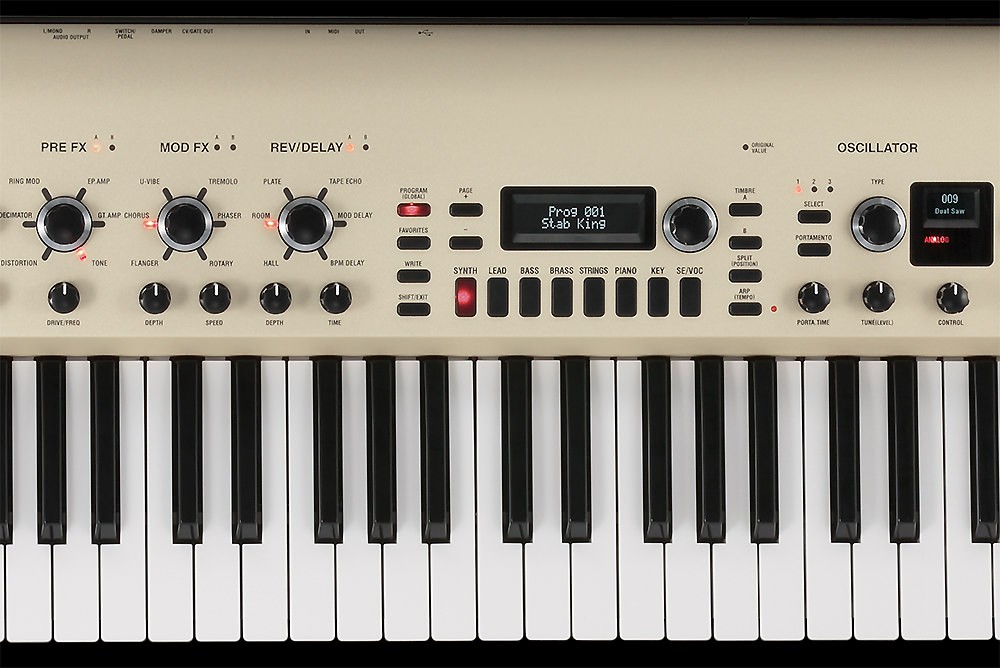 Newly designed panel layout allows intuitive operation
The newly designed panel is organized into blocks that let you focus on the controls you need while editing. While reflecting the concept of an analog synthesizer's signal flow, KingKORG's front panel takes full advantage of today's technology.

For example, the oscillator section has its own dedicated display that shows the name of the currently selected algorithm. You can turn the dial located beside this display to see descriptive names, and push the dial to jump to the beginning of categories such as ANALOG or DWGS. The control knobs are assigned to the most effective and important parameters for each oscillator, letting you enjoy the unique feature of an analog synthesizer --- turning the knobs to transform the sound. There are also dedicated dials for each of the three master effects, making it easy to try out different effects and hear how they modify the sound. Since a self-luminous organic EL display is used, visibility is excellent even on a dimly lit stage or in direct sunlight.
Favorites function for convenience in live performance
The Favorites function lets you recall frequently-used programs at a single touch. You can assign a total of 40 programs to the eight category favorite buttons for easy recall.

200 built-in preset programs
KingKORG provides a diverse selection of 200 stage-ready preset programs organized into eight categories such as Synth, Lead, and Bass. There's a great selection of the staple sounds you need for live performance, including numerous PCM sounds for piano, electric piano, organ, and clavinet. Thanks to KingKORG's ability to emulate filters from classic synthesizers, you'll find familiar and authentic sounds that are perfect for playing your favorite classic and modern songs, along with new and inspiring sounds to broaden your horizons. There's also a user area for you to store 100 of your own sounds.
CV/GATE OUT jack lets you control the monotribe or MS-20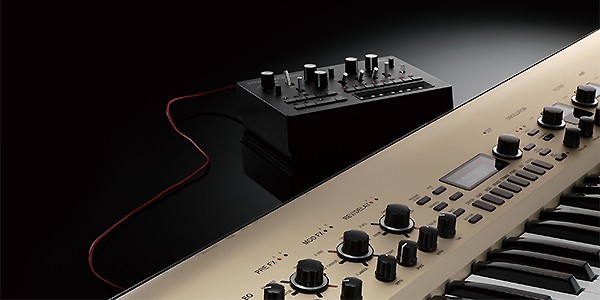 The CV/GATE OUT jack lets you use an analog signal to control a KORG monotribe or MS-20. A dedicated cable for the monotribe is included, allowing you to use the keyboard of KingKORG to play the monotribe.
Support for librarian software that lets you manage programs
You can manage programs on your computer simply by connecting KingKORG to your computer via a USB cable and using the librarian software. The librarian software can be downloaded at no charge from the Korg website or from the website of your local Korg distributor.
Download KingKORG Sound Librarian
We use cookies to give you the best experience on this website.
Learn more
Got it